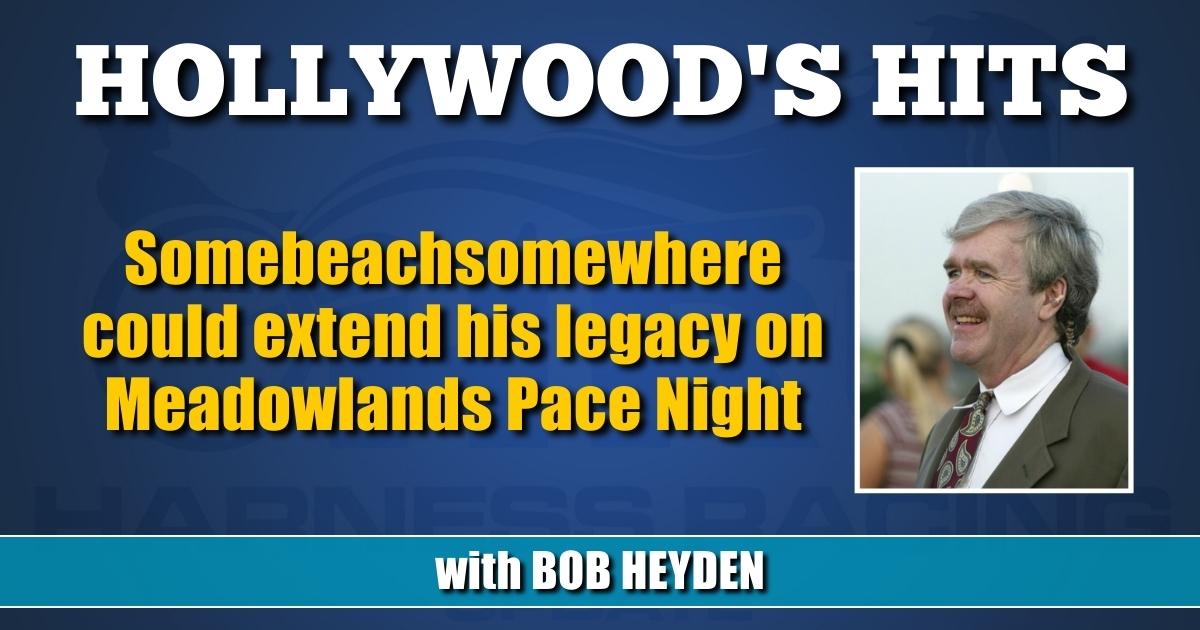 Somebeachsomewhere could extend his legacy on Meadowlands Pace Night
Six of the 10 finalists are either a son or grandson of the late legend.
by Bob Heyden
We are staring at an unprecedented Meadowlands Pace finish in 2022. There is a strong likelihood that the winner will either be a son or grandson of Somebeachsomewhere, the stallion that died away four-and-a-half years ago.
Three finalists are by SBSW's son Captaintreacherous (Captain Cowboy, I Did It My Way and Captainryanmichael), two are by SBSW's son Huntsville (Caviart Camden and Early Action) and one (Beach Glass) is from the Somebeachsomewhere's final crop.
No horse has won the Meadowlands Pace after their sire has died.
Also, no Pace winner has ever been from a sire's last crop. SBSW would also be the first to win the Pace with progeny from his first crop (Captaintreacheous — 2013) and last.
Here's a look at some major accomplishments that happened long after a horse's sire had died:
1. Sportswriter won the 2009 Metro and 2010 NA Cup. His sire, Artsplace, died in 2006.
2. Keystone Velocity was the 2017 Older Male Pacer of the year a decade after sire Western Hanover died in 2007.
3. Arch Madness banked $4.3 million career and set the all-time record for Breeders Crown final appearances. His sire, Balanced Image, died three years before Arch Madness first competed.
4. Chapter Seven was the 2012 Horse of the Year four years after sire Windsongs Legacy died.
5. Cam Fella's last race was in the same 24-hour window when his sire Most Happy Fella died. At that exact moment, Most Happy Fella had $39 million in siring credits. But, he was far from done. He wound up his siring career at $93 million plus. Amazingly, Armbro Feather won the 1989 mares open pace Breeders Crown six years after dad died. (P.S. — Cam Fella himself sired his richest ever performer from his last crop — $3.7 million earner Eternal Camnation)
OLD TIMERS NIGHT
The last four Meadowlands Pace finals have seen an oddity — the average age of the winning sire has been 19.5 years:
2018 — Courtly Choice (sired by Art Major, 19)
2019 — Best In Show (Bettors Delight, 21)
2020 — Tall Dark Stranger (Bettors Delight, 22)
2021 — Lawless Shadow (Shadow Play, 16)
FIRST CROP SUCCESS?
Huntsville sons Caviart Camden and Early Action will try to become the eighth winner of the Meadowlands Pace by a first-crop sire.
GINGRAS BACK WITH THE PACE FAVORITE
Yannick Gingras is driving the 2022 Meadowlands Pace favorite, Beach Glass, two years ago he won with Tall Dark Stranger as the public choice and 18 years ago he debuted with the 9-5 favorite Timesareachanging (second for Brett Pelling). Gingras will try to join Mike Lachance, John Campbell and Ron Pierce as the fourth driver to win a Meadowlands Pace before and after going into the Hall Of Fame.
DIANE LEWIS BACK, TOO
Caretaker (to the stars) Diane Lewis is back in the Meadowlands Pace with Early Action. In 2021, she had Perfect Sting.
OH, BROTHERS
In the previous 45 editions of the Meadowlands Pace final, never have driving brothers competed against each other. That changes this year when Andrew and Todd McCarthy will battle with I Did It Myway (post 8, 10-1) and Caviart Camden (post 2, 12-1), respectively.
Brothers Howard and Jack Parker, Jr. raced in separate editions. As did Mike Allen (fourth in 1996) and brother Rod (the winner of the 1992 edition with Carlsbad Cam).
DRIVING PACE DEBUTS
Ten of the 45 winning drivers in the Meadowlands Pace were making their debuts in the race — and, of course, in the first half-dozen years of the race the majority of the drivers were making their debuts (four of first seven winners). Todd McCarthy will try the NA Cup / Meadowlands Pace Double while he's at it. No driver has won both races in the same year with two different colts. Here's a look at the winning drivers that debuted that year in the Pace:
1977 — Carl Lecause
1979 — George Sholty
1980 — Clint Galbraith
1981 — John Hayes, Jr. 
1983 — Ron Waples
1987 — Trevor Ritchie
1988 — Mike Lachance
1992 — Rod Allen
1996 — George Brennan
2007 — Tim Tetrick
SPEED KILLED (THEIR CHANCES, ANYWAY)
Going too fast too early in the Meadowlands Pace happens… waaay too fast, especially.
2010 — Kyle Major posted a :25.4 opener and wound up last.
2008 — Bullville Powerful went :51.4 to the half and finished in the rear.
2001 — On The Attack paid for his :26.4 opener and trailed the field.
2000 — Tyberwood went :53.4 to the half and couldn't sustain.
1993 — Nuclear Design forced the issue a bit too much and could see 'em all late.
1978 — Race To Win took over at :28.1 but was not heard from again.
1977 — Big Towner opened in :28.4 yielded and faded. It was the first of two years that the Pace elims and final were on the same night.
EARLY 4-YEAR-OLD RESULTS NOT INDICATIVE OF FUTURE
Overheard recently, "Test Of Faith isn't as good as last year."
Obviously untrue. Yes, she is 4-for-8-but history tells us that with the really great ones, this is not an indicator of future results. Consider:
Run The Table at 3 earned $904,000 in 1987 and was the fastest sophomore at 1:51. At 4, he lost nine of his first 10, but was, again, the fastest at 1:51.1.
Cam Fella was the Horse of the Year at 3 in 1982, but won just two of his first eight in 1983 at age 4. But, he then reeled off 28 straight to seal his second straight HOY title.
San Pail was the Horse of the Year in 2011 — at age 8. Check back to his 4-year-old season and you will find that he was 6-for-29. Then, the next three years combined, he was 39-for-55.
Matts Scooter had a 1:48.2 TT at 3 in 1988 to lower Niatross' mark. Then, at 4, he started with just six wins for his first 11. But, he quickly straightened the ship and won 17 of his last 19 to secure HOY honors at age 4 in 1989.
Moni Maker was 19-for-20 as a 3-year-old in 1996. Then at 4 she was 9-for-19. After that, she was HOY at age 5 and 6.
P.S. — In one of Test Of Faith's four defeats, she closed in :24.3. The last two Kentucky Derbies has final quarters of :25.04 and :25.67.
DELAYED GREATNESS
They raced in the Meadowlands Pace, they just weren't great, yet.
Here is my top three list of stars who hadn't yet made their mark by Pace Night:
No Pan Intended was fourth in the 2003 Meadowlands Pace at 8-1. The sport's last pacing Triple Crown winner hardly a star in the early summer of 2003. But he took care of that with just a single loss from there — a second-place finish in the Windy City to All American Captor — en route to becoming the only Triple Crown winner to also win the Breeders Crown.
Red Bow Tie was ninth in the 1997 Meadowlands Pace at 4-1. William Fahy drove. RBT was later sold in the fall and then blossomed into career earnings of $2.7 million.
Forrest Skipper competed in the 1985 Meadowlands Pace , but was not, yet, a star for Lucien Fontaine. Forrest Skipper finished the year battling Pace-winner Nihilator in the $700G Pilgrim and served advance notice he might be the real deal in 1986. He was. He never lost again and was HOY in 1986, going 15-for-15.
MEADOWLANDS PACE QUIZ
Q. Which driver debuted in the Meadowlands Pace driving a Triple Crown winner?
A. Daniel Dube's first Pace start was in 1999 with Blissfull Hall, who finished seventh. Both driver and horse made up for that quickly. Blissfull Hall won the Triple Crown for Ben Wallace and Ron Pierce. Just a year later, Dube piloted HOY Gallo Blue Chip to a single-season record of $2.4 million.