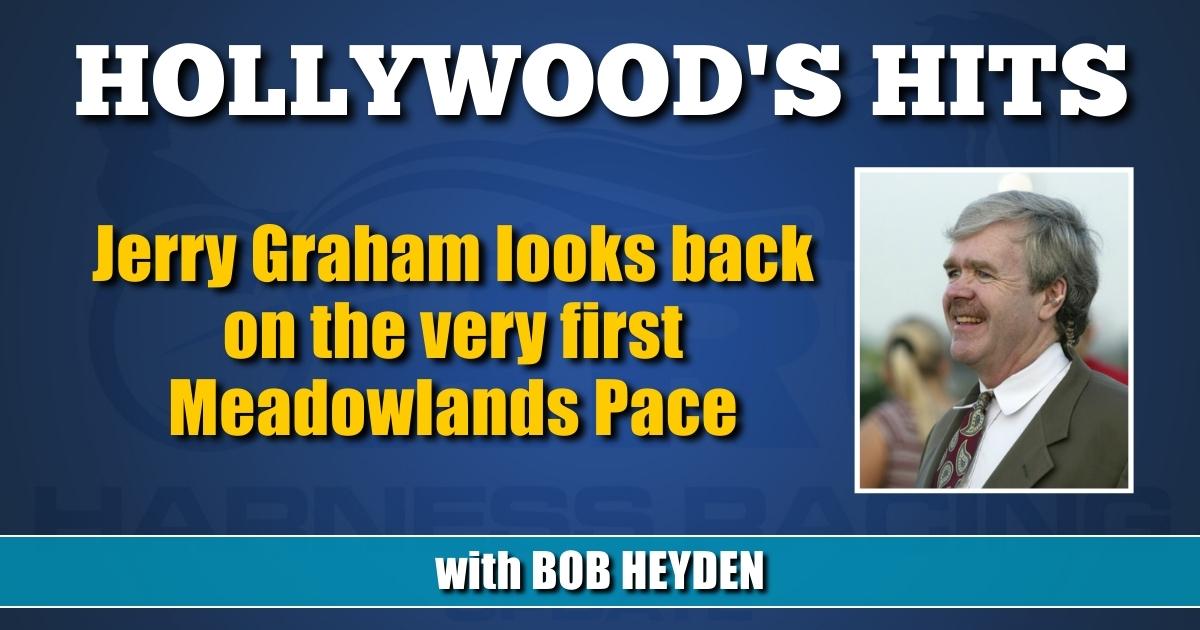 Quiet then, less of a filter now
Jerry Graham looks back on the very first Meadowlands Pace and the fascinating
connection his Goose Filter had with the Hambletonian.
by Bob Heyden
The first Meadowlands Pace in 1977 featured a (then) record purse of $425,000, coverage everywhere and a 10 drivers who would go on to be Hall of Famers — names such as Billy Haughton, Stanley Dancer, Howard Beissinger and Joe O'Brien.
Few noticed 36-year-old Jerry Graham from Illinois. He trained and drove Goose Filter, but the locals didn't really know the name and he was glossed over — even after finishing third at 6-1 behind Crash and Escort in the first elimination.
Now 81 and still a resident of Salem, IL, Graham recently took us back to that first Pace.
"I was quiet. I stayed to myself a lot. My colt wasn't getting the attention the others were. I didn't mind," he said.
In the final, won by Escort, Goose Filter (18-1) wound up eighth, finishing in front of just one colt — Big Towner.
"Billy Haughton parked me with Crash and I never could reach the top (:28.4, :57.1, 1:25.1). I had to hear about this from my brothers for quite a while. For leaving the gate basically. It was a great experience, though."
Finishing sixth in the final was the longest shot in the final field at 87-1 Thorpe Messenger with Stanley Banks. Graham had driven him at the Meadowlands a couple of times prior.
"He was a good horse. My brother Sonny had driven him before I did. A colt that was not easy to handle," Graham said.
Too bad the writers and PR staffs of the day didn't notice something odd about Goose Filter that would have made for a very good story. He was a son of Filter, who 14 years earlier had raced in the… wait for it… Hambletonian (he was 14-7-9 in the 1963 edition).
"(Goose Filter) was a homebred and we trained him as a trotter. But, he would not hit a trot, We tried him as a pacer and it worked," Graham said.
Maybe you have never heard of Jerry Graham. No problem.
He's in the Illinois Hall Of Fame and once drove the legendary Tarport Hap for Del Miller to a victory.
"I sat last and circled the field. That was one of my all-time great moments."
Graham also won the 1976 Jugette with Misty Raquel. He raced at the Meadowlands starting in 1977 on and off for three or four years and had notables such as Smashing Don, Misty Raquel, H As Pet and Rusty Knight.
In a way-you could argue that Jerry should not have been driving Goose Filter at all as a sophomore.
"My brother Tom drove him at 2. The colt was 13-for-18. Tom was really good with a horse, but he never wanted to be a driver. Goose could be tough to get along with, but Tom did. As a 3-year-old I just took my turn."
Did you ever think a trotting-bred chestnut colt (by Hickory Smoke) would be racing in the first Meadowlands Pace?
"Remember, back then the Meadowlands was new. I came from Phoenix, Arizona in early 1977 to the Meadowlands. Nobody knew what to expect. But it was a great place to race."
In case you thought Jerry has packed it in with racing, think again. He's got Ponda Adventure, who has earned well over $300,000 in his first dozen starts in Indiana. Ponda Adventure is a 3-year-old trotting gelding by Swan For All. His only two losses — he is 10 for his first 12 — came in 2021 to the state champion Dover In Motion.
"I have my horses with Erv Miller. I get to see them race in person sometimes. It's a five-hour or so drive from Salem, Illinois to Hoosier. I also raced in the Hambletonian elims of 2013 with Puxtatawney. He made a break early, recovered, finished fifth (timed 1:53.3) and didn't make the final. Corey Callahan drove and John Butenschoen trained for me.
" I'm 81 and it's been eight years or so since I sold my oil business. I still have my office and use it every day. I follow the races. We have a 2-year-old J B Graham, with a lot of promise. I keep my hand in it."
MEADOWLANDS PACE THROUGH THE EARLY YEARS
July 12, 1977 — The first Meadowlands Pace was held on a Tuesday night with a record $425,000 on the line. The attendance was 30,943, the handle was $3,151,943.
Crash, the horse who won the very first Pace elimination, was a son of the 1949/1952 Horse of the Year Good Time. Haughton drove and was third in final. He is the only driver to finish on the board with his first four drives in the Meadowlands Pace. He was first with Falcon Almahurst in 1978, second with Storm Damage in 1980 and third with McKinzie Almahurst in 1982.
The Meadowlands Pace off time was 12:12 a.m., but it was not the last race on the card. White Richelieu won ($10.40) at 12:46 a.m. in the 10th race.
Albatross' first crop were 3-year-olds in 1977 — and four of his progeny raced in the second Pace elimination — Shealbat Rainbow (10th), Jonquil Hanover (6th), B Gs Bunny (1st — then scratched from final) and River Captain (8th).
The 1:54 mile by B Gs Bunny in his elimination was a new world record for sophomores and shattered the 1:55.1 Meadowlands track record set in 1976. B Gs Bunny did it over the fastest 2-year-old ever (at that time) — Jade Prince (1:54.1).
Hall Of Famer Ted Wing made only one appearance in any Meadowlands Pace. The first one in 1977. And his colt outraced his odds — twice. Jazzy Spark was 31-1 from post 10 and finished third in his elim and was 24-1 and fourth in the final beaten only 1 1/2 lengths for it all.
Escort, the inaugural winner, raced only at The Big M in 1977 leading up to the Pace. He was the only one of the 24 in the two elims who had New Jersey ownership — Bernard and Rosalind Mann of Fort Lee.
There are two horses who have won the Meadowlands Pace after going 0-15 as age 2. The first one? Escort. The second one? Art Official in 2008, handing Somebeachsomewhere his lone career loss.
Forty-three were nominated to the very first Meadowlands Pace. The most ever nominated was 135 in 1984, which had four 10-horse eliminations.
The 24 entered in the elims had a combined 364 sophomore starts in 1977 entering into the Pace. That's an average of 15.1 starts per.
Three favorites were on the board in the first Meadowlands Pace final, though not in order. Escort was 4-1, Nat Lobell 8-5 and Crash 3-1.
In the 1982 Meadowlands Pace, the five check-getters were the five favorites who all were part of an entry:
1B Hilarion — John Campbell
2 No Nukes — Glen Garnsey
1A McKinzie Almahurst — Haughton
2A Temujin — Beissinger
1 Rompin Home — Bill O'Donnell
All five drivers are Hall of Famers.
PACE ELIMINATIONS THE FIRST FIVE YEARS
1977 — B Gs Bunny was scratched and never raced again after his world record in 1:54. In 2009 and 2010, a couple of notables also never competed again after not getting any Pace money — Art Colony and Sportswriter.
1978 — The first Pace female, Courageous Lady, was third and sixth in the final. Twenty-four-year-old Bruce Riegle was fourth with Brittany Road in both the elim and final — and was lower odds at 7-1 than HOY Abercrombie (8-1). Abercrombie was second best to Falcon Almahurst in what turned out to be the last year of same-day Pace heats and a final.
1979 — Sonsam was second to Hot Hitter in the elim but that was spun around and reversed for the final. Hot Hitter's $826,000 set an all-time earnings mark by year's end (Niatross came along the next year and took care of all the numbers.)
1980 — Niatross was fourth in the elim but a dominant final winner.
1981 — John Campbell debuts in the Pace with Slapstick — second in his elim and fourth in the final.