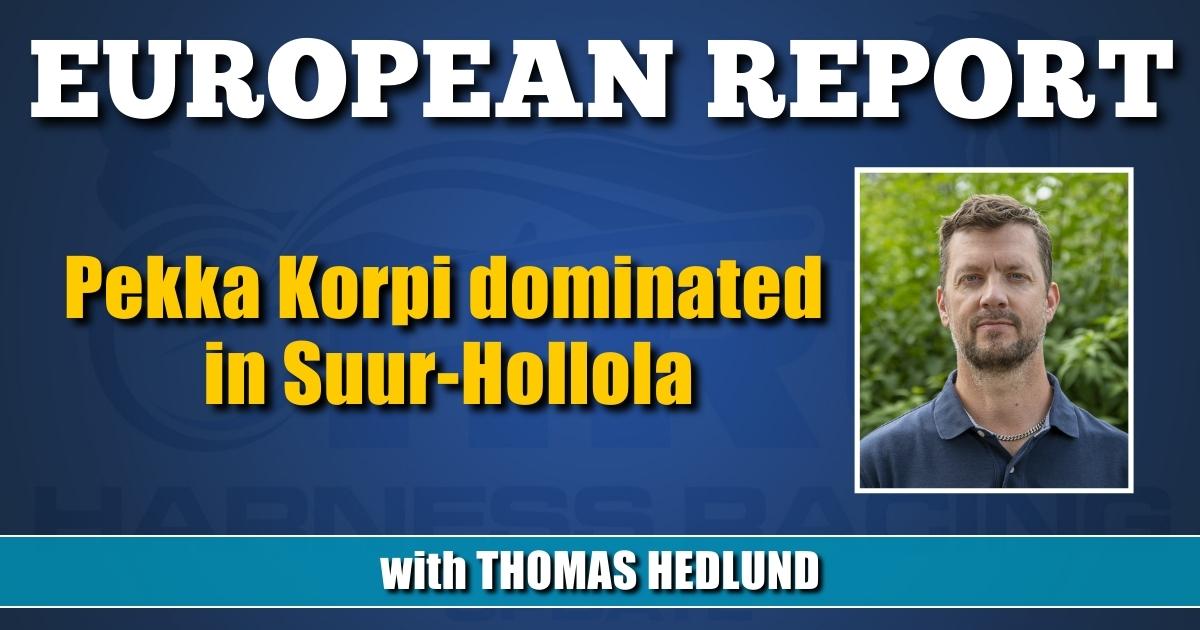 Pekka Korpi dominated in Suur-Hollola
by Thomas Hedlund
The $212,500 Suur-Hollola-Ajo in Lahti, Finland is a quite tough race to win. Finnish-bred trotters qualified for the 1.3 miles long race on Saturday (July 2) afternoon with a final waiting as soon as the day after, on Sunday (July 3).
Pekka Korpi trained Run For Royalty (R.C.Royalty) won the Finnish Kriterium for 3-year-olds in 2017 and the horse has waited for his next big triumph until Sunday's final in Suur-Hollola. During the seasons of 2019 and 2020, the R.C.Royalty son had 10 starts without putting his nose first and when Janne Korpi defended front position from post 1 in Sunday's final, the road to victory was open. Run For Royalty could held stablemate Magical Princess behind him by a neck as he won in a mile rate of 1:55.4. The big win on Sunday meant that Run For Royalty is undefeated in three starts 2022 and the 8-year-old trotter seems to be a serious factor in Finland's bigger races later this season.
Pekka Korpi drove Magical Princess and after a pocket trip she finished strongly as second, ahead of Majestic Man.
Replay here.
STOLETHESHOW AGAIN?
Frode Hamre's Stoletheshow (Dream Vacation) chases another big triumph in his new home country of Norway and after an impressive win in Oslo Grand Prix in June, the horse will try the $160,000 Ulf Thoresen Grand International over 1.3 miles at Jarlsberg racetrack this Sunday (July 10).
A 10-horse field will gather at Jarlsberg with the big race scheduled during the track's weekend meeting. Stoletheshow has great chances to repeat his success from Oslo since he draws post 1 behind the gate and, as in Oslo, trainer Frode Hamre is in the bike.
ULF THORESEN GRAND INTERNATIONAL 2022
Horse – Driver
1. Stoletheshow – Frode Hamre
2. Born Unicorn – Örjan Kihlström
3. Holy Water – Ken Ecce
4. Milligan's School – Björn Goop
5. Global Adventure – Ulf Ohlsson
6. Oscar L.A. – Joakim Lövgren
7. Cicero T.G. – Magnus Teien Gundersen
8. Falcon Eye – Eirik Höitomt
9. Officer Stephen – Tom Erik Solberg
10. Bepi Bi – Alessandro Gocciadoro
GOCCIADORO KING IN NAPLES
Alessandro Gocciadoro's success at European racetracks continue and when Naples track Agnano played host to the $160,000 Gran Premio Citta di Napoli and the $68,500 Gran Premio Citta di Napoli Filly on Sunday (July 3) night, the dominant Italian trainer claimed both titles.
In the Group-1-race Gran Premio Citta di Napoli for 3-year-olds, Gocciadoro sat behind Dundee As (Maharajah) and the duo secured a safe win after a first over trip in mile rate 1:56.4 over 1.3 miles.
In the fillies' division, Gocciadoro used the same tactics as in the first race. His Delicious Gar (Father Patrick) was sent to position first over with 3/4 of a mile remaining of the race and Delicious Gar defended herself bravely when attacks were set in by opponents over the stretch.
The Father Patrick filly came home in 1:55.1.