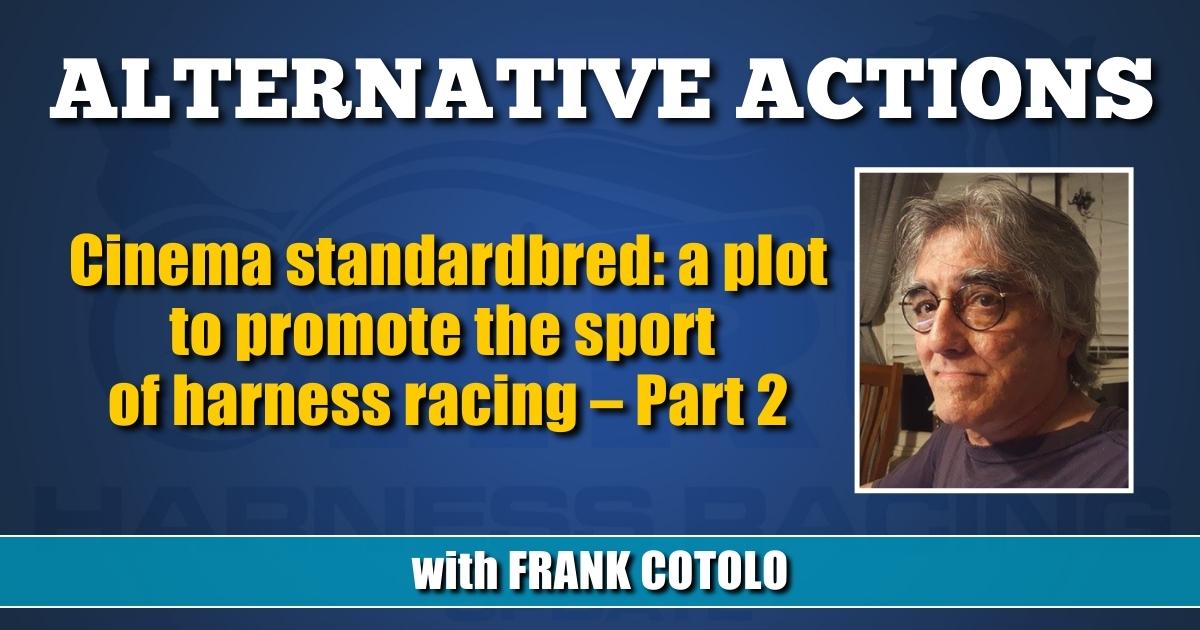 Cinema standardbred: a plot to promote the sport of harness racing – Part 2
by Frank Cotolo
Alternative Actions (AA) continues its series developed to offer the solution that has the best chance to change the nature of the film industry's ambivalence towards harness racing and perhaps inspire someone to pioneer a project that could be the most successful promotional tool standardbred racing ever utilized.
Part 1 is here.
Hollywood's love affair with thoroughbred horse racing was consummated four years before the element of sound was added to the medium and a dozen years before the opening of Hollywood Park racetrack (more to come about the film industry's connection to the track).
It was a 1926 silent movie release titled "Speed Demon" that first featured a thoroughbred-race setting woven into a screenplay. According to International Movie Data Base (IMDB), this was the storyline: "A New York racetrack con artist tries to swindle a thoroughbred owner out of his prize filly, but the plot is interrupted by a race car driver Speed Sherman."
The movie is one of the IMDB-listed 10,000 lost films so we can safely assume there were no significant efforts to assure its survival and for all we know this AA series is the first time it is mentioned in the context of film history.
In 1926, thoroughbred racetracks were becoming enormously popular in Illinois and by the 1930s Chicago was home to six racetracks, more than any other metropolitan area in the United States. Harness racing in urban areas shared racetracks featuring thoroughbred racing. However, the self-proclaimed "oldest operating racetrack," The Milwaukie Mile in Wisconsin, "started hosting open-wheeled races," which a lack of documentation must allow us to assume was harness racing.
As sound revolutionized the medium in the 1930s, Hollywood flirted with movies concerning thoroughbred horseracing. These included "Racetrack," "Racing Luck," "Racing Blood," "Hot Tip," "Thoroughbred," "Breezing Home," Men Of Chance," "Broadway Bill," "Three Men On A Horse," "Down The Stretch," "You Can't Buy Luck," "Speed To Burn," "Sporting Blood" and "Saratoga," the latter two starring box-office giant Clark Gable. (Sidenote: "Saratoga" was one of the earliest movie scripts written by a woman — Anita Loos — who later wrote the book-turned-movie smash "Gentleman Prefer Blondes.")
For the most part, though, the industry found more success using racetracks as a stage for comedy. "A Day At The Races" ('37) was a huge hit for Broadway-turned-movie-stars The Marx Brothers and the lesser known but money-making Ritz Brothers put their brand of crazy in "Straight, Place And Show" ('38).
In 1933, Hollywood began to adapt short stories by popular newspaper-reporter-turned fiction author, Daymon Runyon, into movie scripts. He wrote clique tales featuring underived hustlers, gangsters and gamblers. Among them, Runyon created thoroughbred betting characters that Hollywood (and many Broadway productions) helped to turn into humorous stereotypes. All in all, 20 of his stories became films. Some were reworkings of the same stories and others were film versions of stories adapted into Broadway musicals, the most recognized being "Guys And Dolls."
In 1943, three years before his death, one of his stories, "Princess O'Hara" was remade from a 1935 production with the same title into a comedy by the hottest comedy team of the WWII years, Abbott and Costello. It was retitled "It Ain't Hay." After its theater run, it was unavailable to the public for many years due to legal issues with the Runyon estate.
Hollywood movie-industry mavens became bigger fans of thoroughbred racing than movie audiences through the '30s and by '38 they produced something other than a movie to satisfy their fancies — a modern horse racing track named Hollywood Park.
In the earthquake-ridden city of Inglewood, which in the '20s became the Chinchilla Capital of the world and the home of LAX Airport and The Forum sports center, Jack Warner (of the famous Warner Bros. movie studio), headed an array of seminal industry figures investing in the venture. They included Bing Crosby, Walt Disney, Al Jolson, Samuel Goldwyn among directors and stars. A year before, Crosby and other celebrities funded Del Mar Racetrack, expanding the state's thoroughbred circuit. At its peak of growth came WWII and as it ensued, Hollywood's thoroughbred playgrounds went on hiatus and the focus of movie projects shifted.
After WWII, gambling on horse racing thrived around the world. Harness racing, too. Standardbreds raced in Canada, Australasia, Scandinavia and Europe. In the USA, it was attracting huge urban crowds hungry for legal wagering and another entertainment venue away from home.
Meanwhile, Hollywood was competing with television for audiences. It banked on big productions — spectacles — with greatly enlarged casts, diverse global locations, newly processed coloring, the dimensions of screens and other gimmicks. There were enough crossover audiences to keep the doors open for all entertainment businesses.
And as the '50s began, though harness racing attracted larger urban audiences and financial stability, Hollywood remained incurious to the sport.
In Part 3 we will analyze the failure of horse racing movies and edge towards our plot to create "Cinema Standardbred."