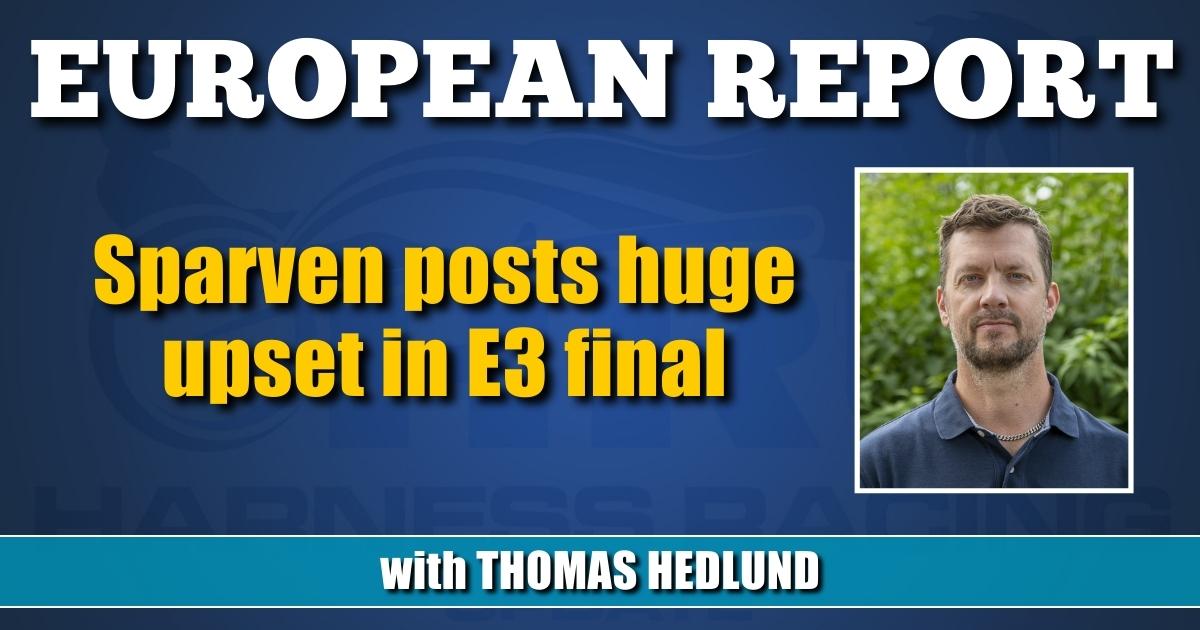 Sparven posts huge upset in E3 final
by Thomas Hedlund
Jörgen Westholm-trained Sparven (The Sparrow in English) had finished 4-3-2-6-3-3 in six starts career starts for earnings of some $10,000 before she crossed the wire first in the $385,000 (double purse for the winner in this race) E3 final for fillies on Saturday (July 2) afternoon.
It was one of the biggest upsets ever in a Swedish classical stakes race.
Sparven qualified for this final in Eskilstuna finishing third in her elimination two weeks ago. From post 12 in the final, expectations were low from the entire party surrounding the Bird Parker filly.
Mika Forss drove Sparven and, to be honest, even with 1/8to go, she seemed to be out of luck to grab anything other than a smaller check. But Forss never gave up as new leader and first choice Eireann was marked by the tough trip she got.
Eireann was three wide during the race's first half mile and then had to face a first-over trip. Still, she got control of the race at the top of the stretch and looked strong, despite the hard trip, as she got close to the wire.
From far, far outside, Mika Forss gave it all behind Sparven, who finished strongly and hit the finish line a nose ahead of Eireann as a 123-1-upset.
Replay here.
It was a good day to win the first race in her career. Sparven won in a mile rate of 1:58.2 over 1.3 miles.
Eireann was second and Halley Wania third.
BEDAZZLED SOX WINS MALE E3 FINAL
Trainer Roger Walmann's Eireann had a splendid performance to finish second and when the final for colts and geldings was scheduled, Walmann had two shots. Bedazzled Sox (Brillantissime) came to the final after eight lifetime starts where six of them had ended with victory. A solid elimination performance and post 1 behind the gate made Badazzled Sox a factor in the big race on Saturday afternoon.
Driver Torbjörn Jansson, the Elitloppet winner with Meadow Road in 1985, knew that he had to keep first choice, undefeated Corazon Combo, on the outside and the tactic succeeded. Bedazzled Sox kept the lead with Corazon Combo on the outside and it was these two trotters that battled over the stretch. But, to be honest, Corazon Combo was never really close to defeat the leader who won in a mile rate of 1:56.4 over 1.3 miles.
Replay here.
Roger Walmann collected his ninth E3 win and Bedazzled Sox is, for now, the king of the 3-years-old crop in Sweden.
Just like in the fillies final, the purse was $385,000 (Bedazzled Sox earned $192,500 while runner up Corazon Combo collected $48,125) and behind the two dominants, Global Destination followed as third.
CALLMETHEBREEZE CONTINUES TO WIN
Philippe Allaire trained 4-year-old Callmethebreeze (Trixton) went to his home country, Italy, when the $160,000 Gran Premio Tino Triossi was raced in Rome on Wednesday (June 29) night.
Italian driver Andrea Guzzinati sent the Trixton son to the lead, but had to leave that position to outside challenger Capital Mail in the first turn. Guzzinati made a new move and hit the lead with a little less than mile to go and Callmethebreeze fought well when challenged once more from opponents attacking on the inside and outside over the stretch. Allaire's trotter won in a mile rate of 1:57.1 over 1.3 miles.
Italian Derby winner Bleff Dipa (Mister J.P.), trained by Holger Ehlert and driven by Vincenzo Piscuoglio Dell'Annunziata, sprinted to safe win in $160,000 Gran Premio Turilli the same night. Leader Zacon Gio seemed to have everything under control as the field turned for home, but Bleff Dipa finished quickly, as the same time as leader Zacon Gio lost power shortly ahead of the wire. Bleff Dipa won in mile rate 1:57 over 1.3 miles.
The 4-year-old mares battled in the $69,000 Gran Premio Antonio Carena and Enrico Bellei, who has dominated the Italian harness racing business for many years, sent his Crystal Pan (Ideale Luis) quickly to the lead and when Bellei stepped on the gas pedal in the last turn, Crystal Pan left her opponents far behind as she came home in 1:53.4.
PARTY SET FOR HALMSTAD
The $232,000 Sprintermästaren and $155,000 Stosprintern for 4-year-old trotters are on the menu when Halmstad, located at the Swedish west coast, plays host to its famous and well visited summer meeting Thursday (July 7) and Saturday (July 9).
The Thursday race card contains the final of $155,000 Stosprintern with 10 mares in the race and the eliminations were held in Halmstad on June 27.
Stefan Melander trained and Courant Stable owned Imhatra Am (Muscle Hill) has impressed a lot this season and not least in her elimination. From post 4, she will be the favorite to win the race.
The $232,000 Sprintermästaren over the mile will be determined after three eliminations and a final during the night in Halmstad. Crop dominant Francesco Zet (Father Patrick) will try the mile for the first time since his runner up performance in E3 final in August last year and Daniel Redén's horse will be a heavy favorite in his elimination.