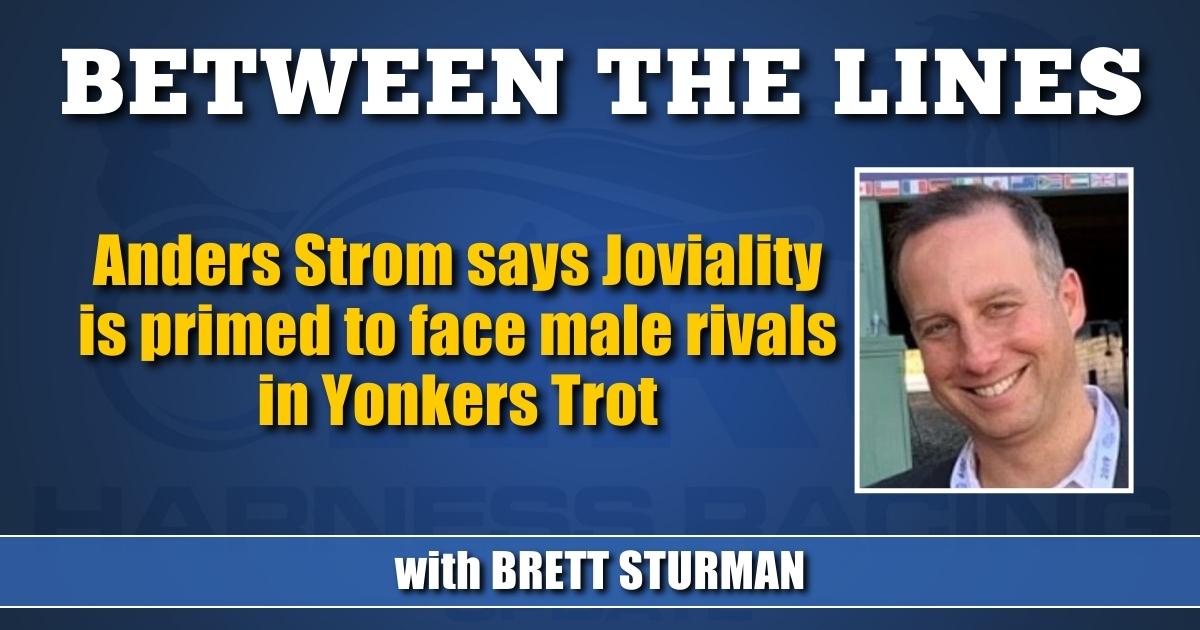 Anders Strom says Joviality is primed to face male rivals in Yonkers Trot
by Brett Sturman
No filly trotter has won the Yonkers Trot in a quarter of a century. It hasn't even been tried in over a dozen years. But don't hold that against Joviality (Chapter Seven–Pasithea Face). Trained by Marcus Melander and driven by Brian Sears in every career start, Joviality isn't simply attempting to take on colts in the 3-year-old open trot race, but she'll be heavily and rightfully favored to beat them.
Joviality enters her Yonkers Trot elimination tonight having looked like a machine this year, unbeaten in three races with a combined winning margin of 20 lengths. Going back to last year when she closed out the season with a gritty Breeders Crown win and subsequent win in the Goldsmith Maid (over Venerable) to make a late push for year-end divisional honors. Her win streak stands at five races and she has won 10 out of her last 11.
Owner Anders Strom races the 3-year-old filly under his stable name Courant, Inc., and he says that the decision to give it a go in the Yonkers Trot was a combination of things.
"She has had proven success at Yonkers half-mile track, and after her impressive start of the season we decided to go for the open and the higher purse," said Strom. "Gimpanzee won it for us 2019 and it would be nice to have a chance to do it again."
Indeed, Jovialty's record at Yonkers is flawless, as it is almost everywhere else. She's raced three times in her career at Yonkers and won all three, including last year's New York Sires Stakes final and a NYSS division by over seven lengths in her first start of this year. Adding in her first career race which took place at Saratoga harness, she's 4 for 4 lifetime on a half-mile track.
At 12 for 15 for her career, Joviality has shown her potential since the very first time she baby-raced last June at the Meadowlands, almost at the very beginning of anyone's 2-year-old season.
"She's a real racehorse with high determination, like her dam Pasithea Face," said Strom. "I saw Joviality train in February, and she really looked like she had developed well with the winter training. Now, her full sister Kayleigh also has started off well (won a 2-year-old fillies NYSS at Saratoga on Monday), which confirms her good pedigree, which stems from a great French line that has produced several Sires."
Her dam, the Swedish-born Pasithea Face should ring familiar. Following a highly successful career overseas, she was a multiple stakes winner in nine starts here in North America in 2017 where she was trained by Jimmy Takter. Paving the way for Joviality, Pasithea Face raced against males multiple times during her North America stint. After finishing third in the prestigious Maple Leaf Trot final at Mohawk, she came back two weeks later to beat males in the Dayton Trotting Derby.
Expectations should be high for the Yonkers Trot. Joviality comes off a nearly six-length romp in the Empire Breeders Classic, and the 1:51 clocking from that race was over two seconds faster than the open EBC race that same day which was won by Justice. That colt, also a Chapter Seven, will be favored in the second of two Yonkers Trot eliminations.
As for Joviality, her elimination test will come from Indiana Sire Stakes champion Dover In Motion. He's lost only twice in his career from 11 starts, and one of those came last week at Hoosier when he was daylight clear approaching the wire when he broke uncharacteristically. It'll be interesting to see how coming off that break, he handles the Yonkers track in his first try over the track.
Naturally, a filly racing in the Yonkers Trot is going to raise the question what that means for later in the year. Is this foreshadowing of a possible Hambletonian try? Fillies have actually won the Hambletonian two of the last four years (Ramona Hill, Atlanta), but a Yonkers Trot and Hambletonian sweep has only been done once before, by Continentalvictory in her landslide 1996 campaign for Horse of the Year.
In regard to the Hambletonian, Strom said, "Understandably, it's simply too early right now to know… We'll have to take this race first and see how the season develops. At the end of the day, we need to consider her form and what the opposition will look like."