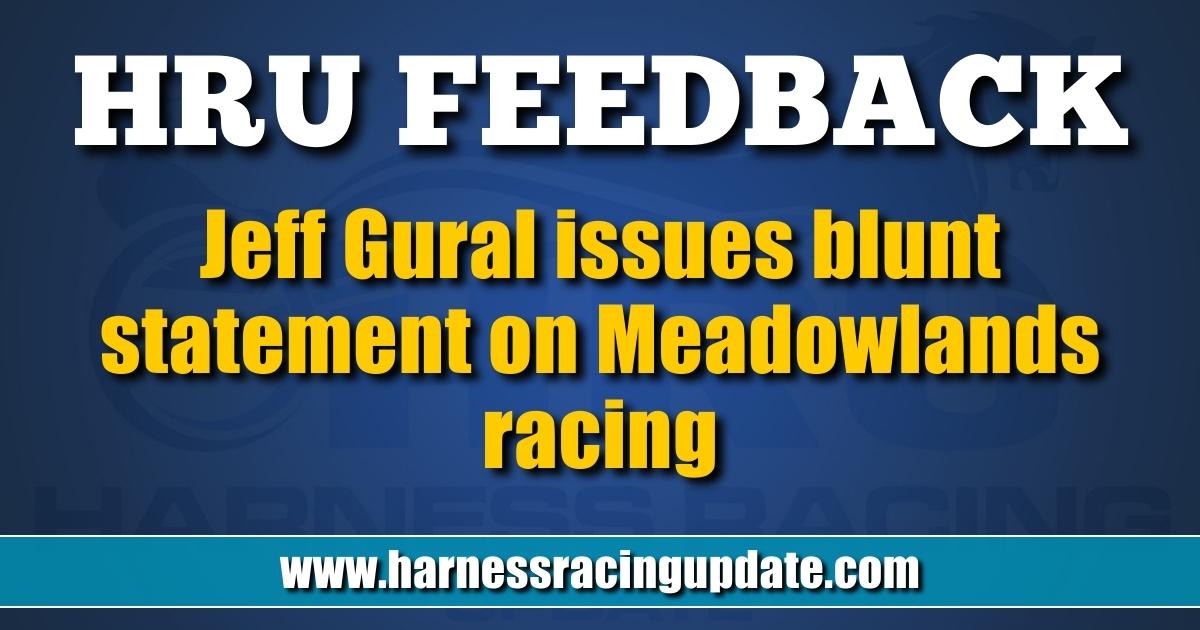 HRU Feedback (2022-06-12)
Jeff Gural issues blunt statement on Meadowlands racing
As you know, this weekend due to the lack of support at the entry box we had to go with seven amateur races, which is an embarrassment, even though our customers like wagering on them for some reason.
You will notice major changes to this week's condition sheet when it goes online later this weekend. Our plan is to go with short series with two legs and a final, all for increased purses, in the hope that we get more entries.
I apologize for taking so long to make these changes in our racing program, but my buildings are only 40 per cent occupied so I am focused on that.
I want to remind all of you that when the Meadowlands was on the verge of closing I stepped up and built a beautiful brand new facility. Never in a million years did I expect not to be supported by the trainers and drivers.
The first thing everyone said to me when I took over is, "You have to get rid of the drug guys." I took that to heart and spent over $1.5 million of my own money to put these guys in jail. As you know, three of the biggest criminals, Allard, Banca and Oakes are either in jail or on their way to jail.
The fact that we have eliminated the beards does not seem to be helping as apparently you enjoy racing against them at Yonkers, Chester and Pocono. I doubt if any of your owners even go to watch their horses race at those three tracks and would much rather race at the Meadowlands, where we have a beautiful facility and a club for owners that everyone also asked me to include in the design.
I hope to see a major increase this week in entries and for the balance of the year. We intend to limit the number of amateur races to two each week to see if that helps.
I am looking forward to seeing a major improvement beginning next week and hopefully I can count on the industry to do the right thing and support us.
Good luck to those who are going to participate in our major stakes over the remainder of the Championship Meet.
If anyone has any suggestions please don't hesitate to reach out.
Jeff Gural / owner Meadowlands Racetrack
Leavitt gets it wrong on Mr. Prospector
This letter is in response to Mr. Leavitt's June 4 column when he speaks about the thoroughbred sire Mr. Prospector. I am a thoroughbred breeder but I read Mr. Leavitt's column every week because I find his insights on breeding interesting. However, he was way off when he opined on Mr. Prospector. Mr. Prospector was bred in the purple by one of the leading Kentucky breeders of the era, Spendthrift Farm, and was the most expensive yearling sold in America in 1971. Contrary to Mr. Leavitt's column Mr. Prospector was unraced at 2, but became a phenomenon at age 3 and 4 being named champion sprinter in 1974. His trainer, Jimmy Croll, was well respected and trained many stakes winners in his career primarily based at Monmouth Park in New Jersey and Florida. His owner Butch Savin's Aisco Stable was a prominent owner of the era and when Mr. Prospector retired in 1975 he wanted to stand him at his own farm in Florida. In those days, Florida's breeding industry was far superior to what it is today and while Mr. Prospector probably didn't get the quality of mares he might have received in Kentucky the book was good enough for him to produce champion It's in the Air in his first crop and top racehorse and influential stallion Fappano in his second. These two horses drew the attention of the fabled Kentucky nursery Claiborne Farm who purchased Mr. Prospector with the help of one of their main clients Peter Brant and moved him to Kentucky where he was a phenomenal stallion with a lasting influence on the thoroughbred breed.
Douglas B. Koch. DVM / Berkshire Stud / Pine Plains, NY
Court setbacks should be wakeup call to USTA
I just finished reading the text of the second federal trial court ruling to uphold the constitutionality of the Horseracing Integrity and Safety Act, the federal law designed to clean up horse racing in the United States. You can read it for yourself here.
On Friday (June 3), U.S. District Judge Joseph Hood, of Kentucky, rejected each of the substantive arguments made by the United States Trotting Association and other opponents of the law. Judge Hood agreed with another federal trial judge, James Wesley Hendrix, of Texas, who also upheld HISA in another court case earlier this year. Both judges are very conservative. Both of their rulings are sound and narrow. Both judges are quite unlikely to be reversed on appeal. Both say clearly that the USTA has the loser's end of the legal argument.
The predictable (and predicted) setbacks in court should serve as a wakeup call to the leadership of the USTA. The association should now withdraw from the expensive and futile litigation and join the rest of the harness racing industry– hundreds of the sport's most prominent trainers, owners, and breeders– in working with federal regulators to come up with sensible rules that will ensure the safety and integrity of Standardbred racing. 
It's not too late for the USTA to do the right thing, change course, and help the rest of us change the status quo and try to fix the drug and cheating problems we all know we have. HISA is here, it looks like to stay, and it deserves a chance to succeed with our participation and guidance.
Andy Cohen / Englewood, CO