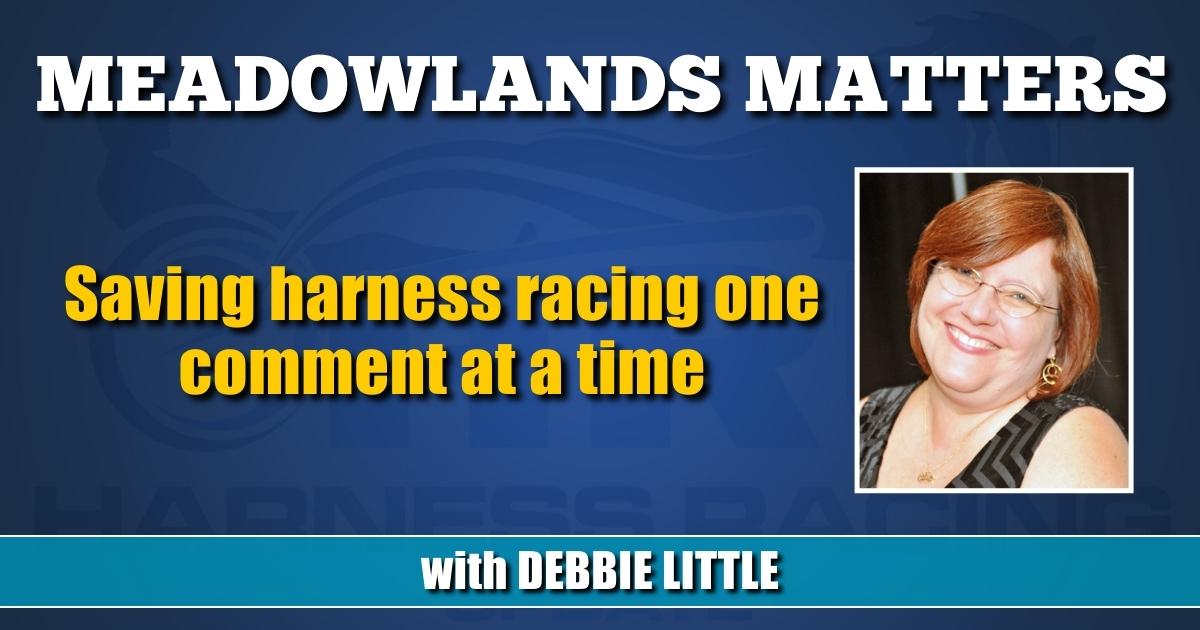 Saving harness racing one comment at a time
by Debbie Little
Haven't you ever wanted to know how a horse trained this week or why he wasn't so impressive in his last start?
A partnership between Marty Marsh's www.insideharness.com and The Meadowlands is focused on answering those questions.
"The wagering public has been asking for as much insight as possible for each race," said Meadowlands' chief operating officer/general manager Jason Settlemoir. "We are working with Inside Harness to provide as much additional information as possible. We are very excited about this initiative and look forward to seeing the results over the next few weeks. We greatly appreciate the cooperation the horsemen are giving us."
Ontario-based Marsh is a harness fan, bettor and former owner, who launched his site a little over a year ago hoping to give bettors a better understanding of why things happen and what to expect.
"I hang out with bettors and I am a better myself, so I know what they're saying and they care about getting a fair shake for their bet," said Marsh. "I just think we need transparency to survive."
Marsh has experienced negativity from uninformed bettors and knows that we as an industry need to do better.
"I was at the OTB watching a race for $250,000 and the favorite broke. The guy behind me said, 'That driver broke that horse on purpose.' And another guy said, 'You think so?' And the first guy said, 'The trainer probably told him to break.'
"I looked at the guy and said, 'Let me get this straight, the trainer woke up at 5 in the morning, put $250 worth of gas in his truck to drive to Toronto to be there for Lasix. And he's racing for $250,000 and he said to his driver, 'We don't really want to win today, just break him?'' The guy looked at me and just shook his head. He didn't know what to say."
For any that have yet to sign up on Inside Harness, it's free, and as a member, it allows you to see comments provided by trainers and drivers at different tracks across North America.
As practically a one-man band, Marsh contacted trainers and drivers to try to get them to join in his efforts. It may have been pretty slow at first, but thanks to Brandon Bates, Dan Rawlings, Randy Taft and Tim Twaddle, the ball started rolling.
"I wouldn't know [Marsh] if I fell over him," said Twaddle. "I shouldn't assume, but I was assuming early on that they reached out to me because they knew I was a fellow Canuck and I wouldn't say no. This game needs help and anything that I can do, no matter how small, I hope can help it."
Twaddle's comments have been popular with site goers because he takes the time to explain what he means rather than just using insider lingo. And he hopes his fellow horsemen will consider doing the same.
"It's a little bit more than saying, 'He should be good tonight,'" said Twaddle. "Give them some information of what happened through the week and why you think he's going to be good. Maybe he had a foot abscess that's over now. Maybe he trained extra special. Something different in his routine that would give them the edge and make them want to bet a little bit."
Since its inception, Marsh has had over 500 handicappers sign up and over 300 trainers and almost 200 drivers, averaging about 30 posts a day and sometimes more on the weekends.
But after reading a column in HRU a couple of weeks ago about better educating bettors, he was inspired to try something new.
"And I read that column and I said you know what? I'm going to contact The Meadowlands and go right from the top and see what happens," said Marsh. "I contacted Mr. Gural, he loved the idea and he hooked me up with Jason and said, 'Let's get it in here.' So, if it wasn't for [that] column, I probably wouldn't have done that. I probably would have kept doing what I was doing and hoping that it caught on."
Prior to contacting Gural, only five or six Meadowlands' trainers/drivers were posting, one of which was trainer/driver Stacy Chiodo who posted regularly.
"I just figured if it's something that's going to benefit the sport, then what is the big deal to take five minutes," said Chiodo. "It is easy to use."
On Thursday (June 2), The Meadowlands reached out to their trainers/drivers resulting in comments for 55 horses on Friday, while on Saturday, out of the 113 programed horses, 83 had comments. Many had both trainer and driver comments.
"The drivers and trainers control this," said Marsh. "This is their baby, I'm just the facilitator.
"When I talked with Mr. Gural and he said, 'I think I can help you out,' I didn't realize he was going to be that much help. It's working out better than I even imagined."
Meadowlands' TV talent Dave Brower and Dave Little read comments from Insideharness.com on the air throughout the night on Saturday and the track even created a two-leg Inside Harness series with a $25,000 final on Saturday, July 2.
The tagline for Inside Harness is "Almost Straight From The Horse's Mouth." Nowhere was that better shown than on Friday with the comments for Hurrikane Georgie.
The 4-year-old gelding had a three-race win streak and trainer John McDermott said, "Ray Charles can see Georgie is in career form," but owner/driver Peter Kleinhans had something more to add.
"Morning line thinks he's the best by assigning him favoritism at 9-5," said Kleinhans. "Whoever drew the race and assigned him the outside thinks he's the best. His trainer thinks he's MUCH the best. I think he's just OK in here. He did win his GSY1 pretty handily. Then he won two more races against weaker fields, and the TrackMaster Ratings he earned were lower than just about any horse in the race. This is a significant step up in class, and he's a speed horse with a ton of early speed inside of him. He could get it done, and I certainly hope he does, but this race is no gimme. As far as strategy, trainer wants me to fire to the lead. I'm not so sure what I'm going to do… I'll know about three steps out of the gate, but unfortunately the betting will have already closed. In other words, no insight on strategy from over here!"
For the fourth straight week, Hurrikane Georgie was sent off as the post-time favorite but finished a close third.
Even though Meadowlands' social media supervisor, marketing coordinator and TV talent, Jessica Otten, worked a 16-hour day on Saturday between baby races, posting on social media and paddock interviews, she still made herself available to assist drivers and trainers with the Insideharness.com signup process.
"I've had multiple people call me and I've helped them sign up and made it a little easier for the drivers that are on the road constantly," said Otten.
Since The Meadowlands got onboard, the combined number of drivers/trainers posting has risen to 628 while the number of bettors has increased to 706.
Twaddle has heard fellow horsemen lament about the future of the sport, but he chooses to see it differently.
"How about this is the greatest job in the world," said Twaddle. "We all love what we do. We friggin' love horses. Why wouldn't you do everything in your power to keep that alive? Can you imagine waking up and not being able to go to the barn and train your horses or race your horses? So, what do we do to fix that? I'd be screaming from the highest rafters come and look at our product, it's the greatest game in the world. You can make money at it. It's so much fun. It's endless entertainment.
"I just know that doing nothing is not the way to go, so if we can preach about our horses or our stable a little and get somebody interested in spending a few bucks at the windows, then good for us."