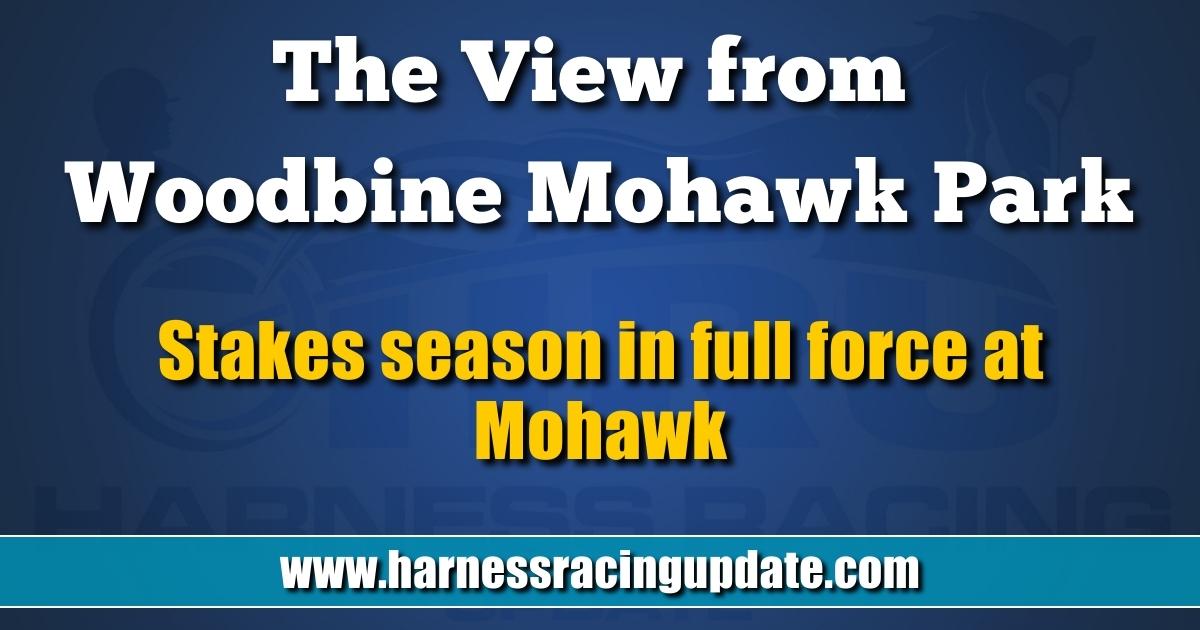 Stakes season in full force at Mohawk
by Melissa Keith
After a Saturday (May 28) night of double-digit winners, Woodbine Mohawk Park began the Monday, May 30 card with a Pick 5 carryover of $65,885 (Canadian). Perhaps unsurprisingly, no one hit Saturday's late Pick 5: race 6-10 winners were comprised of 24-1 Lux Seelster, 23-1 Twin B Heart Throb, 3-5 favorite Stonebridge Helios, 17-1 Highlandbeachsbest, and 15-1 Hervey Hanover.
Between longshots, Stonebridge Helios fulfilled the promise of his May 13 Standardbred Breeders of Ontario Association elimination victory with another, in the rescheduled $122,600 (Canadian) SBOA final for 3-year-old pacing colts and geldings. But for much of the mile, 39-1 Macho Phil (Travis Cullen) gave the impression that another underdog might prevail.
Macho Phil led to the opening quarter in :26, keeping ahead of Bob Loblaw (Sylvain Filion) at the :54.4 half, with Stonebridge Helios (Bob McClure) trailing all but two early breakers. Macho Phil's advantage dissolved in what announcer Ken Middleton termed "a mad scramble to the finish." Widest of all down the stretch, Stonebridge Helios' :26.3 last quarter carried him past fellow closers Sport Secret and Chucky Hanover in a 1:50.3 personal best, which equalled Bob Loblaw's mark for fastest 2022 Canadian win by a sophomore male pacer.
Stonebridge Helios (Sunshine Beach—Ken Doll J) is conditioned by John Pentland of London, ON, who shares ownership with John Fleischman of Ottawa, ON, and breeder Angie Stiller of Arva, ON. Original plans were for the lightly-raced colt's next race to be a Somebeachsomewhere stake division, scheduled for June 4 at Mohawk. His earnings have now reached $369,510 (Cdn) over nine career starts.
"I don't know how much he improved [from year to year]," said trainer Pentland after Stonebridge Helios' latest victory. "He was a big, strong colt last year and he was a good colt last year. I was lucky – he doesn't have a lot of problems, and he loves to race, and I think that's the main thing about him… He wasn't great tonight. He wasn't at his best. But it's five weeks in a row he's gotta go and it's tough, so we're aiming for the [North America] Cup and that's what we want."
Monday night, Ontario Sires Stakes Gold trotters got rolling for the 2022 season. Two $101,300 (Canadian) divisions of 3-year-old colts and geldings saw familiar faces return to the Mohawk winner's circle. Last year's top OSS 2-year-old male trotter Duly Resolved (Paul MacDonell) left from the outside post, moving easily past Tymal Tiggs (Louis-Philippe Roy) before the first turn and maintaining position for the rest of the 1:54.1s mile.
The lifetime-best victory was Duly Resolved's first in three tries this year. The Resolve gelding (out of Motown Muscle by Muscle Mass) is owned by Bax Stable of Campbellville, ON; David Hudson, of Dallas, TX; Don Allensen of Wyoming, ON; and Gaelic Stable of Sharon, ON. After the win, trainer John Bax remarked, "Nobody gave him any grief, so that was the way it was supposed to happen."
Esplosione (Jody Jamieson) turned the tables on Twin B Archie (James MacDonald) in the next OSS Gold event. Two colts (R Royal Port and Simcoe Seelster) missed the gate, effectively reducing the field to six trotters. #7 Three Finger Pour (Trevor Henry), #6 Red Overbach (Louis-Philippe Roy), and #4 Safe Conduct (Chris Christoforou) battled three-wide going into the opening turn, settling quickly into single-file order by post position. The 1-9 favorite stepped out from first-over fourth along the backside, making front at the half.
Unlike Duly Resolved, Twin B Archie's lead was swiftly under threat: Three Finger Pour gave chase on the final turn, followed by second-over Esplosione, who tipped three-wide for the stretch drive. Jamieson's gelding unleashed a :27.1 last quarter that closed the four-length gap between himself and Twin B Archie in a perfectly-timed late move. The 1:53.4s neck-margin revenge was a new mark for Esplosione; he finished second to Twin B Archie in their May 13 SBOA elim and the non-wagering SBOA final, contested May 23 before the regular Monday card.
Esplosione (Kadabra—Dynamite Dame) is trained by Meg Crone for owners Mel Hartman of Ottawa, ON and Enzed Racing Stable of Allentown, New Jersey. Recent catch driver Jody Jamieson praised the gelding's sensible mindset and late speed: "Last week, he was just a total professional. I got away close to last, just stayed on the rail, and you know, I had to stop him and start him a couple of times. It really showed me that he was very versatile. Tonight, it worked out great. I got to settle right in behind James [MacDonald], which I thought was going to be good until he left to go to the lead [with Twin B Archie]. I still got a second-over trip, and he fired so hard down the stretch, he was just not gonna get beat tonight."
The 12-1 win was Esplosione's second of the year (and fifth lifetime), sending his purse winnings to $307,169 (Canadian) after 17 total starts.
Notes: Oney Hall's seven-race win streak ended in Monday's free-for-all trot, as Brad Grant's Patriarch Hanover (Doug McNair/Richard Moreau) edged past for a new 1:51.4s mark. Tonight's (June 3) Graduate Series leg for 4-year-old trotting mares is canceled due to insufficient entries. Points will be awarded to mares entered; the series resumes June 25 at The Meadowlands. Last Friday's (May 27) noteworthy qualifiers included wins by Beach Glass (1:52.1s), Warrawee Vital (1:50.4s), and Herculisa (1:53.3s). The Quick Hitch Paddock Kitchen is now open for the season, with operating hours during upcoming race nights and morning qualifiers.