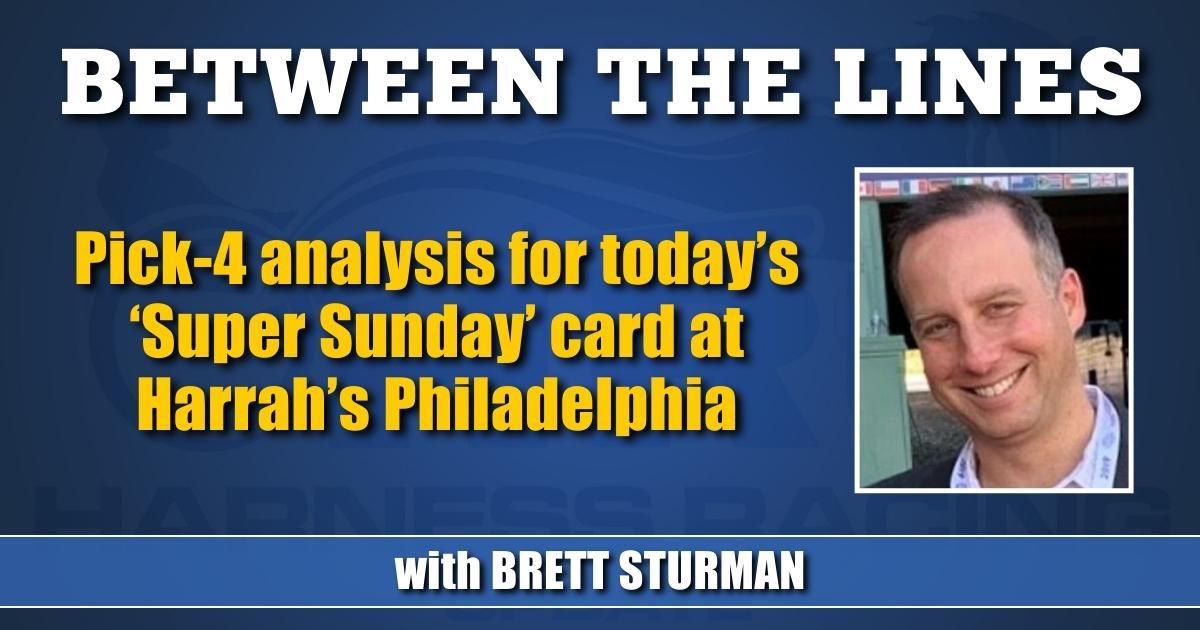 Pick-4 analysis for today's 'Super Sunday' card at Harrah's Philadelphia
by Brett Sturman
Anchoring today's stellar card at Harrah's Philadelphia is a $10,000 guaranteed pool for the late Pick-4. The sequence features a trio of $100,000 invitationals, and here is how I see the races shaping up.
Race 10 $0.50 Pick-4 ticket: 2-6 / 1-4-7-8 / 5-7 / 1-2-8 = $24
RACE 10, $68,116 PASS 3-YEAR-OLD FILLIES PACE
The headline here is the return of 2-year-old champion Niki Hill (5-2). Following a brilliant campaign last year in which she lost just a single time, she's qualified three times for her usual connections of Ryder and Dunn. The Pick-4 has the potential to pay well if this one loses to kick off the sequence, let's see how she comes out in sophomore debut. Lyon's Serenity (4-1) and Boudoir Hanover (4-1) are both formidable adversaries. The latter qualified a length behind Niki in that recent qualifier at the Meadowlands and got close to Niki last year on occasion; the same could be said for the former. Silent Crossing (8-1) enters on a six-race winning streak; will need to go faster but she's been excellent since arriving from Canada. St Nevis (8-1) was competitive against some of the better 2-year-old fillies last year, I wouldn't disregard completely for DM and Norman.
Picks: Niki Hill, St Nevis, Lyon's Serenity
RACE 11, $100,000 BETSY ROSS PACE
Double millionaire and two-time divisional champion Lyons Sentinel (4-1) makes her 2022 debut in a highly competitive spot, following a qualifier right in behind last year's open pacing division champ, Allywag Hanover. It took three tries to get off the mark last year and trainer Jim King was quoted this week as saying he feels his champion mare may need the race. Because of that and the outside post I'm inclined to play against for win, though I think Tetrick will have her in play at some point.
This looks like a good spot for Racine Bell (7-2) from the rail. I know she couldn't carry her speed all the way at the Meadowlands last out or even at Yonkers three back when she got nailed in the Blue Chip Matchmaker final, but she'd be able to do so here at her best; very consistent mare. Drama Act (9-2) upset Racine Bell to win the Matchmaker though has come up short in her next two at Yonkers; could take action for Burke and Gingras connection. That was maybe a chink in the armor we saw last week from Amazing Dream N (3-1). She took a somewhat weak run at Racine Bell last out at the Meadowlands and this will be her biggest test to date in North America; let's see how she responds.
Majorca N (9-1) was actually impressive two back as a big longshot at the Meadowlands where she went a parked out first-over trip from post 10 and hung in there bravely; I wouldn't rule out. Easy To Please was used hard last out into a fast opening quarter in a leg of the Graduate; still has something to prove against these. Keep Rockin A (15-1) won this race last year but that seems like a long time ago; she's upset against this group prior though. Watch Me Now (12-1) seems bound to attract attention off her double-digit morning line. Tripped out last week when a huge gap to the inside opened up into the stretch but Dunn may very well have her in a striking position once again.
Picks: Racine Bell, Lyons Sentinel, Majorca A
RACE 12, $100,000 MAXIE LEE INVITATIONAL PACE
Lovedbythemasses (9-2) has made a living this year beating overmatched foes in the earlier season Meadowlands Open's and made a decent account himself last week on the step up in the Cutler. Showing speed and parked early, it looked through the stretch like Tetrick could have used a little bit of room as part of that 1:49.1 record mile won by Ecurie D. I like him in this spot.
If this were a mid-season race for When Dovescry (5-2) I'd be more confident, but it's just her third start back and frankly, she's yet to fire in her first two. Everyone knows what she's capable of but this seems like a challenge. Amigo Volo (4-1) is another well-storied champion, and he makes his first start back since January. Qualified a few days ago and is in good hands, going for Dunn and Norman.
Hillexotic (5-1) changed connections a couple of months ago and has been highly competitive for Burke in that time. Him and #7 have both beaten each other and this one comes off a walk in the park from post 8 at Yonkers; part of the early pace for sure. Tough call on the Back of the Neck (3-1). He found his better gear in the latter stages of last year but his only race this year was a bit underwhelming, maybe a play against. Sermon (8-1) beat Back of the Neck in a recent qualifier but was no threat as a longshot last out in the Cutler. Similar could be said for Mississippi Storm (7-1). Eurobond (6-1) enters in sharp form for the duo of Spaccarelli and Kakaley; maybe can land a share at his very best.
Picks: Lovedbythemasses, Amigo Volo, Hillexotic
RACE 13, $100,000 COMMODORE BARRY PACE
Nicholas Beach (3-1) won last year's edition of the Commodore Barry and did so in dramatic fashion when Joe Bongiorno piloted him to the win less than 24 hours after being involved in an accident the night before at the Meadowlands. Nicholas Beach returns now fresh off a career best 1:47 win taken last week at the Meadowlands; will be interesting to see if he can follow it up.
Workin Ona Mystery (7-2) has been remarkable in working himself back into elite form the past couple of seasons. He simply outpaced Nicholas Beach two back at the Meadowlands when he tied his lifetime best of 1:48.1 and then had no chance last week when racing from the back on a night where no one could close. Another exciting matchup between these two is coming again.
Ignatius A (7-1) had a tough go of it two back when he went first-over into fast fractions and then came back for a sharp wire-to-wire score; I think McCarthy takes an early chance from post 8. American Dealer N (5-1) just missed to Ignatius last out, though I feel he has something to prove against these. Nandolo N (9-1) is another who has shown success against this kind at Yonkers where he's been very fast at times but needs to show he can do it here. Wild Wild Western (7-1) enters the Commodore Barry on a six-race winning streak at the Meadows where all of which he's beaten Dorsoduro Hanover in the process; impressive. Jack's Legend N (7-1) makes his third start after going from Josh Green to Nifty Norman. Southwind Ozzi (10-1) steps up in sharp form.
Picks: Nicholas Beach, Workin Ona Mystery, Ignatius A