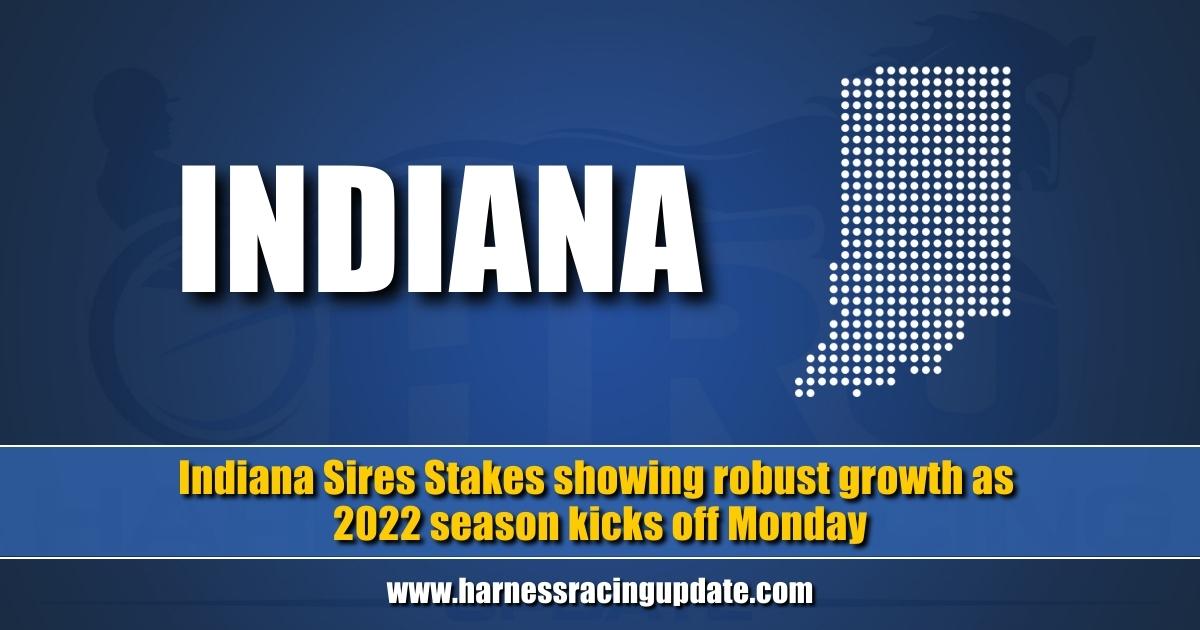 Indiana Sires Stakes showing robust growth as 2022 season kicks off Monday
The program has the most horses nominated since 2015.
by James Platz
The opening leg of Indiana Sires Stakes competition kicks off over the holiday weekend at Harrah's Hoosier Park Racing & Casino. Sophomore trotters and pacers will square off in their respective divisions as part of a special Monday (May 30) Memorial Day card at the Anderson oval. A total of 10 divisions will be contested over the course of the 13-race card with each of last fall's Super Final winners lining up behind the gate Monday evening.
If nominations are any indication of a program's health, 2022 Indiana Sires Stakes numbers show a robust program. Over 12 divisions – including freshman, sophomore and older horses of each gait – 1,368 individuals were nominated, an increase from the 1,276 eligible in 2021. It is also the highest number since 2015, when 1,510 horses were nominated across all categories. Increases were posted in seven of the 12 divisions, with nominations for 3-year-old trotting fillies growing 30 per cent from a year ago.
M-M's Dream, last year's $270,000 Indiana Sires Stakes Super Final winner and divisional champion, begins her sophomore campaign in the night's seventh race, one of two $47,000 divisions for filly trotters. A winner in six of eight starts in 2021 for owners Eleven Star Stables, Frank Baldachino and Hillside Stables, the Swan For All—Trading Place lass has drawn post four in a six-horse field. Trained by Henry Graber Jr., the filly won a qualifier and finished second in another May 18 at Hoosier Park, trotting the mile in 1:54.3 with Sam Widger in the bike.
Melanie Wrenn will send out a pair of contenders in the card's second race. Fleurie, Super Final runner-up, will make her sophomore debut. She has drawn post three and will be guided by Mike Oosting. Bluebird Dove, a 1:56.2 winner on April 20, will start from post two. Peter Wrenn is set to drive. Luv Lorelei, coming off a two-length victory in the Msnaughtybynature final, lines up fifth for trainer and driver Robert Taylor.
Trick Of The Light has drawn the outside post in one of three $34,500 Indiana Sires Stakes divisions for sophomore filly pacers. A 1:51.1 winner last season in the Super Final for freshman fillies, the Brian Brown trainee enters Memorial Day with two starts to her credit. After beginning the year with a 1:51.4 score, the Odds On Equuleus—Gordjus three year old raced second on May 14, falling three parts of a length short while registering a 1:50.3 clocking. Steered by Trace Tetrick, Trick Of The Light is owned by Country Club Acres Inc, Joe Sbrocco and Kirk Nichols. She starts eighth in Monday's 12th race.
Always Gonna B You, third-place Super Final finisher, is the 7-5 favorite in race 10. Trained by Jeff Cullipher, the Always A Virgin filly comes to Hoosier Park off a 1:52 score at Harrah's Philadelphia.
Hoosier Park's 11th race could provide fireworks as a trio of last year's leading 2-year-old pacing colts have drawn into the same Indiana Sires Stakes division. Super Final winner Dalby Hanover will start from post six in the last of three $35,000 divisions. The Rockin Image-Don't Deny Me gelding enters the event with two qualifying wins under his belt. Moved to the Joe Putnam barn after Brittney Dillon's suspension earlier this spring, Rising Stein Stables, LLC owns Dalby Hanover.
Lining up to his outside in post eight is last year's divisional champion, Fulfullnmydestiny. Bred and owned by Brett Boyd Racing LLC, the son of Tellitlikeitis—Driven By Destiny was a five-time winner in 2021. He established a new Hoosier Park speed record for freshman pacers with a 1:49.2 score for trainer/driver James Yoder last September. The sophomore enters sires stakes action off a nine-length romp in a May 14 qualifier.
The field also includes Breeders Crown finalist Gentle Giant, who has missed the board in two outings this season. Ponda Warrior, who turned in a 1:51.1 triumph May 20 for trainer Jay Hochstetler, is the 2-1 favorite in race five, the night's first division for sophomore pacing colts.
Dover In Motion, who dominated the freshman trotting colt ranks last year at Hoosier Park, will make his debut Monday in one of two $50,000 Indiana Sires Stakes divisions for sophomore colts and geldings. Undefeated in Indiana in 2021 with eight wins in nine starts (he raced sixth in the Mohawk Million), the Jamie Macomber trainee earned $309,400 last year for M&M Racing and Norbert Maza. The partnership of M&M Racing and Macomber Racing will campaign the Dover Dan—Keystone Sadie gelding in 2022. Dover In Motion and Ricky Macomber Jr. will line up sixth in a field of 10.
Ponda Adventure, runner-up in the $270,000 Super Final, is the 8-5 choice in the second division, carded as race 13. Trained by Erv Miller, the son of Swan For All won eight of 10 events in 2021 and has two qualifying wins to his credit. Trace Tetrick will guide the gelding from post seven.
As part of the Memorial Day program, Hoosier Park is honoring the military. Special tributes for each military branch will be held in the winner's circle throughout the evening. All military members will receive a 15 per cent discount at all dining options at Hoosier Park.
Family activities will be available at the front paddock from 5-9 p.m. including the Honey Hill Farms Petting Zoo. Guests can visit Trottingbred Pony CD's Miss M at the Harness Horse Youth Foundation education station. Families can learn about the thrill of harness racing and play games from HHYF's Bucket of Fun.
First post for the Memorial Day program is 6:15 p.m.
ISS NOMINATIONS BY DIVISION
Division 2021 2022
2CP 228 227
2FP 201 220
2CT 153 173
2FT 143 174
3CP 158 152
3FP 120 136
3CT 103 108
3FT 80 104
AHP 31 22
AMP 20 19
AHT 27 20
AMT 12 13
TOTAL 1276 1368