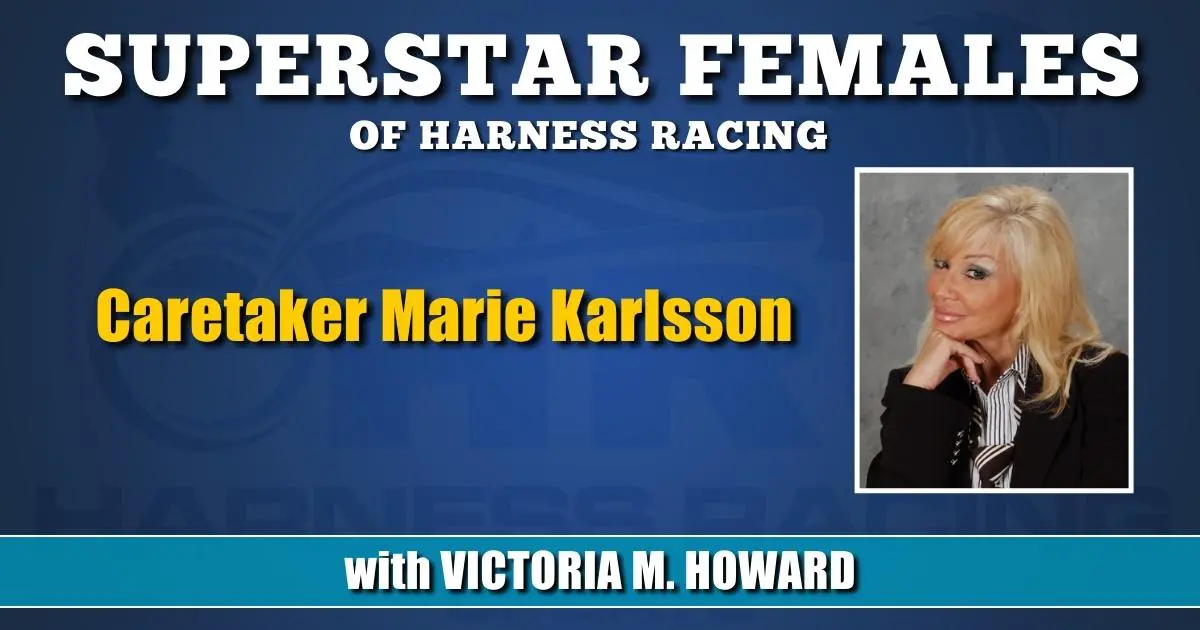 Marie Karlsson — Caretaker
by Victoria Howard
In April of this year, a hardworking, dedicated, horse lover was nominated "April Caretaker of the Month" by SLS Equine. Her name is Marie Karlsson and I can personally testify she indeed deserves this wonderful recognition for she is by far one of the most diligent and dedicated grooms in harness racing.
I know this for she takes care of one of my horses, named Nikki The Nun. Nikki thinks Karlsson is her momma. Karlsson spends all day, every day, caring for Nikki, along with several others for trainer Tony Alagna.
Karlsson treats each horse like they are hers. Not only does she make sure they are shiny and dappled, but she spoils them with blueberries, strawberries and whatever else her kids crave.
It was back in her homeland of Hallstavik (Sweden) when Marie Karlsson began working with horses and would continue doing so for decades.
"I started out with riding lessons on ponies, and when I was 13 years old my father who was working at a breeding farm began training racing horses and breaking yearlings. I was still in school at the time, but began helping out in what would become my lifelong career," Karlsson said.
"My parents had both been involved with racehorses and breeding farms, but when mom had my sister and I, she got out of the business and took on a part-time office job. My sister and nieces are still involved with riding horses and are very good at it.
"Over the years, I have worked for numerous trainers, such as Leif Witasp, Tom Haughton, Robbie Siegelman, Dan and Wally Hennessey, Shane Arsenault and I started working for Tony Alagna in March of last year.
"Being in the business has given me the opportunity to travel and race at the tracks Solvalla, Axevalla, Rattvik, The Meadowlands, Garden State Park, and my 'home track' of Pompano."
Unfortunately, Pompano Park is no longer open for us to enjoy.
For Karlsson and thousands of others, we will greatly miss that track already.
"It's absolute heartbreaking that Pompano closed, for it was my 'home away from home,' and also a 'safe haven' for me. Since I wasn't able to be there on closing night in April, I think when I go back to Florida in November it will really hit me hard," Karlsson said.
Karlsson has worked with different trainers and has learned something from each one.
"I can't say that one trainer has taught me more than the other for there are so many ways of doing a job, and each trainer has their own way of doing things. You have to learn the way they do things, and adjust it to your style.
"I learned a lot working for my dad when it comes to young horses and when I worked for the Hennesseys (Wally and Danny) I got a lot of experience working on the track.
"I've seen a lot of different styles of training. Back home in Sweden there's a lot of training on the sand trails in the woods; intervals on the straightaway tracks, and also some under saddle.
"For some trainers it's been a steady schedule of training, while others choose to not train a lot – or at all — if the horse races every week.
"When I started working for Tony (Alagna) it was a big change, for when I worked for other trainers — Wally Hennessey for one. I actually did a lot of the track work myself with the horses I cared for.
"While working for the Hennesseys I wasn't assigned certain horses, for their way of training was more of a community barn — meaning doing it all together, instead of specific horses to take care of.
"Tony Alagna has his second trainers help do the jogging and training. Because of the large amount of horses in his stable, the grooms are to follow the daily schedule, which is: clean stalls, getting the horse ready, bathing and cooling out, and doing them up if needed.
"It took me a bit longer to get adjusted to not actually being physically on the track, but the work duties are like any other barn, and I have a couple of really nice horses to care for.
"It doesn't matter to me if they are trotters or pacers, but I feel that it's a greater accomplishment as a horseman when you develop a good trotter from the ground up.
"No preference with mares or stallions/geldings, for they are all different with unique personalities and individual quirks.
"My biggest thrill was when I won my very first race, but when my hard works pay off and my horse races great, I beam with joy and am a proud mom."
As far as her all time favorite horse, Marie said it is Armbro Romance.
"I took care of her for trainer Tommy Haughton when she was 2 years old," Karlsson said. "But I love them all in different ways as they all have different personalities. A trainer once told me, 'Don't fall in love with the horse for it's a business.' My response was, 'If I don't love them, I shouldn't be working with them.'"
Here's a big thank you to all the caretakers out there. You are all unsung heroes in our sport.