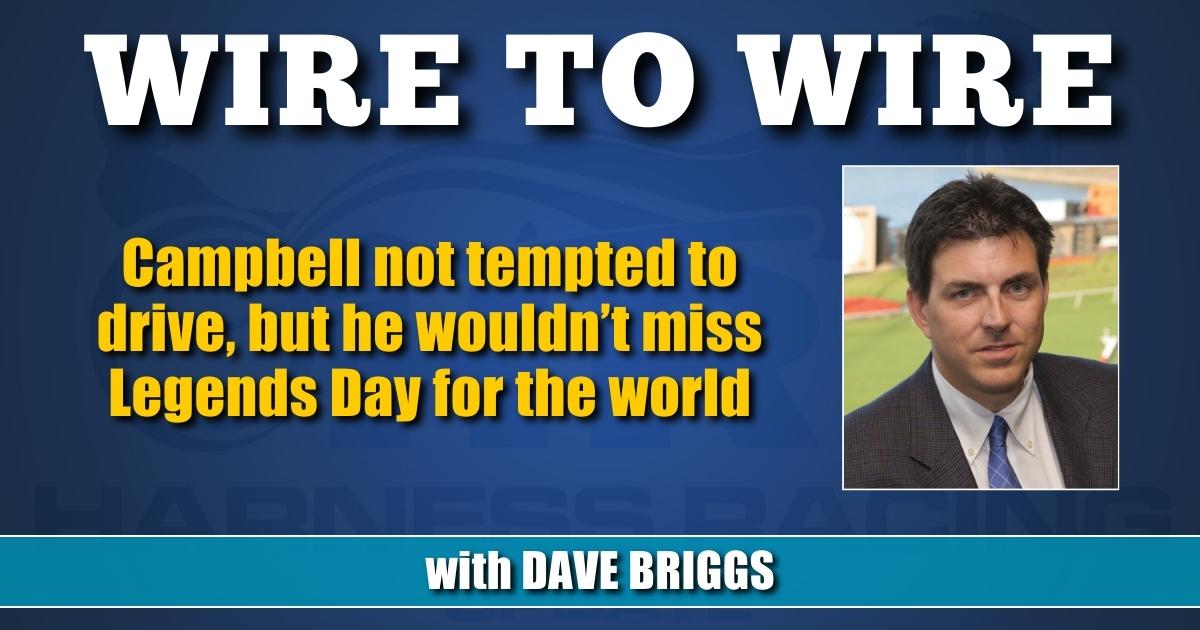 Campbell not tempted to drive, but he wouldn't miss Legends Day for the world
The 11th edition of the event — site of his retirement race five years ago — is on tap for June 12 at Clinton Raceway.
by Dave Briggs
Asked if he was tempted to come out of retirement to drive one more time on June 12 at Clinton Raceway's Legends Day, Hall of Famer John Campbell gave a typical all-class Campbell answer.
"No, I'm really not. I thought it was a perfect exit for me leaving it at Legends Day before and I'm content to leave it at that," Campbell said.
Campbell, 67, a native of Ailsa Craig, ON, drove for the final time in his stellar career at the 2017 edition of Legends Day at the small, yet-magical, rural Ontario track not far from where he grew up. Campbell retired from the sport with career earnings of $299 million, making him the richest driver in harness racing history. His retirement at Clinton Raceway was a magical ending to a remarkable career. Campbell said he doesn't want to spoil that by returning to the bike for this year's event.
"I made that commitment that that was my last drive at the time and I intend to honor it for everybody that was there that day," Campbell said.
The good news is Campbell — who has been present at all 10 previous editions of Legends Day — will be making the journey from his home in New Jersey for the 11th Legends Day to sign autographs and rekindle old friendships — just as he did for the 2019 edition.
"It's always a great day for me and it always has been since the first one. It's just a chance to go back and see so many people… there's a certain segment of people and that's the only time I see them is on Legends Day – people I grew up with and started out racing with, people I knew when I was young. It's really an enjoyable experience for me. It's kind of a homecoming deal for me. I can't stress enough how much fun I've had over the years at Legends Day," he said.
Legends Day honours some of the greatest drivers in the sport's history. All have been inducted into the Canadian Horse Racing Hall of Fame. Those participating in this year's edition have collectively earned nearly $1.2 billion — yup, that's billion with a b — in their racing careers.
This year, Doug Brown, Steve Condren, Wally Hennessey, Trevor Ritchie, Ron Waples and freshly-minted Canadian Hall of Famers Paul MacDonell and Randy Waples — who will both be officially inducted in August — will contest the $15,000 Legends Day Trot. It is the first Legends Day for MacDonell and Randy Waples.
Campbell, Bill O'Donnell and Dave Wall will also be there to sign autographs.
The legends' legend, Keith Waples, will be sadly missed. Waples died a year ago at the age of 97.
"It is (sad), just because he's been such a part of Canadian racing and the history of Canadian racing," Campbell said. "Everybody that ever raced horses in Canada knows about Keith Waples and it's just that simple. I did make the trip up (to Grand River Raceway) for his Celebration of Life and I was really glad I did. It was a great function and it was a celebration of life. I was just honored to be part of it."
Campbell said he's happy Randy Waples, the son of Keith's cousin, Ron Waples, will be at Legends Day for the first time to extend the family's immense harness racing legacy.
"It's always an evolution. Randy is another Waples and it goes to show how much the Waples name means in racing," Campbell said.
As for what makes Legends Day special, Campbell said it's two things.
"The first thing is the interaction – both ways – between the fans and the legends. It's a unique dynamic… that synergy between the legends and the fans, both ways, it's really special. The other thing is just (Clinton Raceway GM and Hall of Famer) Ian (Fleming) tweaking it and keeping it fresh and coming up with the concept in the first place."
This year, there will be an online auction from June 5-9 at www.clintonraceway.com. On Legends Day itself, there will be a silent auction, autographs with the Legends from 2-3 p.m., the Legends Day Trot will hit the track at 4 p.m. and a chicken barbeque will follow the races. All the food has been donated and all sales will, again, go to the Clinton Public Hospital Foundation.
Previous editions of Legends Day have raised more than $260,000 for the foundation. In 2019, Legends Day raised $50,000.
Then, the COVID-19 pandemic forced a one-year delay to the, normally, biennial event.
"I'm just like everybody else, I'm so happy that we can be together and we're travelling again. COVID hasn't left us, so we just have to learn to live with it and… I think everyone is just ready to move on with their lives. We have to deal with COVID, but it's not going to hinder us," Campbell said.