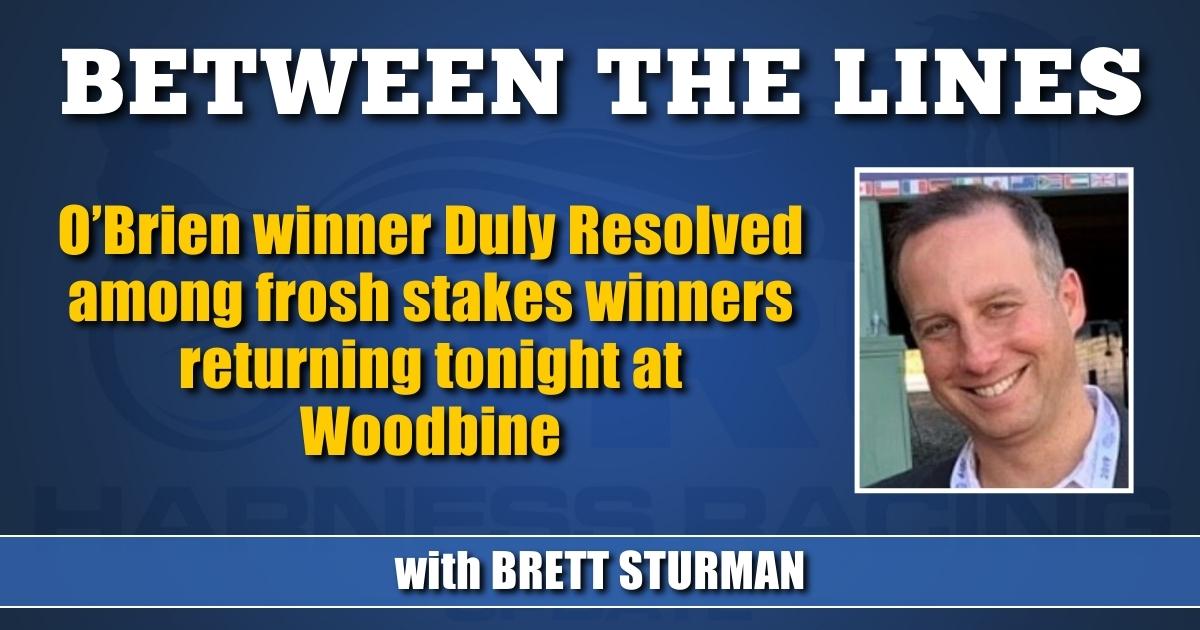 O'Brien winner Duly Resolved among frosh stakes winners returning tonight at Woodbine
Stakes for Ontario-sired horses kick off in earnest at Woodbine Mohawk Park.
by Brett Sturman
Stakes for Ontario-sired pacers and trotters are about to kick into high gear tonight at Woodbine Mohawk Park with four Standardbred Breeders of Ontario Association (SBOA) eliminations to be contested. For 3-year-old colts and geldings, two eliminations are on the trot, two are on the pace and the most accomplished in that group is last year's O'Brien winner, Duly Resolved (Resolve—Motown Muscle).
Duly Resolved won the award as Canada's best 2-year-old trotting colt division by virtue of his 12 5-5-0 record, in which he earned $631,659 (CDN) for the ownership group of Bax Stable, David Hudson, Don Allensen and Gaelic Stable. He was never worse than second while racing ten times in Canada, and the only two times he was worse than third, were in his final two races of the year at the Meadowlands in the Breeders Crown elimination and final.
On changes between ages 2 and now, Duly Resolved trainer and co-owner John Bax said, "He came through the winter good. I wouldn't say he's much bigger – the thing about him last year is that he wasn't a real rugged colt to start with, and maybe got a little tired at the end of the year. But he trained well and qualified well. I'm sure there will be some more contenders this year and he'll have to learn how to race more than one way; that's for sure."
What Bax is referring to is that last year, Duly Resolved either raced on the lead or left for it in all races but one. In most cases, it worked out, as it nearly did brilliantly in the Mohawk Million. In that race, Duly Resolved was a 24-1 longshot from post 8 but ended up getting a pocket ride in behind the big favorite Venerable. Paul MacDonell angled out Duly Resolve mid-stretch that race and took a pretty game shot, just missing in the end by a head. However, the Resolve gelding couldn't replicate that race in either of his last three tries of the year. Possibly a result of the horse not being particularly rugged as Bax noted. He said that he may have to maybe do a bit better job of picking spots with him this year.
In tonight's elimination, Duly Resolved will for now avoid nemesis Twin B Archie, who bested him in last year's $225,000 Ontario Sire Stakes Super Final – that one is in the other SBOA elimination. But on the heels in which he kicked home in :26.3 in his lone return qualifier his race should still give some indication as to how Duly Resolve comes back. Last year, despite earning as much as he did, his mark was only 1:55.1. That means there were at least 50 2-year-old trotters that won faster, yet only four that earned more. Pretty good for efficiency.
"He might need a race," said Bax.
The idea was that while we got an elimination race, and he makes the final one – it's nice to have him ready for the elimination but we usually don't drill them early. We kind of let them race into shape. But he's doing it right, he's eating well, feeling good and that's about all you can do, and hope that he's fast enough."
Duly Resolved was a $30,000 Lexington Selected yearling buy at the 2020 sale. Bax was familiar with the Motown Muscle family as he trained half-sister Bright Eyes (Kadabra) to a successful career.
"We went and looked at him at the farm at Cool Creek, and I liked him there," Bax said. "We go around to the some of the farms and he was one that we checked out. He had actually injured his leg in a fence, and I thought maybe that'd bring his price down a bit. But we really liked him at the farm and that's why I bought him at Lexington."
On the decision early on to geld Duly Resolved, Bax said "I'm known to geld pretty quick. We had his older sister and she wasn't very sweet, and this guy early on showed us that he could be a little hard to handle, so it's not a big deal to geld from my point of view. I always got criticized for gelding Goodtimes and I always said that I have 2.2 million reasons why that was a correct choice."
Staked predominantly in Ontario, one stake that could be targeted if all goes well is the biggest one of them all. "The Hambo is on the bucket list, so we'll make that decision when we get close to that time," said Bax. It'll depend on how he's doing, how he's feeling and how he's racing. If you think you're close to going, it's pretty hard not to go."
A pair of OSS Super Final winners' race on tonight's card as well. The aforementioned Twin B Archie qualified stylishly in 1:55.3 with a last quarter of :26.3. A potential showdown looms in the SBOA final between him and Duly Resolved.
On the SBOA pacing eliminations, Super Final winner Bob Loblaw makes his second start of the year. Following a useful re-acclimating mile two weeks ago when he closed in :26.2 after racing from the back, he seems primed for a more aggressive try now. The other elimination features Champlain winner Stonebridge Helios. He crushed in his qualifier, winning by almost seven lengths in 1:51.1, which already eclipsed his 1:51.4 mark from last year; he looks fast.