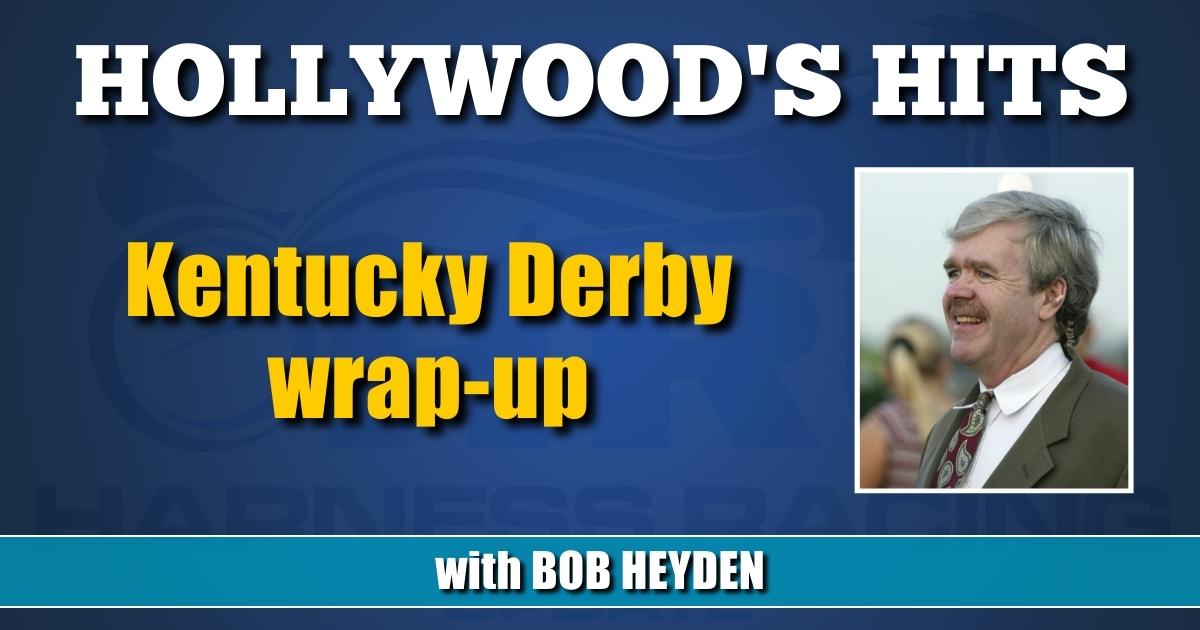 by Bob Heyden
The fractions in Saturday's Kentucky Derby (#148) were: :21.78, :45.36, 1.10.34, 1.36.96 and 2:02.61. Fast fractions set it up for 80-1 closer Rich Strike.
He was the longest shot in the field.
Never has the winner of the Meadowlands Pace or the Hambletonian at The Meadowlands gone to the longest shot.
Rich Strike was 7 1-0-3, $111,289 going in. He then scratched in Friday at 11:30 a.m., even as the owners were packing their bags.
From post 21 the chart says he broke out of the gate and started with a few bad steps.
Jockey Sonny Leon then pulled off a Calvin Borel-type performance.
Rich Strikes was claimed on Sept. 17, 2021 for $30,000 from famed Calumet Farms.
Standardbred racing has some claiming history of significance, but not like this.
In 1984, Historic Freight won the richest Hambletonian (at the time), but just two months earlier was in for a tag of $52,500 — with no takers — at the Meadowlands. He wired the field and was immediately taken out of claimers by Skip Lewis and Benny Webster.
In 1979, Fight The Foe was a lower level claimer at Liberty Bell for Phil Tafone, Jr. He then went to the Meadowlands and was taken a record six times that year-working his way from the claiming ladder to the highest pacing classes. He wound up his career as the all-time highest-earning horse without a stakes win, with over $800,000 made.
Day In A Life remains the only Meadowlands Pace winner later to be claimed.
Thoroughbred star John Henry was in for $20,000 on more than one occasion in the late 1970s, with no takers. He went on to the all-time Cinderella career winning the first ever million-dollar race in horse racing history — the 1981 Arlington Million. He was voted Horse of the Year, too. Then, at age 9 in 1984, he was again HOY and took down an all-time bet of $6.59 million upon retirement. He never did race again after taking the $400,000 Ballantines Classic in 1984, which also carried a $500,000 bonus. His earnings record was not topped until 1988, by Alysheba.
DERBY EXACTA PAID $4,101.20
The 2022 Kentucky Derby exacta paid $4,101.20 with Favorite Epicenter second. Favorite should be in quotes, since $1.5 million wagered by "Mattress Mack" gave him that distinction. The superfecta was $310,500.10. The $1 trifecta $14,807.70. The Oaks-Derby Double with Wayne Lukas on the front end was $1,946.40
I mention those numbers with some emphasis because I touched on this a year back and it deserves mentioning once again — big time.
Somebody want to tell the management at Churchill Downs that even though Derby Day is wildly successful, there's absolutely no need to exclude some of your simulcast public on these two days (Oaks Day, too)
Follow this:
Monday through Thursday at Churchill on DERBY WEEK 2022, you could bet $0.10 superfectas on any and all races. Not Friday and Saturday, though.
Hello? 80-90 per cent of a track's handle comes from people not on site. Are you, Churchill Downs management, worried about people clogging up machines on Derby Day with a long list of smaller bets when big-money types stand and have to wait? Make $0.10 superfectas off site only. 99.9 per cent of those watching/wagering — yes, even on Derby Day — are doing so not anywhere near Churchill.
At Hoosier Park, on the simulcast, you could bet the Derby card on Thursday this year. First time ever. Used to be just the day before, too. There's some progress right there.
With the exclusion of $0.10 supers on America's race, you have taken a large percentage of your betting public out of the equation. Believe me when I tell you 99.9 per cent of your bettors — the ones who are the backbone of the industry — are not switching to $1 superfectas with a 20-horse field.
By only allowing $1 minimum superfectas, the word "ALL" is now out of the question.
I don't know who had the superfecta in the 2022 Kentucky Derby at $310,000, but I would guess that they were either a group or mini-syndicate of some sort. The non $.10 cent superfecta option took the dreamer — the once-a year $30-40 guy — more or less out of that equation.
Interestingly, the $0.50 cent trifecta was available all week and Friday and Saturday.
The Kentucky Derby is America's lottery. Nobody is worried about budgeting on a day like this. The track and the industry should encourage every single person who wants to play and encourage them with every option imaginable — off site. Imagine going into Baskin-Robbins on July 4 and being told, 'Sorry, no small vanilla cones. You have to get large.' Try telling that to your grandkids.