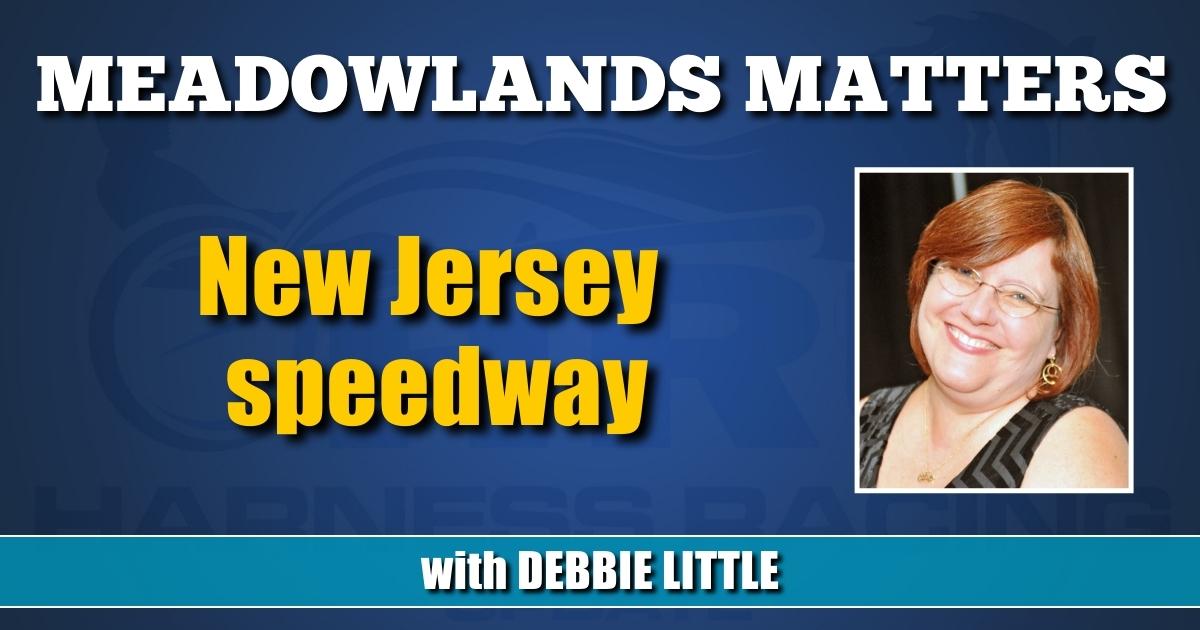 by Debbie Little
The fastest miles on both the trot and pace in the sport this season took place at The Meadowlands on Saturday, April 23.
Was it a fluke or maybe a harbinger of things to come?
"Any given night, you're going to see wicked-fast miles at The Meadowlands," said trainer Jeff Cullipher. "They do an amazing job there."
Cullipher, and his partner, Tom Pollack, sent out 13 Big M starters that night and their sole winner was trotter Lovedbythemasses in 1:51.
"I was more than confident he could go that kind of mile and getting into the year, he's going to have to go those kinds of miles," said Cullipher. "It builds the confidence up for me."
On the pacing side, it was the Nancy Takter-trained Red Right Hand that sizzled in 1:48.1.
"All winter, I said to the guys in the barn, 'I wonder how fast he'd go at The Meadowlands?' And I guess we got our answer," Takter said. "I think both those horses had a very good night that night. It was kind of cold that night, so it wasn't ideal conditions for horses to go super-fast either, but both of the races kind of set up for fast miles, too. I mean they went down to the half pretty quick."
Red Right Hand, owned by Christina Takter, Nancy Takter & JAF Racing, Joe Sbrocco and R A W Equine Inc., spent the winter and early spring honing his skills at Yonkers Raceway while working his way up the condition ladder to the open ranks.
"That was his 10th start of the year, so he's race tight. Even though it's early in the year for him, he's had a little bit of a season under his belt already," said Takter. "Did I think maybe that Red Right Hand was going to finish in :25.4 his last quarter? Maybe not, but The Meadowlands is always a fast track and when races get set up with fast fractions they tend to go fast there. They even go fast in qualifiers when they have fast fractions. It's one of our faster tracks that we have that we race on so I'm sure that helped, but at the same time, I think those two horses both had a good day."
Perhaps how fast Lovedbythemasses went that night shouldn't have been a surprise since the national season's mark he bested that night was his own. In mid-March, he went 1:51.1 over a sloppy track at The Meadowlands.
"A foot injury kind of lingered last year and maybe held him back a little bit," said Pollack. "But he trotted 1:50.2 twice at The Meadowlands, including winning on Hambo Day [in the Vincennes], so we obviously knew that we had something pretty special."
Lovedbythemasses, who has won five of six starts this season, is back in to go in an open at The Meadowlands on Saturday [May 7].
Pollack thought he had a good open horse, but wasn't sure how he'd do against Grand Circuit competition until he saw the 5-year-old gelded son of Muscle Mass race in an open handicap at Dover Downs on Feb. 15.
When Lovedbythemasses was sitting seventh through most of the mile, Pollack questioned why they had sent him there. But at the three-quarter pole, Hall of Famer Tim Tetrick moved Lovedbythemasses three wide and looped the pack to score the victory.
"Then, it was like, we've really got to start managing this guy now, so we staked him up," said Pollack. "Rico [Robinson, who manages Cullipher's New Jersey operation] has done an incredible job with him out there and Jeff's doing a great job of spacing out his races so we could earn a little along the way and keep him sharp and, knock on wood, now we're getting ready for the stakes season and we'll see how he stacks up."
Pollack clearly remembers watching Lovedbythemasses win at The Big M on April 23.
"Coming on at the end of it had kind of been his style and he was almost starting to get labelled as just a closer," said Pollack. "Not a bad thing. It's always good to finish well, but I think what struck me that night was the versatility he showed by being able to leave, get position, and then kind of quarter-move and control the mile. It kind of showed a different facet that maybe he hadn't showed so much.
"Obviously, Timmy [Tetrick] has done an incredible job with him, keeping him calm and getting him to finish well and the tactics he used there were impressive. We kind of never thought of ourselves as trot guys, if you will, but this has been a pleasant surprise for sure."
Lovedbythemasses is not staked to anything in Canada but has plenty of opportunities in the U.S. and although he's not scheduled to go to the Cutler at The Meadowlands on May 21, he hopes to be invited to the Maxie Lee at Harrah's Philadelphia on May 30.
Red Right Hand, a 4-year-old son of Captaintreacherous, finished second on Tuesday [May 3] at Yonkers and is now headed north of the border.
"The reason I took him to The Meadowlands is he has The Confederation Cup, which they renamed [the Charles Juravinski Memorial Cup, May 22 at Flamboro Downs]. He has that coming up in a couple of weeks, so I just wanted to give him a little bit of a mile at The Meadowlands to stretch him out a little bit."
Last year, Red Right Hand won only five of his 21 starts but did hit the board 13 times. A series of unfortunate outside post draws against the top horses in his division definitely didn't help.
"I always thought he did show the ability and the speed that he could possibly one day be that type of horse," said Takter. "At the same time, he was very tense and nervous and not confident in himself and I give Scott [Zeron] credit because I think he helped with that.
"He's matured a lot during this time and I have to give Scott a lot of credit for it, too, because he's been racing him accordingly and building his confidence and taking him off the gate when he had to, but at the same time driving him with confidence when he was the best in the race and putting him on the front and letting him do his thing. I always say a confident horse is a tough horse to beat because sometimes they'll overperform just because of confidence. And I think he has that now."