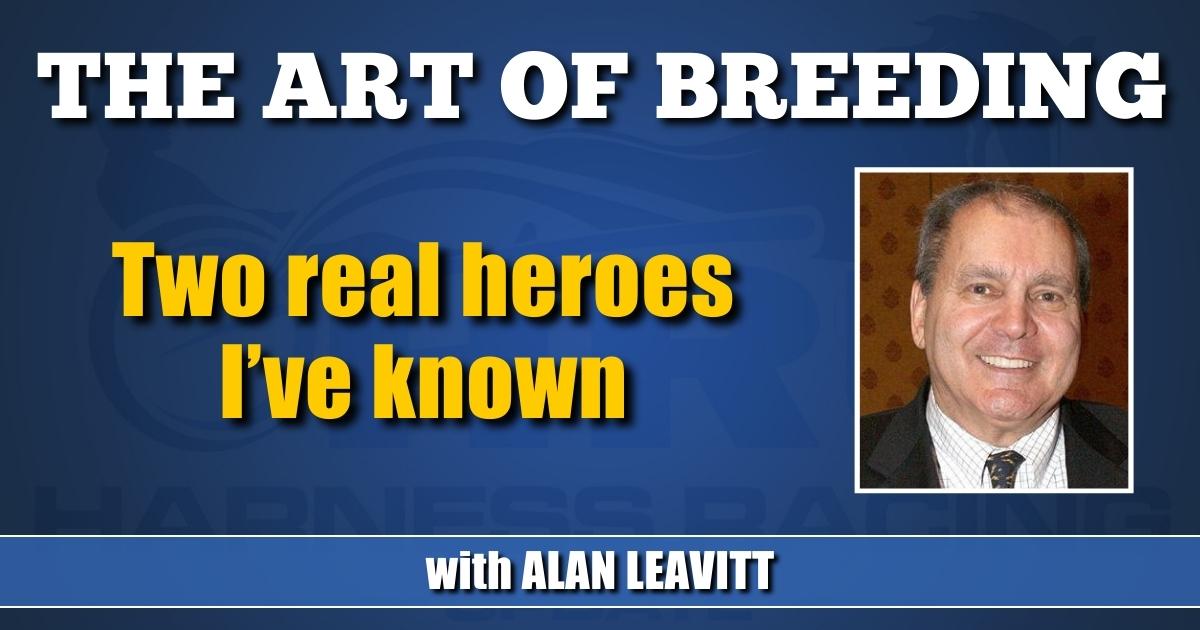 Two real heroes I've known
by Alan Leavitt
Both the name of the race and the name of the winner piqued my interest when I read that Toes In The Water had won the James K. Hackett Memorial.
I knew Jim Hackett well in my early days in our business. His wife, Mary, was one of Curly Smart's two daughters, and a truly wonderful person. Her sister, for the record, was equally nice, I still can remember Jean's husband, Richard, and Curly both snoring gently away in the living room after a good lunch.
Jim Hackett was an understated hero of the Second World War. A marine, he was part of the U.S. invading force that had the terrible assignment of recapturing, one by one, the Pacific islands the Japanese had captured immediately after hitting Pearl Harbor.
Hackett was momentarily captured by the Japanese when he somehow landed alone on one of those islands. He wasn't bilingual, but he still got the message loud and clear that they were going to shoot him.
Before they could, Hackett dove into the Pacific Ocean and swam to another, near-by island. There, he was joined by some fellow marines, and they all swam back to where Hackett had been captured, and took it. All Hackett told me about that part of it was that "there was some shooting, but we did most of it."
After he mustered out, Hackett went back to his original trade as a harness horse trainer and driver. He soon signed on to a private job with Sam Huttenbauer, a Cincinnati meat packer. Although he was somewhat of a free spirit, frequently quoting poetry he had learned as a boy, with his shirt tail out after maybe the third cocktail, he was a good horseman and yearling picker.
He was keen enough to pick up on Walnut Hall's full brother to Coffee Break when he walked into the sales ring at Tattersalls. For $24,000 Huttenbauer became the owner of Best Of All. Hackett won a lot of money with the colt, and then sold him for a long price as a stallion to Hanover Shoe Farms.
Best Of All's main rival was Billy Haughton's Romulus Hanover. They met in the Jug, and after Best Of All won a tough first heat, Billy scratched his colt out of the second. When he did, he gave as the reason that his colt was not right, running a temperature over 102.00. (Average normal horse temp is between 99˚ and 100˚.)
That Jug day was blisteringly hot. It was a Smart family joke that after those 3-year-old colts had warmed up two or three trips and then raced their hearts out in the near 90˚ degree heat, every one of them would have been running a temp over 102˚ if any had bothered to take it. But Billy was never at a loss for words.
The filly winner of this year's Hackett Memorial is Toes In The Water. She's by Long Tom and out of Royal Bikini, by RC Royalty. She's the first foal of her dam, and she brought $12,000 as a yearling. It's a safe bet future siblings will make considerably higher prices in the sales ring.
Hers is an interesting pedigree. For starters, she's 3 by 3 to Muscles Yankee, making her inbred to that foundational sire. As a quick refresher, when the sum of two generations in which the same name appears is six or less, the correct term to describe the relationship is "inbreeding."
When the sum of the two generations in which the same ancestor's name appears is seven or eight, you have "Line Breeding."
When there is no relationship closer than nine, a horse so bred is correctly described as an "outcross."
In the case of Toesy, Long Tom, her sire is himself an interesting pedigree study. His dam, Ilia, is a masterpiece started by Charlie Keller, with the finishing strokes put on by Dr. Paul Spears, aka Pete.
Ilia is 3 by 3, or inbred, to Yankee Scottie, She was bred by the great Yankee ballplayer, Charlie Keller, who never got his true due either on the diamond or as a horse breeder.
As a player in the Yankee's outfield, Keller was always overshadowed by his teammate, Joe DiMaggio. However, there were a number of seasons when Keller outplayed Joltin' Joe, but the sporting press never acknowledged it. Likewise when it came to baseball's Hall of Fame. Keller's name belongs there, but it never happened.
As a breeder, no man, or woman, ever bred as many top horses from such a small band of mares as Keller's Yankeeland Farm.
Keller was drawn into the standardbred world by his neighbor, Joe Eyler, a Jack of all trades who trained and drove harness horses, put on sales, and dealt in livestock. At one of Eyler's sales Keller bought his first mare, China L.
China L was consigned by the Estate of Will Reynolds, and her appearance in the sale was a tribute to Joe Eyler's horse hustling ability. She was beautifully bred, being a daughter of Jane Revere, one of whose daughters produced the legendary Rosalind and another was the dam of Worthy Boy. Also in the immediate family was Nora, dam of another legendary trotting Champion, Scott Frost.
Keller was smart enough to keep China L's daughters, and then the daughters of the daughters, etc., etc., and so forth in the words of the King of Siam to Anna. Our little harness racing world would be much the poorer without the horses Charlie Keller bred, and our world in the larger sense is the poorer without this soft-spoken gentle man who never got his due, and never, ever said one word of complaint.