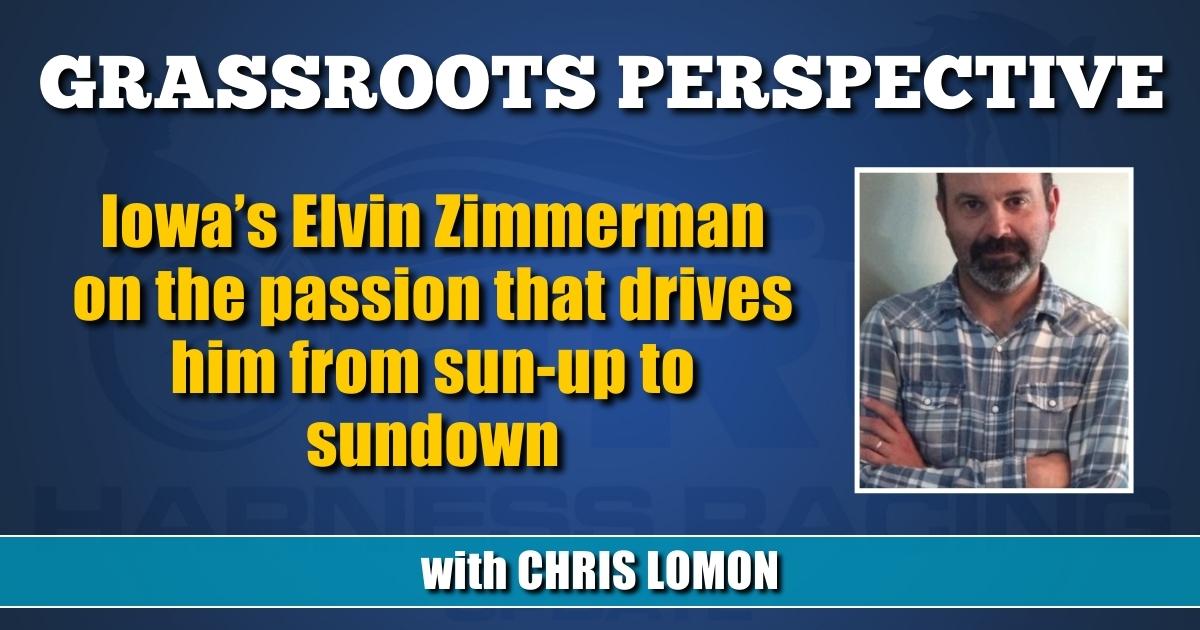 Iowa's Elvin Zimmerman on the passion that drives him from sun-up to sundown
by Chris Lomon
Elvin Zimmerman's first win as a driver and first win as a trainer required only a winner's circle photo.
She would make just 27 career starts and post a modest $6,475 in lifetime earnings, but on the day of June 27, 2017, at the half-mile track in Columbus Junction, IA, the diminutive bay mare Seelster Again delivered the young man sitting in the sulky a pair of treasured firsts.
The 2-year-old pace, with a purse of $1,000, had attracted three horses, including the brown daughter of Intrepid Seelster, who had finished fourth in her career bow 13 days earlier in Eldon, IA.
This time, the man who held the reins as the mare's trainer, put himself in the driver's seat.
"We went in 2:10 that day," said Zimmerman. "We went to the front and basically, we didn't look back. We kept on going. There were no pylons on the inside, just a dirt mound. Every time we'd go into turn, she'd go up on the dirt mound and I'd get her back on level ground again. From what I remember, it was a fairly easy win. She's a tiny filly, maybe too small to be a racehorse, but she had a heart the size of Texas. She just wanted to win, and that day, she did."
Hailing from Elma, IA, Zimmerman didn't get his start in standardbred racing until he was in 20s, when he went to work for trainer Justin Lebo.
"I grew up around the horse and buggy Mennonites," said Zimmerman, who'll turn 30 this August. "I never really had anything to do with racehorses until I went to work for Justin in Pennsylvania. He hung an ad in a local hardware store, saying he was looking for some help. That was around 2014 or 2015. So, I went to talk to him and ended up going to work for him, mostly as a groom."
It proved to be an eye-opening experience, a day-to-day lesson about the dedication needed to make a career in the industry.
Sound advice was never in short supply.
"I worked with Justin for a couple of years and it was great. It really taught me a lot and so did he. I think one thing that really stood out for me is that you always need to be willing to learn. Everyone has a way of doing things, and everyone's way has a way of working to a certain point. Keeping an open mind, always watching and listening, those are the things that can really help you get better."
Zimmerman set up shop on his own in 2016.
Although he went winless in 11 training starts during his rookie season, he never gave thought of throwing in the towel.
Now, some five years later, he has 16 horses in his barn, and has racked up 62 career victories to date.
"I'm working pretty much every day, from sun-up until sundown, trying to keep up with the horses. It's definitely a seven-day-a-week job. There's definitely no slacking off. You have to stick with it. Every day you are around the horses, you learn something new about them and yourself. It also goes back to watching and learning from others. You see what others did to come up with a successful program, and you can take something here or there from everyone, and then incorporate it into your own program. You figure out what's best for you and you go on from there."
It's a formula that continues to serve Zimmerman, who now calls Pennsylvania home, quite well.
In 2020, he recorded a lifetime-best 18 training wins and seven driving victories. One year earlier, he set a personal-best mark with $119,096 in trainer purse earnings.
Soon, he'll launch his 2022 campaign at Running Aces in Minnesota. The season starts on May 15.
"Running Aces is three hours away from home, and Humbolt, which is the closest fair, is about two-and-half hours away. We put a lot of miles in."
When he does find himself behind the wheel, Zimmerman goes old school, music-wise, with his listening preferences.
"I love old country music. Alan Jackson is someone I really like listening to. I throw on the old country station on SiriusXM and it stays there the entire time I'm driving."
Adding some more highlights to his young career would certainly be music to Zimmerman's ears.
He's optimistic he'll be able to achieve that goal this year.
"I'm still looking for them [highlights]. We've won some races here and there, but we're looking to get bigger and better. Last year, we had 14 in the barn and I did it all on my own. It was tough, but I got through it. This year, I managed to get some help, very good help, so it's made a big difference. We also have some nice 2-year-olds, so hopefully, they pan out and we can have a big year. I honestly believe this will be the biggest year yet. There's a lot to look forward to. We have high hopes, so we'll see if it pans out or not."
Zimmerman will have two biggest of his biggest fans along for the ride.
While they're far too young to even consider a life in racing, there are signs his young daughters are on-track to have a lifelong association with horses.
"I love to hang out with my daughters. The oldest one is five and the youngest one is three. Everyone thinks they're twins because they are practically identical. They have their own Shetland ponies, and I'm teaching them how to ride and drive. We just bought a pony cart and harness for them, so that's something we are all excited about. I just want to make sure they get their horse side going. Everyone has a liking for horses in them. Some people find it, and some people don't."
Zimmerman is grateful to have found his.
There's no doubt he looks the part of a successful horseman.
"I chose my colors based on Tim Tetrick. He's one of my all-time favorite drivers and I copied his yellow and green."
In this instance, imitation is the sincerest form of flattery.
"Those colors have served him well, and I'm hoping they can do the same for me. He put in the hours and it's worked out for him. That's what I've always been trying to do. It's a lot of work and you have to be willing to put in the sweat to get somewhere in this business. You want to show up every morning and put in the work the moment you step inside that barn."