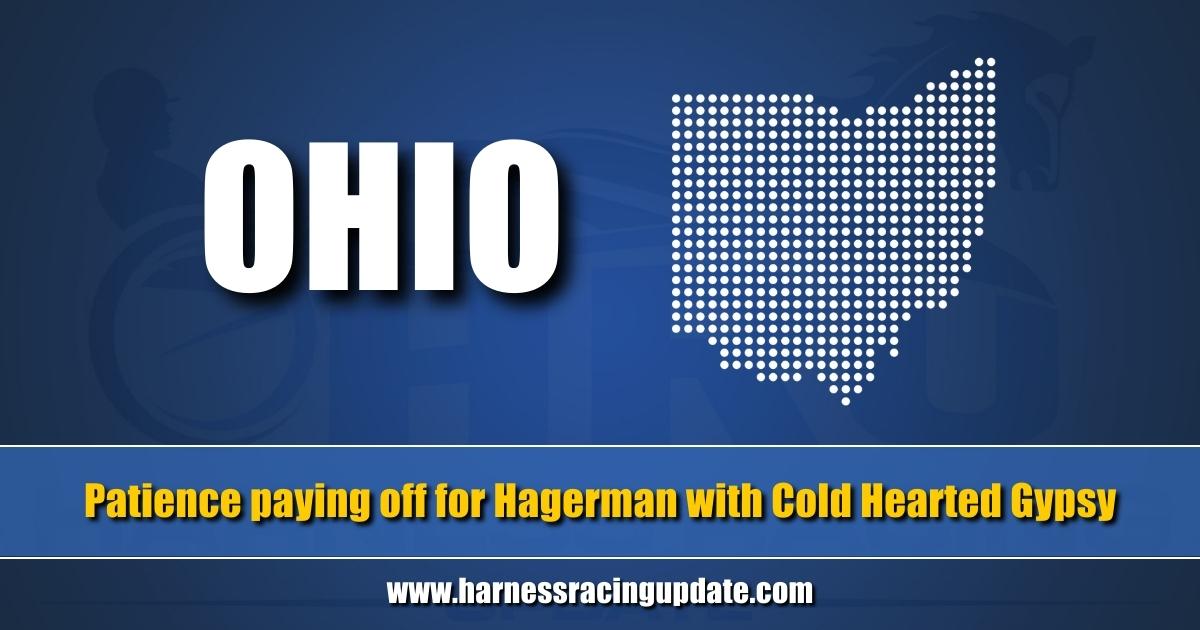 Patience paying off for Hagerman with Cold Hearted Gypsy
The homebred sophomore pacing filly wired the field in her Hackett elimination on Tuesday at Miami Valley.
by James Platz
Last season, Cold Hearted Gypsy set a national season's mark as a freshman pacing filly in her first pari-mutuel start. It would be her only visit to the winner's circle in 2021. It was a calculated strategy for owner/breeder/trainer Herman Hagerman, one that has produced two victories in three seasonal outings this month. Her latest triumph came Tuesday (April 19) in a James K. Hackett Memorial elimination, where she wired the field at Miami Valley in 1:52.2 for driver Trace Tetrick.
"She started off really good, but she got a little hot," Hagerman said of Cold Hearted Gypsy's freshman campaign. "The first time we qualified her, I told them not to put her on the front in a qualifier because I didn't want her to leave all the time. We raced her off the pace in her first qualifier and she was good."
Problems arose with the second qualifying effort, where the filly won on the front end. Follow that with her Ohio Sires Stakes debut at Northfield Park, cutting the mile and stopping the clock in a lightning-fast time of 1:53.1. It was a recipe for disaster had Hagerman had allowed it to continue.
"We just backed her off and ducked her off the gate. I knew it was going to cost me money, but I didn't really care. I was looking to make her a better racehorse," Hagerman said. "Chris Lems drove her for me every start last year. He knew she was getting hot. He really helped me. I think if I would have had the wrong driver on her last year, she could have gotten ruined. If somebody would have kept leaving with her, it would have ruined her."
Instead of leaving every start, Lems patiently ducked Cold Hearted Gypsy off the gate and worked on teaching the daughter of Racing Hill—Blueridge Adalia. After her winning debut, the filly made six more starts, collecting a second in a fair stake and third in the Ohio Breeders Championship at Delaware. She raced off the board in four other attempts, her best finish a fourth-place effort in the $300,000 OHSS final. Cold Hearted Gypsy finished the season with $52,997 on her card.
"Last year we kind of took some beatings, but we just ducked her off the gate trying to teach her how to race," said the conditioner.
Cold Hearted Gypsy is the second foal from Badlands Hanover mare Blueridge Adalia, a mare that Hagerman campaigned. She was purchased as a yearling out of the Blooded Horse sale for $2,200. On the racetrack, Blueridge Adalia was a six-figure earner, winning the Virginia Breeders elimination and final at both two and three.
"When I first got into racing we were going out to Virginia to Colonial to race. I bought Blueridge Adalia at the Blooded Horse sale because she was a Virginia bred. That was actually the first yearling I ever bought to break," Hagerman said. "We always liked her. She was the first horse I had that I owned myself that did well. We wanted to keep her and I wanted to try a baby out of her."
Blueridge Adalia's first foal, McArdle gelding Adalia's McMoney, logged six wins and $40,565 in purse earnings while taking a mark of 1:57.2 over two seasons. Hagerman has since sold the pacer for a riding horse.
"I raced him as a 2 and 3-year-old at the fairs. To be honest with you, he wasn't anything like she is. He didn't really work out," the breeder said.
Hagerman's strategy last season appears to be paying dividends in 2022. Cold Hearted Gypsy paced fourth in her sophomore debut at Northfield, a 1:55 effort on April 2. The filly returned a week later to register her first win of the year. Steered by Lems, the homebred tripped the timer in 1:54.1 as the favorite. According to Standardbred Canada statistics, the time is the fastest of the young season for any 3-year-old pacing filly on a half-mile track.
"This year, I changed her bridle a little bit, and she's been two fingers. A total different horse than she was last year," stated Hagerman. "Now she's very relaxed in the race and in the post parade. She's like a different horse than she was last year."
The Kidron, OH resident shipped Cold Hearted Gypsy south to Miami Valley in hopes of earning a spot in next week's $50,000 Hackett Memorial final. Picking up the services of Tetrick, currently leader in the track's driver standings, the sophomore made it look easy Tuesday. Sent to the lead from the rail, the pacer set fractions of :27.4, :56.2 and 1:24.1. Cold Hearted Gypsy turned away the challenge of favored When You Kiss Me and held a two and one-quarter length advantage at the wire. Her winning time was the best of two $20,000 eliminations.
"She's good gaited and she has really good gate speed, but she doesn't have to be on the front. I never trained her on the front last year when I was training her down, or this year," Hagerman said of his charge. "She likes to pass horses. She can race off the pace as good as she can on the front. She has such good gate speed, it's pretty easy to get to the front if the driver wants her there."
Cold Hearted Gypsy is fully staked to the top events in the Buckeye State's program. Hagerman is optimistic the filly will shine not only this season, but in years to come. That was the objective when bypassing short-term gains for a bigger, more rewarding payoff.
"She can go. I've never trained a horse down like her. I have some good horses in the barn, and nobody I've got trains like she does. Hopefully she'll make a good aged horse for me," he said. "I loved her mom and we'll have her forever. We'll have this one forever. It is special knowing I raised her, took a shot and bred the mare."