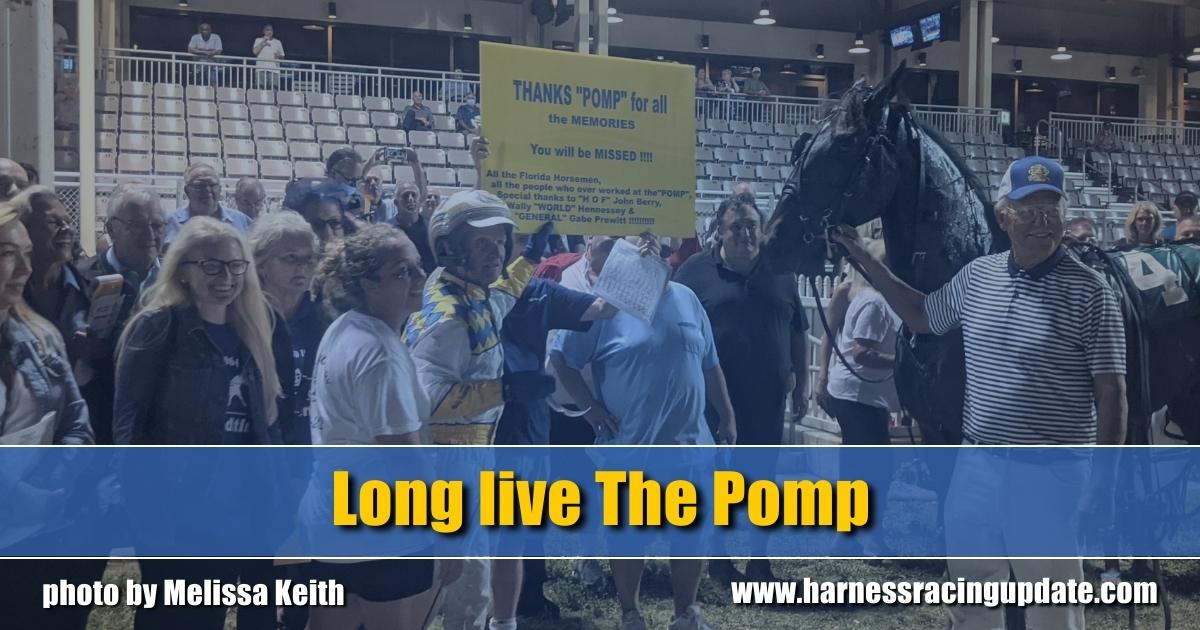 Scenes from the final card of racing ever at Pompano Park.
by Melissa Keith
An air of denial, or maybe hope, lingered over the weeks leading up to the final live races at Pompano Park. Good-sized fields, an active backstretch, a significant fan base — at least online — and strong handle. These were not the indicators one would expect from a track on the brink of closure. And yet, April 17, 2022 was the end for Florida's only pari-mutuel harness racetrack. As the final 19 races unfolded Sunday night, beginning with a trio of non-wagering Florida Amateur Driving Club (FADC) Miles, there was still a sense that the news couldn't be real.
For starters, Pompano is — was — a vibrant place. Closing night didn't feel that different from a regular night of racing at "The Pomp." In the first race, after Billy Muggleson and trotter For a Dreamer secured a 1:56.2f victory, the winning driver was credited and applauded for his 100th win. Long-time publicist/announcer John Berry called early races and conducted winner's circle interviews throughout the evening. He and Gabe Prewitt introduced the Pompano personalities for whom the last-ever races were named, describing a wide variety of individuals integral to the track's personality. Not all were obvious: Race 10, the #SendItIn Invitational for male pacers, was dubbed "The John Sailey 'Fluff' Memorial Pace" for "a fixture in the racebook" who "passed before the season started," said Prewitt.
Pompano Park broke ground on June 19, 1963 and first opened for harness racing on February 4, 1964, after the land was acquired by Frederick van Lennep in 1953. He and wife Frances Dodge van Lennep, proprietors of Castleton Farm, KY, built the "Winter Capital of Harness Racing" on the site of an outlawed thoroughbred track that closed in 1926 after a single day of racing. Ironically, according to historian Frank J. Cavaioli, it was the Florida governor's opposition to allowing pari-mutuel wagering at Pompano that killed the original thoroughbred meet. The track's fate as a harness venue was sealed with the decoupling of standardbred racing last year, approved under current Florida governor Ron DeSantis (R) despite bills brought forward by Dan Daley, Florida House Representative (D) for District 97.
The value of the racetrack and backstretch property has also soared as the surrounding area has become densely developed and populated. In his 2005 book, "Images of America: Pompano Park Harness Track," Cavaioli noted that it cost just $5.5 million to build. Isle of Capri Casinos acquired the track in 1995. When Eldorado bought out Isle of Capri's 13 properties for $1.7 billion in 2016, Pompano Park was part of the deal. Eldorado Resorts Inc. subsequently purchased Caesars Entertainment Corp. for $17 billion in 2020. This February, Caesars announced it was formally rebranding Pompano Park as "Harrah's Pompano Beach," representing the elimination of racing from the grounds.
Pompano was a harness track which attracted generations of participants and fans. Tyler Jones is the son of horseman Dustin Jones. The 27-year-old driver told Harness Racing Update that he made a conscious choice to relocate from Ontario to Pompano Park for its final season.
"I decided in late summer of last year that I would come to Florida to help my dad break his yearlings and train back the 2-year-olds turning 3. Racing at Pompano was something my dad and I had discussed. I was hoping to maybe get a few drives throughout the winter, considering I didn't really know anyone that raced there. My dad talked to a few people that he knew to see if they would be able to give me a drive. Then one day at the farm, Shane Arsenault came by and he called a few people for me as well. My first drive was for Gaston Dumont and France. The following week Marc Major gave me two horses to drive. And everything snowballed beyond my expectations from that point."
Jones said that although the track was "far removed from its prime years," he had unforgettable learning experiences and career milestones in his brief time at The Pomp.
"My first win at [Pompano] with BJ Lorado was incredible. Winning the open 2 pace with Jet Rock in 1:50.4, which is my fastest career win. Winning three races in a row twice with Fox Valley Tinka and again with Blue Devil. Then of course simply racing against legends every night like Wally [Hennessey] and David Miller, Kevin Wallis, Peter Wrenn… Guys that have thousands of wins, while I only have under 1,500 career starts. To be driving every night against them, and getting multiple drives on a card while they are also there, was a big highlight."
Losing Pompano happened gradually enough that many horsepeople, including Jones, expected it, but still couldn't believe the day had arrived.
"I really don't know any of the details on how and why The Pomp met its demise, but it seems like it's been quite some time coming, so it was inevitable that eventually it would be shut down," said the driver. "I think it would have taken an enormous influx of investment to get the place back to its shiny old self, and I don't think that was ever going to happen. Clearly Caesar Entertainment thought [it was] best for them to invest in their casino expansion [instead of] the horsemen."
On the backstretch, smoking a cigarette outside the grooms' quarters, long-time caretaker Mike Cashman was also reflective about the imminent closure. The 73-year-old brother of late Castleton Farm president and general manager John Cashman Jr. remembered looking after racehorses at Monticello 50 years ago, starting out working for Bill Popfinger. A resigned Cashman noted he'd heard rumours about Pompano shutting down "for about five or six years now," but at the start of the COVID-19 pandemic, a botched eviction of backstretch caretakers indicated the future wasn't that far away.
"It was all messed up," he said. "They [facility management] came back the next day and said it wasn't true [that grooms had to leave]. I just knew they were gonna develop this place for more money."
Now all horses and horsepeople must be off the grounds by May 1. Cashman wasn't sure where he would go next.
"Maybe Sunshine Meadows, Spring Garden Ranch. A lot will go to Pocono, Hoosier. Some are going to Lexington. My brother is going to Tioga," he said, adding that he would prefer to stay in Florida, ideally at another pari-mutuel racetrack ("Somebody was talking about opening one up by Orlando.")
Cashman, who was at Pompano when it played host to Breeders Crown events from 1984-1993, expressed anger about decoupling in Florida, a major impediment to any would-be standardbred racetrack operators.
"Why the hell are they [Caesars/Harrah's] holding onto the [pari-mutuel wagering] license when they don't want to race?"
The final night at Pompano was all about the racing, with memorable moments like Jody Jamieson's first and last driving victory there (1:53.3f, with Protect Blue Chip in the Joanie Uszak Appreciation Pace), and Wally Hennessey standing on the sulky, Herve Filion-style, after track record (1:48.3f) holder Panocchio's 1:51.3f win in the Bill & Martha Cass Memorial Pace. It was fittingly Hennessey, the track's leading reinsman, who captured the Allen J. Finkelson Memorial Pace with Beach Forecast (1:50.4f). It was Pompano Park's last-ever race on a night in which total handle was $1.43 million, third highest in track history.
An informal funeral procession for the track followed, led by Hennessey, pulling a sulky. Some who loved the track walked or rode along on a golf cart, alongside the dismounted outrider's white horse. A dog defecated on the racing surface, which several witnesses described as a fitting metaphor for the racino's ownership.
Tyler Jones reflected on what the best outcome might look like, for the future of Florida harness racing.
"I think the best hope now is to build a new racetrack and get a fresh start, which I know isn't anywhere close to happening soon," he said. "But if it does, I'll definitely be back, and hopefully have my own stable of young horses to break and train and have a racing stable which I can race at said new track for many years."