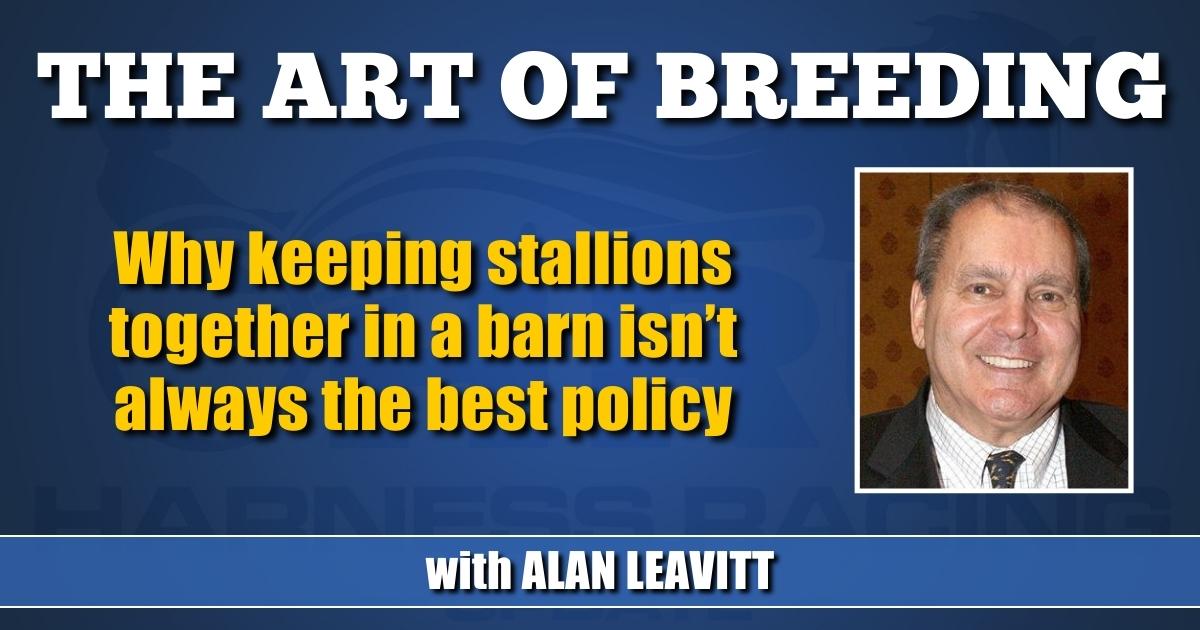 Always stick close to nature
Why keeping stallions together in a barn isn't always the best policy.
by Alan Leavitt
Howard Beissinger always said you should always stick as close to nature as possible when dealing with horses. As many times as I heard him say that, it took far too long for it to really sink in.
As a case in point, when Dr. Lynda Stewart and I flew up to Quebec to check out Garland Lobell, he was stabled in a big barn completely surrounded by mares. There were no partitions on his stall walls. His stall was just as open as the mares' stalls, so he could sniff nose to nose with his neighbors anytime he felt like it.
After he was syndicated and relocated to Walnut Hall, I put him in one of the huge stalls in our famous stallion barn. If it was good enough for such foundation sires as Scotland and Volomite, surely it was good enough for Garland Lobell?
Wrong, wrong, wrong. Whereas Garland had been a relaxed, laid back horse in his barn surrounded by mares in Quebec, he was a nervous, high-strung horse in his new, Lexington home. In our stud barn each horse's stall door has a yoke, so the horse can actually stick his head out. Whenever any of the other studs in the barn would take advantage of the opportunity to check things out up and down the barn, Garland would get visibly agitated.
His performance in the breeding shed was also affected. As long as he was stabled next to the other studs in our shedrow barn, he didn't breed as well as he had in Quebec. By which I mean, he had a problem settling his mares that he didn't have before.
At this point, enter, stage left, Dr. Phil Hunt. He was the manager of a farm in Pennsylvania, where they stood a trotter named Nearly Perfect. As a racehorse, Nearly Perfect was a star. He rumbled with Mack Lobell week after week at The Meadowlands, whipping him on occasion.
So when Nearly Perfect was retired to the Gettysburg farm run by Dr. Hunt, he was quite popular with mare owners. And as stud managers have been doing since time immemorial, and are still doing today, Nearly Perfect was stabled in the same barn as the other two stallions the farm was standing.
The only problem with the whole Nearly Perfect caper, as we say in the detective trade, was that the horse had a problem settling his mares. I personally got involved here, when I took advantage of the opportunity to buy a share in Nearly Perfect at a bargain price.
Since the mares in those days had to be inseminated on site, that is, the stud's site. I called Tad Egloff to tell him I'd be sending a mare up to him who was booked to Nearly Perfect. Tad's reaction was the opposite of enthusiastic, to say the least.
As a shareholder in the Nearly Perfect Syndicate, I received regular reports from Dr. Hunt documenting his horse's progress, or lack thereof, in the breeding shed. That continued for several years, and then Dr. Hunt advised our hardy little band of remaining shareholders, that he'd made a drastic change in Nearly Perfect's routine, and the horse was now breeding at a higher level that he had only dreamed about before.
Following Beissinger's directive of staying close to nature, Dr. Hunt had moved Nearly Perfect out of the stallion barn and reinstalled him in a barn that housed only mares. He also now turned him out in a paddock where there were mares on both sides in the neighboring paddocks. Lo and behold, Nearly Perfect was now settling his mares at a better clip, as I said above, that previously belonged in the dream category.
Hunt explained that he could see that Nearly Perfect was intimidated by the two other studs when he was stabled with them. When he was moved away, his personality changed, and for the first time he took on the outward characteristics that go with a virile, sexually aggressive breeding horse.
Nearly Perfect became a moderate success as a progenitor after he went back to nature. He sired a number of useful racehorses plus the stakes filly Imperfection and the stakes colt Sierra Kosmos.
Sierra Kosmos was an interesting story in his own right. He was trained and driven by a true amateur Rick Beinhauer, although that didn't stop him from being a sharp horseman who could hold his own with the big boys. His horse took a record at 3 of 1:53.4 and in two seasons of racing on the Grand Circuit earned over half a million dollars.
That was a good enough resume to earn Sierra Kosmos a stall in the Hanover Shoe stallion complex. There he was a modest success, getting three million-dollar-winning trotters, led by Jim Doherty's top mare, No Nonsense Woman.
Parenthetically, Jim Doherty was one of the last great trainers who was an equally skilled driver. I can still hear his wonderful New Brunswick accent, and our world is the poorer for not having him in it. Same goes for the loss this week of Osvaldo Formia. I was fortunate to know him well during my Howard Beissinger days. He was a great horseman, but more than that, he was a wonderful human being. I like to think maybe we'll meet up again someday, if I'm lucky.
As I've confessed before, it's almost a compulsion of mine to run a five generation pedigree of any horse that catches my eye. So I ran Nearly Perfect's. He was by Songcan and out of Exciting, by Super Bowl. Songcan was by Florican, and Florican is also the sire of Nearly Perfect's third dam, making him 2 by 4 to that horse.
In case you forget, when the sum of the generations in which the same name appears twice is six or less, that is designated as inbreeding. When the total is seven or eight, you have line breeding, and when the total is nine or higher, that is an outcross.
All one knows about Florican is that he raced as a stablemate of Star's Pride for the Arden Homestead Stable, the nom de course of the Gerry-Harriman family.
It's entirely possible that he was a shy breeder, although he wrote his name indelibly in the history of our sport when he sired Mistletoe, the dam of Speedy Crown.
I also picked up another tidbit when I looked over Nearly Perfect's extended pedigree. His fourth dam is Kashaplenty, and therein lies a tale.
Kashaplenty was bred by Castleton Farm, owned by the automobile heiress, Frances Dodge, late Frances Dodge Johnson, later still Frances Dodge Johnson Van Lennep.
As the story goes, Frances was enjoying a few martinis with some horsemen friends when they were joined by her husband, Fred Van Lennep, known to a few of us smartasses as Freddie Van Fortunate.
"I named two horses this afternoon," Frances told the assembled drinkers. "One for me and one for you."
"What did you call them," her straight man husband countered on cue.
"The one I named for me is Kashaplenty," she said, and you can see it right there in the USTA registry.
"And what's the one named for me, dear?" Freddy asked.
"No Fun," Frances answered, and with that you have the whole book on one of the most prominent marriages in our amazing sport.
But all humor aside, both Fred and Frances made enormous contributions to our sport, which will continue to live on as long as standardbreds are bred and raced all over the world. And their generous spirits live on in their lovely daughter Rikki, and their equally lovely granddaughter, Elizabeth.