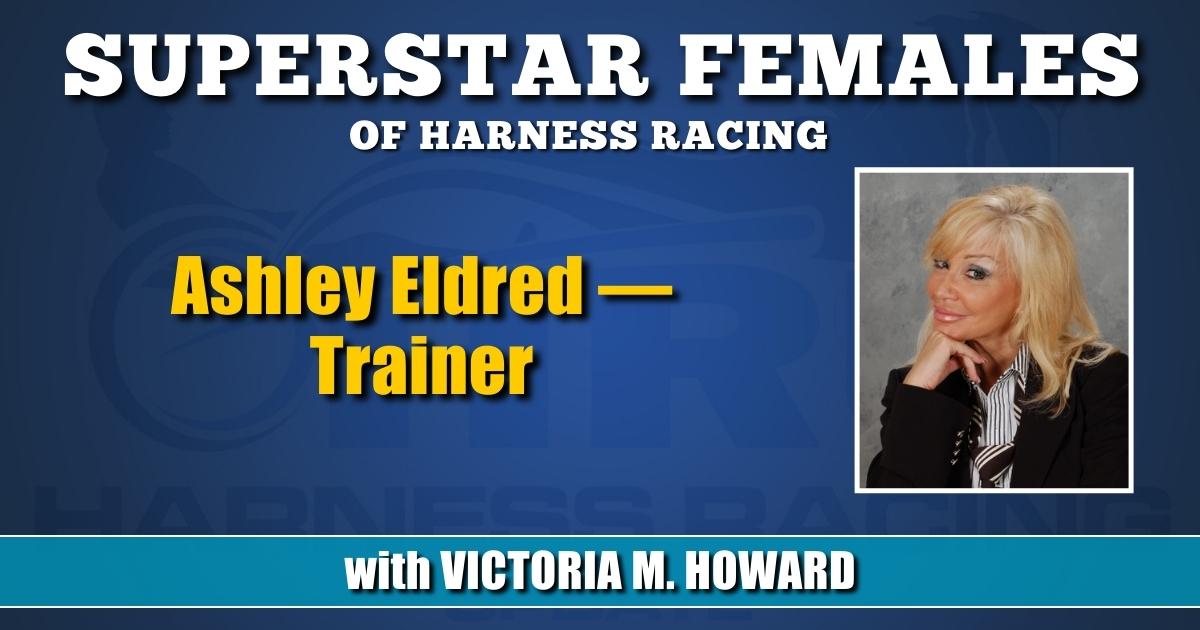 by Victoria Howard
Seven years ago, Canadian trainer Norm Dessureault was looking to sell some of his racehorses. Ashley Eldred had been watching a certain horse named Traverse Seelster and inquired about purchasing him. Eldred did just that and Traverse would turn out to be her best and favorite horse.
"Although when I purchased Traverse he wasn't the horse 'he used to be at one time,' it didn't matter to me. He went on to win many races for me. He was 'one of a kind' for whether he was a tad sore, tired or just not himself — he would give his all. Travis, as I call him, even raced under saddle for me and won.
"When he got sore, I knew it was his way of telling me he had enough and was ready to hang up his harness and saddle, so I retired him. He is now enjoying life in my back yard and will remain so until he crosses that rainbow bridge in the sky.
"So it's no surprise that whenever I have a bad day or need a pick up, Travis is the one I go to. Not my family or friends, but Travis. He is my all-time favorite horse, although Jake, Lulu, Michael and Richard are up there with him," Eldred said.
"I tend to fall in love with all my horses and that can be a problem. How can you not fall in love with a horse you work with 24/7, and who gives you all they have?
"Recently I had a bunch of my horses claimed during the claiming series at Pocono Downs. I hated losing them but you have to race your horse where he is competitive. It's not fair to the horse to race over his head, for it doesn't do you or the horse any good.
"Losing these horses diminished my stable for now I'm down to five horses. The numbers jump around, for at times I may have 15 horses in training, but now I'm down to five."
Eldred was born into a harness racing family. Her father Michael Eldred, mother, Ann Yurenka, and stepfather, William Bailey, are all involved. (Stepdad has since died.)
"I was born in Cooperstown, New York, but raised in Vernon. I spent a lot of time at Vernon Downs before moving back to Cooperstown, and shortly thereafter, I ventured out on my own.
"Growing up, I spent more time in the barn than anywhere else for I had to do my chores. After graduating from high school I began grooming horses, which took me to Florida and all over New York to race in Sire Stakes.
"Around three years ago I started working 'full time' and developed my own stable.
"Early on I started working under trainer Dan Dailey in Florida. Dan taught me a lot of horsemanship skills and the power of 'hard work.'
"I also worked for Norm Dessureault who taught me the most for he really took the time to explain things and taught me everything I needed to know to be a good trainer/horsewoman.
"And my stepfather, William Bailey, also taught me a lot. All of these men had a lot of faith in me and it just seemed so right and natural for me.
"I thank each and every one of them. Unfortunately, harness racing lost a great horseman and friend when Norm (Dess) passed away last year."
Eldred trains her horses at Mark Ford's farm located in Middleton, NY and uses drivers Greg Meron at Monticello and Matt Kakaley at Pocono and Yonkers.
She prefers training trotters, but most of the time her stable consists of pacers.
"I don't normally claim horses, but at times I will. I like to buy horses that I have taken care of before or have previously trained for other trainers."
As far as breeding her own horses, Eldred recently became a proud owner of a beautiful, Surreal filly, which her broodmare Art Candemonium gave her.
"It is so exciting to watch a little one grow. I'm not sure how involved I will be in breeding at this point, but it is thrilling for now."
Eldred is an all-around horsewoman — the kind harness racing needs more of. She trains, breeds, rides and rehomes horses.
"I know I'm what you would call a 'newbie' as far as a trainer, but I'm so happy and blessed to be doing exactly what I love to do. I'm not sure where the sport is heading, but I pray it flourishes for I'd like to do this forever.
"Presently, I am taking online courses for business management just in case I need a fall back. I also help my boyfriend, Jared Bako, with his stable.
"And I occasionally outride my horse, Paco, mostly at Vernon and Freehold.
"Although it may be chaotic and heart breaking at times, I wouldn't change a thing. The standardbred breed is truly amazing and they deserve the best."