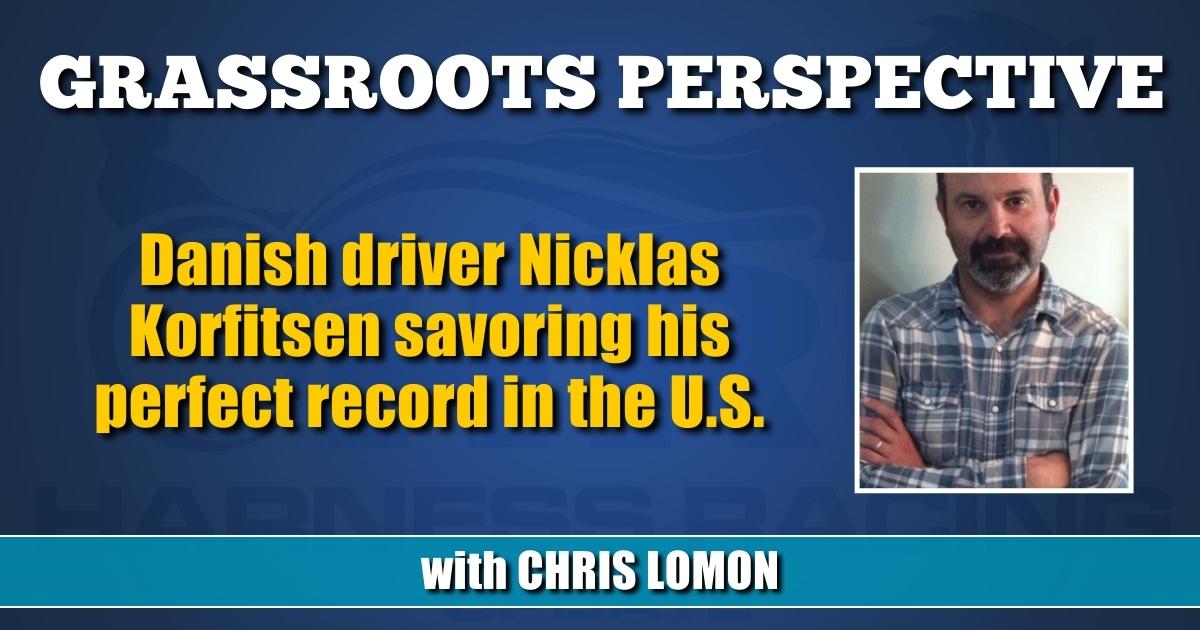 Danish driver Nicklas Korfitsen savoring his perfect record in the U.S.
by Chris Lomon
It appears Nicklas Korfitsen has a knack for making a strong first impression.
The 22-year-old Danish driver had every reason to be nervous as the minutes ticked down ahead of the fourth race at The Meadowlands on the night of March 25.
Thousands of miles from his home, Korfitsen was making his first start on U.S. harness racing soil, sitting behind Epos Ostervang DK in a TrackMaster trotting race.
Add in that driver and trotter had the outside post eight, and it made for some anxious moments seconds before the gate car picked up speed and moved away from the field.
"I was thinking about that I was here in the U.S., and it was a big opportunity," said Korfitsen. "I could feel [nerves] ahead of the race, but when we got out on the track, it began to feel just like another race. I knew I had to focus and I did."
Sent off as the 9-5 choice behind 3-2 favorite P L Oscar, Epos Ostervang DK was led to the front by Korfitsen, and proceeded to craft an opening quarter-mile timed in :28.3. A length and a quarter on top after the half, and 1 ½-lengths in front at the stretch call, the duo had just enough left in the tank to repel a hard-charging P L Oscar, earning a hard-fought head score in 1:57.2.
It was the seventh lifetime triumph for the son of Wishing Stone, trained and Per Engblom, who shares ownership of the 6-year-old with Kasper Forget. The Denmark-based brown gelding, bred by Lasse Pederson, has trotted his last four starts in the U.S., including a pair of efforts at Pocono Downs.
For Korfitsen, it was a dream finish in his first North American driving experience. He punched his ticket to compete in the U.S. after winning the 2020 edition of the Knutsson Rising Star Cup series for young drivers in Sweden.
Epos Ostervang DK returned $5.80 to win.
"It feels so good, and it was a really great time. I'm very happy that I had the chance to drive at The Meadowlands, and to be able to win made it even better, of course. I had a plan to go to the lead, so that I could make it easier for the horse. He's good from the lead. When he's on front, it seems as though he's 10 per cent better. He looked as though maybe he was getting a little tired going into the last turn, but he saw the other horse coming and kept his speed up to the finish. Kasper, he was very happy with the race. When I saw him smiling… it was a really nice feeling seeing that he was so happy."
Seconds after the win, Korfitsen's phone began to light up.
Congratulatory messages, in the dozens, started pouring in.
"A lot of friends called me or texted me, which was very nice. It was on social media too, with pictures and everything. Newspapers in Denmark also covered it. I was happy after the race, but when people start calling or texting me, it makes it even more special. There was a lot of that before the race, but when I won the race, it got bigger. That made me very happy. Everything was a great experience."
Now, back in Denmark, where he continues to rise up the ranks as one of the country's top young horsemen, Korfitsen's connection to U.S. racing might not be a one and done story.
There is a possibility he might cross the Atlantic again, perhaps sooner rather than later.
"I have a really good career here in Denmark, both driving and as a second trainer. So, I have a good job and I get to drive in a lot of races. The plan is staying home here for a time, and maybe in two or three years, maybe I will come back if I get a good opportunity. If I am able to connect with a trainer and drive in some races, maybe I would come back then. Like I said, I had such a good time and I feel very lucky that I was able to come over and drive at The Meadowlands."
For now, Korfitsen is content to keep working on his skills in his homeland, eager to add some more wins and gain more experience in the race bike.
And, as he noted, he'd likely jump at the chance to try and keep his perfect North American record intact.
Until then, he'll have his fond memories of a cherished New Jersey victory.
"When I came back home, people were very happy for me, very excited about the win. I have a lot more that I want to accomplish in the future. When you are able to win a race like that at The Meadowlands, it gives you more confidence and pushes you even harder. When I think about the race, it makes me very happy. It was really very fun."
Dexter Dunn protégé Jack Trainor sitting pretty with Stylish Memphis