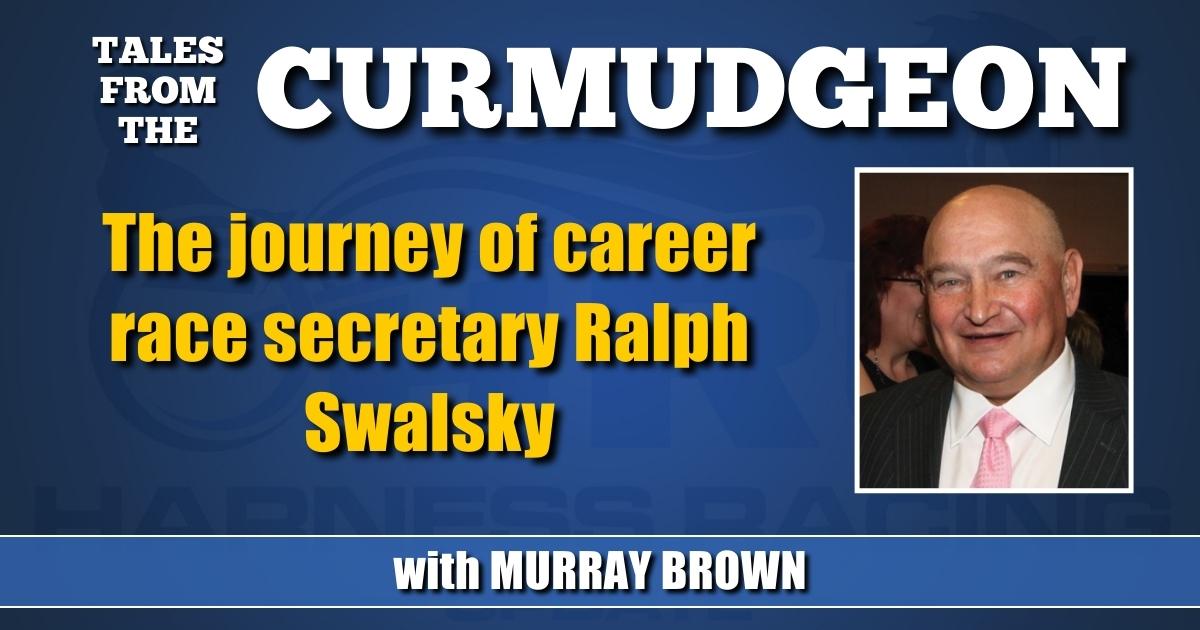 The journey of career race secretary Ralph Swalsky
by Murray Brown
What segment of harness racing haven't I written about? I've spoken with owners, trainers, drivers, breeders, grooms and sales personnel. Who have I left out?
From my first introduction to the sport, I wanted to become a race secretary. Due to several reasons, primarily, the fact that I loved to bet on the horses and my inability to speak French in a French speaking city, that was a dream that never got anywhere.
My good friend Ralph Swalsky began a 40-year career in harness racing at about the same time as yours truly. We lived two blocks apart from our mutual residences in Cote St Luc, QC, a 10-minute drive from Blue Bonnets Raceway in Montreal.
My career was destined to be in in the breeding area of the sport, while Ralphus (AKA Ralphus Azoff L) was in the racing end, most specifically in the racing offices of at least 13 different racetracks.
Actually, his race office stints were preceded by working with Joe Lepage in the bilingual Canadian harness racing periodical Canadian Trot in 1965.
Ralphus — he says I gave him the name — credits Lepage with giving him his first lead in racing by introducing him to Roger Trudeau, the president and general manager of Sherbrooke Raceway in Sherbrooke, QC. Mr. Trudeau was a cousin of Hubert Soucie, a prominent horse owner of the day, who owned le Ferme Richelieu and the Richelieu Hotel, which was a horseman's hangout adjacent to Richelieu Park.
Sherbrooke Raceway was a small racetrack in the Eastern Townships, roughly an hour's drive southeast of Montreal. The track raced twice a week. Swalsky was to become its racing secretary.
Sherbrooke was one of the very few bilingual towns in the province, exclusive of Montreal. Most other towns were all or almost all French speaking.
Although this scribe's first ambition was to become a racing secretary, Swalsky had a huge advantage over me. He is fluently bilingual. He became the racing secretary that I wanted to be. Becoming involved in the breeding and sales end of the sport, certainly was not too bad. It certainly made for a very gratifying career. On reflection, I would say that as they often do, things likely turned out for the better.
Speaking French was an absolute necessity to being a race secretary in the several harness racetracks in La Belle Province. At the time, they consisted of Blue Bonnets in the west end of Montreal, Richelieu on the extreme east end of the island, Quebec City, Trois Rivieres (Three Rivers), Connaught Park in Hull, Jonquiere and Sherbrooke. Sadly, only Trois Rivieres remains in operation. What was once by far the hotbed of harness racing in Canada, now remains a virtual bare shadow of its former self.
It was 1965 when Ralph and his wife Phyllis took up residence in Sherbrooke. Their first son, Stephen, who I referred to as First Ralphus Junior was born in Sherbrooke in December of 1965. It was a very small track. Financially, they just barely got by.
I received an offer to go to Rideau Carleton Raceway in Ottawa as the assistant race secretary. The track was then in its fourth season. Gaston Valiquette was its racing secretary. I went there as Gaston's assistant. Al Grillo was the general manager. Valiquette left shortly after the track opened in 1966 to work with Joe DeFrank at Freehold Raceway. Thus, I inherited the job, but only for a short period of time. Rideau Carleton was undergoing a power struggle. Swalsky 's good friend Al Grillo was odd man out. Swalsky was considered to be too close to Grillo, so he was also left out in the cold.
"They asked me to come back in 1967, but after undergoing through what happened at the end of 1966, I just didn't feel that I could trust them, so I turned them down."
From Rideau Carlton, the Swalskys returned home to Montreal where he became an assistant under the director of racing at Blue Bonnets, Mike MacCormac and race secretary Bill Slack. Strangely enough, even though the other Montreal racetrack Richelieu Park worked under alternate dates, the race offices were operated under different administrations. Georges Giguere was the director of racing and Bob Pare was the racing secretary. Ralphus recalls working well together with MacCormac and Slack, however his relationship was not near as good with his cross town rivals.
As sometimes is the case with rivalries, Swalsky's feeling was that there was somewhat of an effort to undermine the Blue Bonnets staff by those at Richelieu. It's likely that the Blue Bonnets personnel being operated staff being operated by English speaking people (les Anglais) while Richelieu being run by French speaking folk, might have had something to do with it.
While working at Blue Bonnets, Ralphus was presented with an opportunity to go to Monticello as the assistant race secretary to Phil Tully. He worked with Tully for four years, before Tully decided it was time to go on his own to operate his Woodstock Stud in nearby Bethel, NY. Swalsky describes Tully as being a wonderful man as well as being an extremely talented person to work for and with.
"He was an extremely bright person, a great salesman, extremely knowledgeable about just about every phase of harness racing. He might have been one of the few people who Leon Greenberg didn't abuse and push around — at least not much that I know of."
After Tully left, Swalsky succeeded him as racing secretary and remained in that post from 1971 through 1975. He was to work under the man that he describes as the most miserable excuse for a human being that he has ever known.
"In your recent story on Jerry Glantz, Jerry has nothing good to say about Leon Greenberg. Trust me. He might have barely touched the surface. He was a man who took delight in being miserable towards others. Don't get me wrong, though. Insofar as running a racetrack, he was very good. But in terms of how he treated people, I've never know anybody worse. I encountered him some years later at a dinner in Albany. He came up to me and put his arm around me and said, 'I guess I wasn't very nice to you' as though that would somehow make up for the five years of torture he put me through. But I wasn't alone. Everybody else I worked with at Monticello was good people. John Manzi was like a brother to me. He was a great public relations person. Allen Finkleson was one of a kind. Jerry Glantz was like an adopted son. Allen Gutterman started as an intern there. Phil Tully took him under his wing and made sure that he got a good start in his chosen field. To this very day Allen remains a dear friend.
"We did some wonderful things while I was there. We inaugurated the Monticello OTB Classic which was the richest race of its time. All the great drivers put in appearances with many of the top Grand Circuit stables having satellite operations there. My Canadian, perhaps more specifically my Quebecois roots, helped somewhat in getting several Canadian stables to spend their summers at Monticello.
"In 1976, I found myself out of work. My old friend Al Grillo was running Tioga Downs which was then running a quarter horse meet. I didn't know anything about quarter horses, but I needed a job. I helped in the racing office and as the clerk of the scales.
"Then, another old friend, Gaston Valiquette, came to my rescue. I worked with him for three years at Buffalo Raceway, the New York State fair at Syracuse and the Great Barrington Fair.
"Gaston was a truly great person. He really cared about people and felt a special responsibility to the horsemen. He wanted everybody to do well.
"In 1979, I came back to Canada. I became the race secretary at Flamboro Downs where I worked with Charlie Juravinski. What an experience! How would I describe Charlie? If you could put eccentric, incredibly interesting and brilliant into one person, you'd come up with Charlie Juravinski.
"When starting out at Flamboro, he didn't know that much about racing, but he learned as he went along. When it came to horses, not only was he a quick learn, but he was also incredibly lucky. He did not own that many horses, but among those that he bought into were the Meadowlands Pace winner Conquered and the world champion Matts Scooter. He didn't breed many, but the great mare Ellamony was among them.
"He was good to work for. Generally speaking, as long as you did your job well he left you alone.
"Some issues of disagreement between the horsemen and Charlie developed. They were going to go on strike. I decided that it might be time to leave.
"I had known Colin Forbes when he was vice-president of the Canadian Trotting Association. He was now the vice-president of the Northlands Park, which encompassed several recreational facilities of the city of Edmonton including the Northlands racecourse.
"In 1982, Albert Hanna, a close friend of mine, who was also a close friend of Colin's approached me. It turned out that Northlands was looking for a race secretary. Albert asked if I might be interested in the position. He hooked me up with Colin. Colin invited me out to Edmonton and we spent a few days with him. He offered me the job and I accepted. That was in the midst of the oil boom out there and racing was thriving. I loved the people and loved working for Colin. The problems were that the winters were extremely harsh and even worse we were so far from our family. Phyllis grew extremely lonesome.
"In 1987, I was offered the racing secretary's position at Saratoga. It was the ideal job for me and especially for Phyllis. We were only three and a half hours from our family in Montreal. We had become increasingly tired of the nomadic existence from track to track and city to city.
"We bought the home in Saratoga in which we raised our two sons Stephen and Gary.
"Stephen was destined to become a lawyer and also became a New York State Associate Judge. Gary is a dentist who set up shop in Halfmoon a small town close to Saratoga.
"Warren DeSantis was the general Manager at Saratoga. We got along just fine.
"Frank Fitzgerald owned the track. All was going well. After he
passed in 2002, a power struggle between several parties developed.
"Then in late 1993, and stretching into 1994, came the infamous strike. It was beyond horrible. It pitted family against family and brother against brother. It was civil war. There were scores of fights, arguments and vandalism. Equipment was destroyed. They tried to prevent me from going into the race office. There is still lots of bad feeling about it now, numerous years later. The shame of the situation was that it was encouraged and somewhat created by outside interests. If it were in the hands of the local horseman, it probably wouldn't have taken place.
"I found myself in a very awkward position. I was right in the middle. I had and still have friends on both sides.
"In the midst of all the turmoil and bad feelings, I still had to put on a race card. There were days when we had only 20 to 30 entries for a full race card. We would sometimes race horses on consecutive days.
"Looking back, I still have difficulty comprehending how we got through it.
"Racing at Saratoga has not been the same since. I doubt that it ever will. Certainly the feeling of brotherhood on the backstretch probably never will be what it once was.
"New management took over.
"I guess I was on the wrong side of the fence. After 16 years at Saratoga, I found myself expendable. A new broom came in and I was among those who were swept out.
"I took a stop gap position at Vernon Downs under Dennis Dowd. Dennis just might have been the finest person I worked with in all my career. He is a true professional who understands the sport and its people.
"But the job was a temporary one. I returned to Saratoga where I went to work for the city for 15 years until I retired in 2017.
"Throughout my time at Saratoga, I pursued my advocations of pottery and painting. I'm still indulging in both.
"I've actuality had some shows where my artistic talents, such as they might be, have been exhibited.
"I'm now just short of 82. Phyllis is a few years younger. We are still living in the Saratoga area having just moved from our residence of over 30 years to the town of Halfmoon about 20 miles to the south of Saratoga Springs. We are now closer to my son Gary and his family.
"I recently got back into the sport as an owner. I own a piece of a 2-year-old Huntsville colt named Gretzky The Great that is training with Paul Kelley. Right now the training reports on him are quite encouraging. Hopefully he will turn out to be competitive enough to hold his own in the New York Sires Stakes this summer.
"As with most horsepeople, especially those that dabble with 2-year-olds, I am a dreamer."
Have a question or comment for The Curmudgeon? Reach him by email at: hofmurray@aol.com