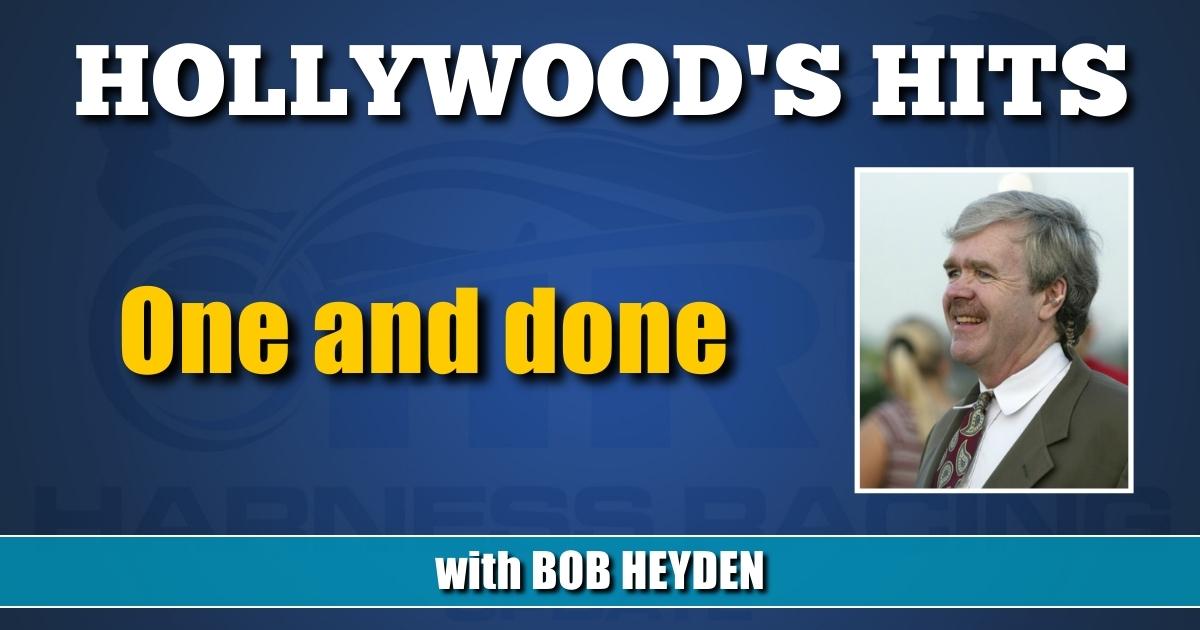 by Bob Heyden
The following happened exactly one time. A Look at some pivotal/noteworthy moments in harness racing history:
Commander Crowe winning the 2014 Breeders Crown at age 11 at the Meadowlands.
A race that debuted with a purse under $1,500 that reached over $845,000 — The Canadian Pacing Derby, which debuted in 1936.
Bob Blanton, Jr. winning his lone million-dollar race drive. He did so with S Js Caviar in the richest Canadian Trotting Classic in history, the 2001 edition that went for $1,120,250.
Roger Hammer winning his lone Hambletonian drive in 2005 with Vivid Photo. At age 59, he also became the oldest winner that was in the race for the first time.
Ross Croghan winning in 1998 at Colonial with Ultimate Falcon in 1:47.4. Why is this on the list? He is the only driver to win in sub-1:48 but have no other sub-1:50 driving wins.
Varenne had just one North American visit. He arrived in the summer of 2001. While Moni Maker was globetrotting on six continents in her glorious career, the horse who passed her $5.6 million lifetime total visited these shores just once and dominated in the second $1 million Breeders Crown ever held, in track record time of 1:51.1.
Only once has there been a pacing Triple Crown race dead heat. It happened in 2004 at Freehold in the Cane Pace. Ron Pierce and Timesareachanging and John Campbell and Western Terror tied. They were stablemates and 1-2 in the year-end ballot, as well. They were also 1-2 in the Jug, with Timesareachanging getting the nod.
Valley Victory won the only Triple Crown race he was in (the 1989 Yonkers Trot). But, his sons swept the 1994 Triple Crown and he had seven credits overall.
A 20-year-old winning a HOY title? It happened in 1986 when Forrest Skipper took down the hardware. Lucien Fontaine's son Marc was just 20 when he conditioned the son of Scarlet Skipper. That same year, another 20-year-old won a major race. Halcyon won the Breeders Crown with 20-year-old Seth Rosenfeld as part-owner.
Gene Riegle once brought us Artsplace, Western Hanover and Life Sign three years in a row (1990-1991-1992). But a decade before that he drove Fundamentalist in the very first million-dollar race — the 1980 Meadowlands Pace won by Niatross (finishing fourth). That would be the only million-dollar drive for the Hall of Famer.
Linda Toscano is the only trainer to have the 1-2 finishers in the Horse of the Year balloting. Both the winner, Chapter Seven ($1,023,025), and the runner-up, Market Share ($2,001,405), were million-dollar earners in 2012.
Only one name — Takter — has won three HOY titles in both the 20th and 21st century.
20th: Jimmy with Malabar Man in 1997 and Moni Maker in 1998 and 1999.
21st: Jimmy in 2016 with Always B Miki and Nancy in 2014 with J K She's A Lady and 2020 with Tall Dark Stranger.
Howard Beissinger got the nod in a tight five-horse photo in 1987 in the Breeders Crown with Defiant One. Beissinger was 64. It was the only Breeders Crown for the three-time Hambletonian-winning driver/trainer. In 1969, Beissinger won the Triple Crown with Lindys Pride. No other driver won the trotting Triple Crown debutinh in the Hambletonian the same year.
Only once has a female done the following in Meadowlands Pace history:
Win the Pace consolation: 1991 Miss Easy
Win the Pace elimination: 1978 Courageous Lady
The one and only time we had the March of Dimes (1988 at Garden State Park) it produced a classic with Sugarcane Hanover over Ourasi over HOY Mack Lobell. It was the first race in standardbred history where all 10 starters either had or went on to a million-dollar career.
A 16-year-old won a race at the Meadowlands. It happened on July 2, 1984 when Susan Looney drove One For All to victory. Kevin Lare won at 17 years of age a couple seasons later to set the male record at the Big M. Both still stand.
Remember the famous Robust Hanover Breeders Crown race where Bill O'Donnell had a certain quote for the ages? That was the only Breeders Crown ever held at the Westbury, Long Island track Roosevelt Raceway, the home of the debut of night racing in 1940 and the Phillips starting gate in 1946.
Jimmy Morrill, Jr. has a pair of "only he did this" notables on this list. He is the one and only driver to win a Breeders Crown race in 1:47 (2009 Won The West for Ron Burke). Morrill, Jr. is also the only driver in 45 editions of the Meadowlands Pace to win it with a $100 plus horse — 58-1 shot Holborn Hanover in 2004. Holborn won his first Meadowlands race that night.
Carl Lecause with Escort in 1977, Dr. John Hayes with Conquered in 1981 and Clint Galbraith with Niatross in 1980 all were Meadowlands Pace winners that never again trained or drove a Meadowlands Pace starter.
The following never appeared in another Hambletonian: Roger Hammer in 2005 with Vivid Photo, Dave Magee in 2000 with Dreamaster (5th as the favorite), Walt Paisley at age 18 in 1959 (10th) and Stefan Melander with winner Scarlet Knight in 2001.