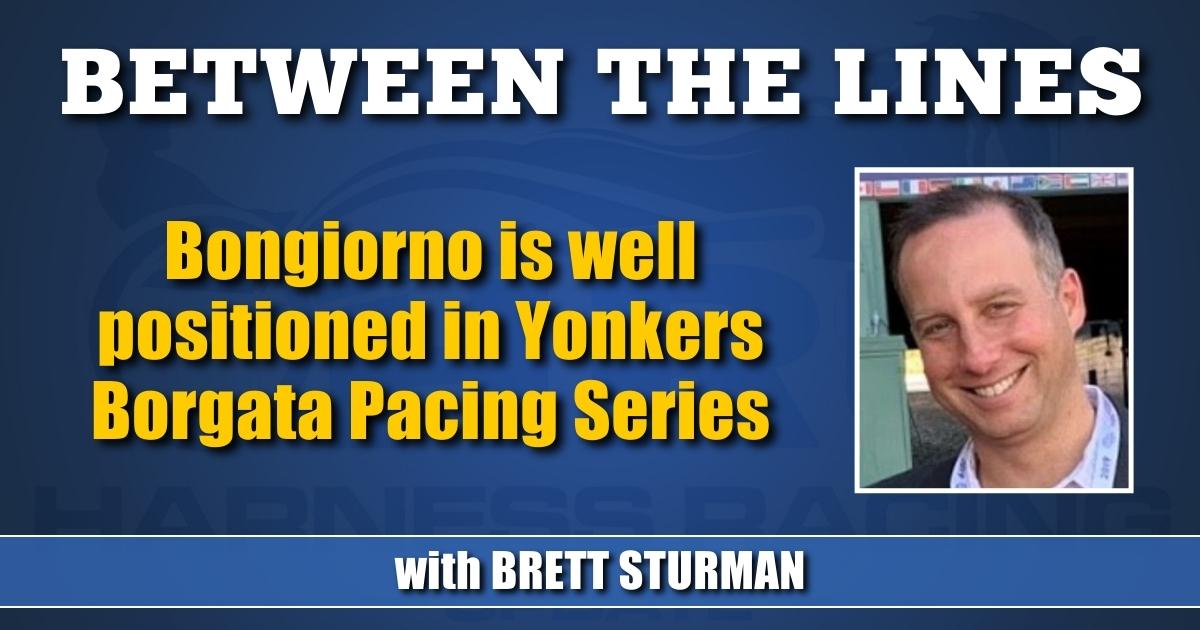 Bongiorno is well positioned in Yonkers Borgata Pacing Series
by Brett Sturman
The headline coming out of last week's first leg of the 2022 Borgata Pacing Series was the emphatic return of defending champion, This Is The Plan. Trained by Ron Burke, This Is The Plan coasted to the easiest of wins in 1:51.3 in his first start since November and put the field on notice that the Borgata series will once again go through him.
Another race that caught the eye from Monday was the division in which Sheena Cohen-trained Leonidas A surged by the Chris Ryder-trained Tattoo Artist in 1:50.3, easily the fastest of any race that night. In that race, Tattoo Artist, who remains one of the favorites to win the series, cut excessively fast fractions after blasting from post 7 and was visibly tiring late when beaten by Leonidas A, who is proving once again to be a formidable threat throughout this series for the second consecutive year.
And right there with them includes contenders from a solid quartet sent out by last year's leading trainer at Yonkers, Jennifer Bongiorno. In 2021, Bongiorno's barn outpaced all others with 133 wins at the Hilltop oval, and through the first leg of the Borgata series the trainer is liking what she sees.
Bongiorno's best Borgata chance comes likely in the form of last year's 1:47.2 winner, proven free-for-all standout Nicholas Beach. Coming off a career year, he seemed loaded when finishing a close third last week to Western Joe and Covered Bridge in his first start of the year. "Coming off just that one qualifier into last week's race, I was really happy with him," said Bongiorno. "I thought he had a ton of pace on the end and didn't have much room late, but I was happy to see him sit comfortably in the pocket and finish with the ear plugs in. And he came out of the race great, which is what's most important with him."
As has been a pattern since last year, Nicholas Beach had the misfortune of landing another poor post for his upcoming second leg of the series on Monday, post 8 directly outside of Leonidas A. "I could see a conservative start coming possibly from the 8-hole because it's a long series and you want to take it week by week," said Bongiorno. "But I one thousand percent think he can be very competitive when he's in a good spot. He's going to be tough in this series. He's beaten those horses before multiple times, and that mile as an example at Chester last year in the Commodore Barry was incredible. I think the world of this horse as do his owners and he's completely staked this year. He's going to have every opportunity to prove the horse that he is."
Bongiorno has further ammunition with the 5-year-old Well Said gelding, Dragon Said. Making his Borgata series debut last week, Dragon Said went wire-to-wire en route to a 1:52:3 score over None Bettor A and Elver Hanover. He flourished last year under Bongiorno and his mark of 1:49.4 at Yonkers is a record for a 4-year-old; he's another that's beaten many of the Borgata series participants at one point or another throughout his collection of Yonkers open wins.
"You couldn't ask for a cooler horse, he's just a complete overachiever," said Bongiorno. (Owner) Robert Devine bought him for $10,000 and what he's done is truly incredible. He keeps surprising us and continues to get the job done. He's fully staked as well. My owner really wanted to take a chance with him and let him prove to us what he really is. He's won open's as a 4-year-old here at Yonkers and has had great success for us over this track starting with the M Life Rewards series last year and all the way through, so putting him in the series was something we thought he could handle. And last week he showed he certainly belongs; he's going to continue to be very competitive."
Bongiorno has two other horses racing in the series that she wouldn't be quick to write off either, Town Gossip or Ostro Hanover.
"Town Gossip is kind of our pride and joy," said Bongiorno. We bought him at sale for $25,000 and he's gone on to become such a nice horse. Of last year's Empire Breeders winner and NYSS Final runner-up, Bongiorno said, "Normally I wouldn't put a 4-year-old such as Town Gossip in the Borgata because it's a tough series against older, more seasoned horses, but he gets around Yonkers so great and I couldn't have been more impressed with his two qualifiers coming back. He's very strong and powerful now and when (my brother, driver) Joe (Bongiorno) got off him last week he was like, 'Trust me, he was very good.' I think this upcoming week he's actually in one of the best spots for me. Ostro Hanover is one that we claimed for $100,000 in November and he's been getting better and better for us. We gave him a little break over the winter, and he can definitely get checks throughout the series, even race in the consolation, so that was the aim there."
Bongiorno notes although her stable has been viewed generally as a racehorse barn, the number of opportunities with stakes horses has been increasing. Today, the stable has 70 horses, including 10 2-year-olds, a couple of Stay Hungry fillies and a nice looking filly from Muscle Hill and another from Father Patrick.
Notable stakes opportunities Bongiorno sees thus far includes the 3-year-old trotting filly, Dreamonhigh. "Dreamonhigh was incredible last year and I think she's flying a little under the radar because she wasn't staked last year to the year-end races. And I personally think that division is one of the toughest, but she's coming back really good after being sent to North Carolina this winter. She grew so much, looks good and strong, and set the 2-year-old track record last year at the Meadows for either a colt or a filly. Hit Me Up is a 3-year-old pacing filly that finished 2nd in the sire stakes finals last year. She actually broke a coffin in that race but she's currently doing well, is sound, and I'm aiming her more towards the latter part of the year. I have a 3-year-old New York gelding Secret Rule and he's another who is training back really well and I'm excited to see what he has this year. I'm really looking forward to all of it. I'm proud of the way the barn has grown, and I think we have a great mix going."