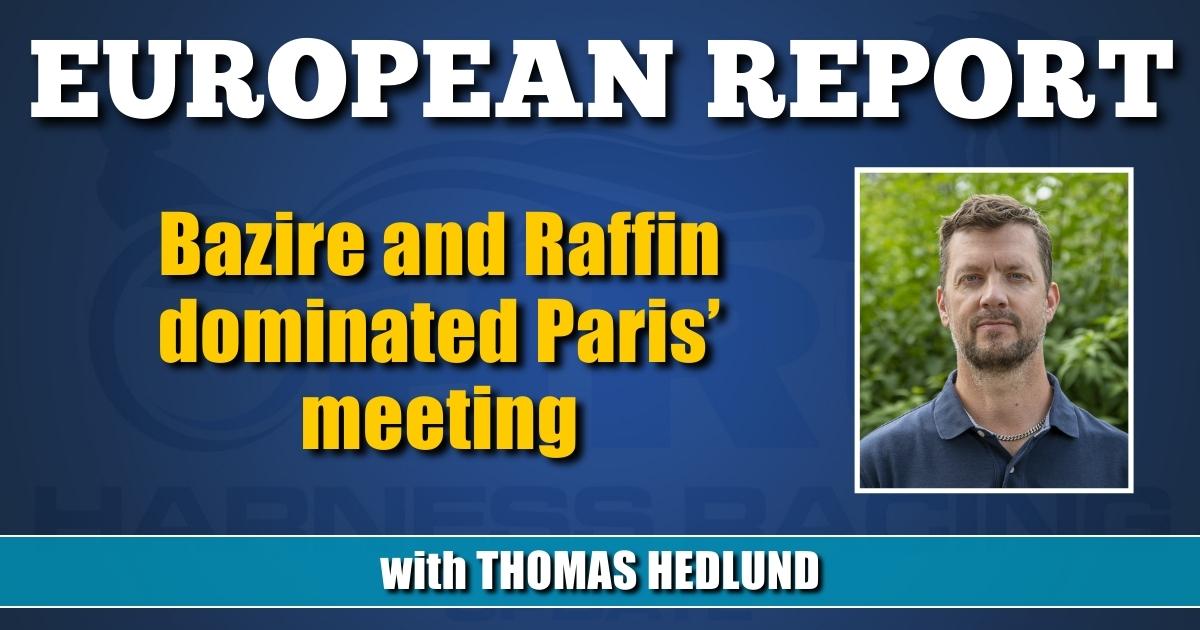 Bazire and Raffin dominated Paris' meeting
by Thomas Hedlund
The 2021/2022 winter meeting in Paris ended with $265,000 Prix de Selection on Saturday (March 6) afternoon and after four months of intensively racing in France's capital city, it's clear the sport is still dominated by Jean-Michel Bazire and Eric Raffin.
Bazire was outstanding among the trainers that competed in Paris during the meeting and his stable collected 52 wins and earned $2,811,523 this winter.
Eric Raffin topped the drivers with 85 wins.
Ready Cash dominated as sire with 36 wins and $2,466,470 in total earnings.
Paris' winter meeting 2021/2022
Sires
Sire – Wins – Earnings
Ready Cash – 36 – $2,466,470
Royal Dream – 24 – $1,462,215
Love You – 25 – $1,385,097
Bird Parker – 13 – $1,075,689
Prodigious – 19 – $1,049,419
Trainers
Trainer – Wins – Earnings
Jean-Michel Bazire – 85 – $2,811,523
Philippe Allaire – 16 – $1,890,237
Laurent-Claude Abrivard – 42 – $1,714,032
Thierry Duvaldestin – 23 – $1,516,053
Franck Leblanc – 24 – $1,219,617
Drivers
Driver – Wins – Earnings
Eric Raffin – 85 – $4,212,015
Alexandre Abrivard – 62 – $2,468,909
Jean-Michel Bazire – 45 – $2,340,410
Matthieu Abrivard – 44 – $2,117,458
Franck Nivard – 40 – $2,416,473
Last battle for Billie de Montfort… in France
Eleven-year-old super mare Billie de Montfort, trained by Sébastien Guarato, will race on French soil for the last time this Sunday (March 13) in the $225,000 Criterium de Vitesse at Cagnes-sur-Mer. But, according to breeder and owner Philippe Dauphin, it's not certain that Billie de Montfort has made her last start, French media Paris-Turf reported.
"We still don't know if we will continue the adventure with Billie in another country. That decision can be made after the race on Sunday in consultation with Sébastien Guarato and his wife Anne," Dauphin said.
Billie de Montfort's merits are outstanding and the most characteristic trait is her toughness and strong body. Her career has been long and the 11-year-old Jasmin de Flore mare has fought against the best horses in the crop, both in her home country and in most of the other European harness racing countries.
Before Sunday's race in Cagnes-sur-Mer, Billie de Montfort has earned $2,816,489 and her biggest trophy was claimed in the $250,000 Gran Premio delle Nazioni in Milan 2020.
"B-horse" Bahia Quesnot is another great mare born in the same crop as Billie de Montfort and she is also entering the track for the last time in France this Sunday.
Title defender Vivid Wise As will probably be heavy favorite in the mile race on Sunday and facts say that the 8-year-old Italian bred Yankee Glide son is tough to beat at the racetrack on the French Riviera. Five earlier attempts on the red track have resulted in five wins and Vivid Wise As has claimed the title in Criterium de Vitesse two years in a row.
Criterium de Vitesse 2022
One mile
Horse – Driver – Trainer
Zacon Gio – Roberto Vecchione – Holger Ehlert
Bahia Quesnot – Junior Guelpa
Cokstile – Gabriele Gelormini – Erik Bondo
Billie de Montfort – Eric Raffin – Sébastien Guarato
Delia du Pommererux – David Thomain – Sylvain Roger
Etonnant – Anthony Barrier – Richard Westerink
Vitruvio – Alessandro Gocciadoro
Vivid Wise As – Matthieu Abrivard – Alessandro Gocciadoro
Dreammoko – Wim Paal – Claus Hollmann
Elsa de Belfonds – Thomas Levesque – Nicolas Ensch
Bleff Dipa – Vincenzo P. Dell'Annunziata – Holger Ehlert
Desir de Bannes – Nicolas Ensch
Alcoy – Christophe Martens – Vincent Martens