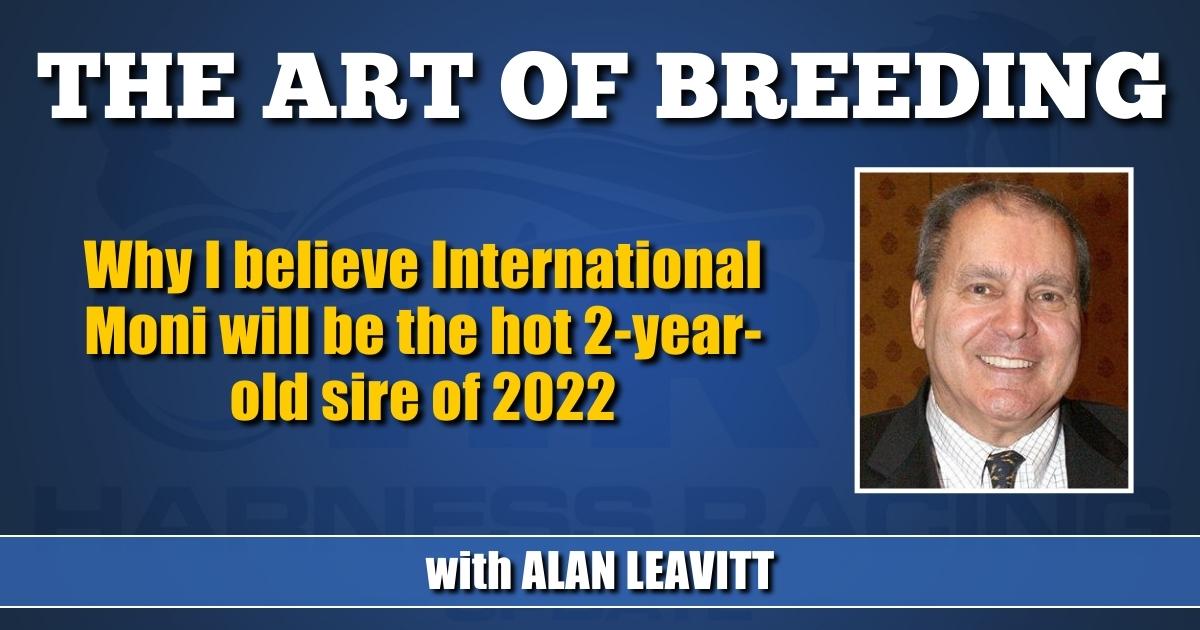 Why I believe International Moni will be the hot 2-year-old sire of 2022
Also, if I'm coming back as a horse…
by Alan Leavitt
As a rule, I follow the maxim that even a fish wouldn't get into trouble if he only kept his mouth shut. But here this fish is going to open his mouth and predict that International Moni is going to be the hot sire of 2-year-old trotters this year. I'm going partly by what I've heard from two top trainers, Jimmy Takter and Randy Jerrell, partly from intuition.
International Moni is a Lindy homebred, by Love You and out of the immortal Moni Maker. Until she was bred to Love you, Moni Maker was the trotting world's best example of the total disparity between her phenotype and her genotype.
Moni's phenotype was the living great mare that could win over $6 million on tracks all over the world. We've never seen a better race filly and race mare, and we may never see her likes again.
But her genotype, her genetic profile, bore no resemblance to her greatness on the racetrack. She had a number of foals, all by leading U.S. stallions, and they were, at best, ordinary. Only when she was mated with Love You did she strike gold. For my part, a lot of the gold she struck in International Moni is owed to Love You. He has proven over and over again that his genetic deck only has high cards when it comes to the speed gene.
There's also something else at work here, which I readily admit I don't understand. To produce an International Moni, both the sire and the dam have to come up with high speed gene genetic cards. There is something indefinable that gives a certain stallion the ability to cause a certain mare to match his high speed gene with one of her own.
Love You crossed on Moni Maker is one example of this. Bred to a raft of other stallions, Moni Maker failed to contribute anything that would produce a top horse. That only happened with Love You.
Another example of the same kind of synergy occurred with Amour Angus and Garland Lobell. We know Garland was a high card horse who improved every mare he was bred to. But he also had an indefinable ability to make a mare like Amour Angus match his high card speed gene with one of her own. Hence, Andover Hall, Angus Hall, and Conway Hall.
In my youth, I saw the same thing with Dancer Hanover and Romola Hanover. As a sire of racehorses, Dancer Hanover's only top horses were the three that he got with Romola Hanover. On the other hand, she was a good producer, but she only produced greatness when she and Dancer engaged in hanky-panky. When they did, the results were named Romeo Hanover, Romulus Hanover, and Romalie Hanover. All three of them were the best of their respective generations.
Back to International Moni, he was a top colt at 2, my year for defining future sire success, and if he hadn't been run into in the final, he would have won the Hambletonian.
The Antonaccis, consummate sportsmen, brought International Moni back at 4, where he totally disproved Jeff Gural's premise that no horse should be retired at the end of his 3-year-old year.
Paying the steep physical price that any high-powered campaigns at 2 and 3 will exact, International Moni was just another racehorse at 4. By my estimate, racing the horse at 4 cost Lindy Farms between half a million and a million dollars in breeding fees and sales of syndicate shares.
What was true of International Moni will be true of virtually any colt who competes successfully in the big stakes at 2 and 3. My dear friend, the great Canadian vet Dr. Melissa McKee, has told me in detail of the physical damage hard racing does to a young horse. Gural has done many great things for our sport. He would do one more if he got rid of his rule regarding the progeny of horses that went into the stud at 4.
Baffert's just desserts
On a totally different subject, Bob Baffert finally got his just desserts, or at least what passes for them in Kentucky. Meaning that Medina Spirit was taken down as the Derby winner, Baffert got some days, and he was fined all of $7,500 for doing his bit to destroy the pristine image of the biggest thoroughbred race in the world.
Although Baffert was the trainer of record, all the actual, day-to-day training was done by one of his second trainers. The guy is anonymous, at least to me, but at the least Baffert needs to impress on him the need to read the ingredients of anything he decides to rub on a horse's backside.
I also remember another one of Baffert's horses flipping over in the paddock before his stablemate won the big dance. It's amazing that this doesn't happen more often. A horse's mouth and gums are sensitive, and any pain there will cause them to flip. When you put a chain over the gums when a horse is bridled, there needs to be a very light hand on the lead shank. If I'm coming back as a horse, please, Lord, not as a thoroughbred.
The origin of Camptown Races
Finally, a long overdue explanation of that great American folk song, Camptown Races. Camptown was the original name of Freehold, NJ. It has got to be the home of one of the oldest trotting tracks in North America, since it was flourishing in 1850, when Stephen Foster wrote the song.
For the record, the "Bob tailed nag" the singer bet his money on was the great trotting mare Flora Temple. She set all kinds of world's records, at all kinds of tracks for Hiram Woodruff and James McCann, and she had a bobbed tail. And the next time I'm in New Jersey, I'll invite Bruce to go to the track with me, and we'll bet with both hands on the first bob tailed mare we see.