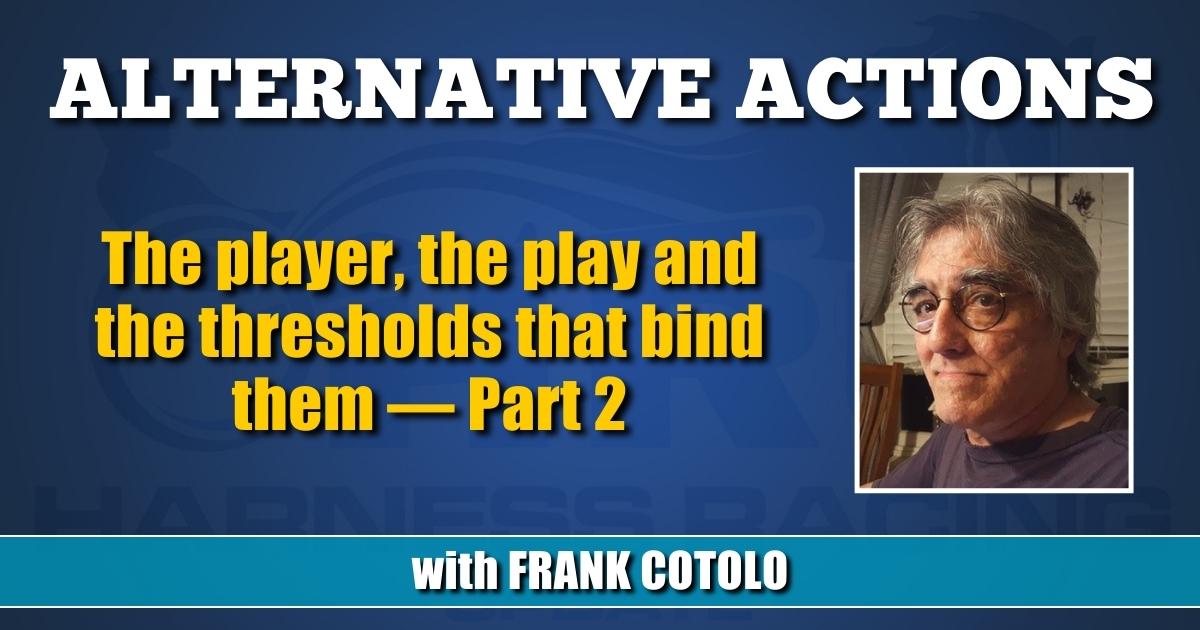 The player, the play and the thresholds that bind them — Part 2
by Frank Cotolo
In part one we were with me in the 1980s when I carefully balanced two careers — one as a writer and the other as a serious pari-mutuels bettor at Southern California thoroughbred and harness meets. Armed with a $10,000 bankroll I contributed greatly to the volume of each program's takeout. Along with the handful of full-time horseplayers — who in those days had to go to the track to do their business — we were responsible for the majority of cash going into the tracks' coffers; until one season when along came a player who made the tracks expand their coffers to contain the churn.
That is where we left Part 1, after introducing a bettor I call Delaney (for privacy's sake we call the writer Delaney and all racetracks involved Palmtree Park). He was one of the most successful TV writers of the period and a part-time pari-mutuels investor. He played with a bankroll that put all of the other pro gamblers' bankrolls put together to shame.
Then came an unrelentless losing streak that sensationalized on Delaney's lack of any money-management system. He came undone, betting huge amounts on every race wildly. It was bountiful for Palmtree Park but crushing for the multi-millionaire, who dipped into his personal fortune in an attempt to bet his way back — a sure-fire tactic that paves the way to the Poor House.
There is a classic joke about the tactic that explains its futility: A person arrives to pick up a friend and go to the track. The friend is on a losing streak and says, "I'm not going to the track."
"You're not going to bet?" says his friend.
"Naw. I'll mail them a check."
Delaney lost an estimated $13 million along with a tax bill of $17 million. Palmtree Park stock went up. The last anyone heard about Delaney was that he got $40-a-week pocket money from accountants (finally utilizing the talents of a money manager) that handled his debt.
Stan And Ollie
A decade or so later and 8,017 miles away from the fall of Delaney, a Tasmanian man we call Ollie was crowned "the leader of the world's biggest gambling syndicate" by Australasian newspapers.
Ollie's efforts leading to the title are the stuff on which fables are built. A kid from the poor side of a town Down Under, Ollie's father was a struggling greyhound trainer, a single parent with three children, the youngest, Ollie, an introvert living in his own mind. He studied mathematics at university where he took a shining to blackjack and applied his math studies to wagering on it. He began to win a lot and caught the eye of an innovative blackjack player known as one of the world's biggest gamblers (for the fun of it, let's call him Stan).
Stan and "Ollie" became partners and traveled, wagering with a mathematical edge. In a year they turned a $200 bankroll into $14,000.
They went to Las Vegas. Ollie buried himself in the University of Nevada's wealth of gambling books about betting psychology and systems and money management and playing a bankroll as a business. Ollie used what he learned to write a computer program for betting on thoroughbred races. They returned to Australia and horse racing became the center of their new gambling business.
While Ollie honed the computer system, Stan kept the bankroll strong playing and winning at blackjack. He did so well he was banned from all casinos Down Under, as well as ones in Korea, Sri Lanka, Macau and South Africa. The bankroll stronger, the duo put the blackjack-based winnings to work at horse and dog tracks.
Ollie's computer program, based on his personal mathematical methodology, inspired making large wagers to earn small profits. It did that with a passion that resulted in major earnings and produced profits enough to expand the operation into a global enterprise. Stan and Ollie hired a staff of computer programmers, statisticians to crunch numbers, enhanced mathematical systems and began to swarm the pools of tracks around the world with billions (that is not a typo) worth of bets.
No bettors were more prepared for the digital platform. Armed with math and management and the machines to reach any track where they found a wager, Stan and Ollie's company poured cash into racetrack coffers — and still had money to bet on sports and, where legal, who could be the next Pope.
Ollie spun philosophical as his business grew. He said gambling is just a game that "causes money to change hands" and "winning gamblers end up with money but have achieved nothing else" because win or lose, gambling "doesn't produce anything."
But racetracks take a salary from each bettor, big or small, and keep the pari-mutuels industry filled with delirious hope.