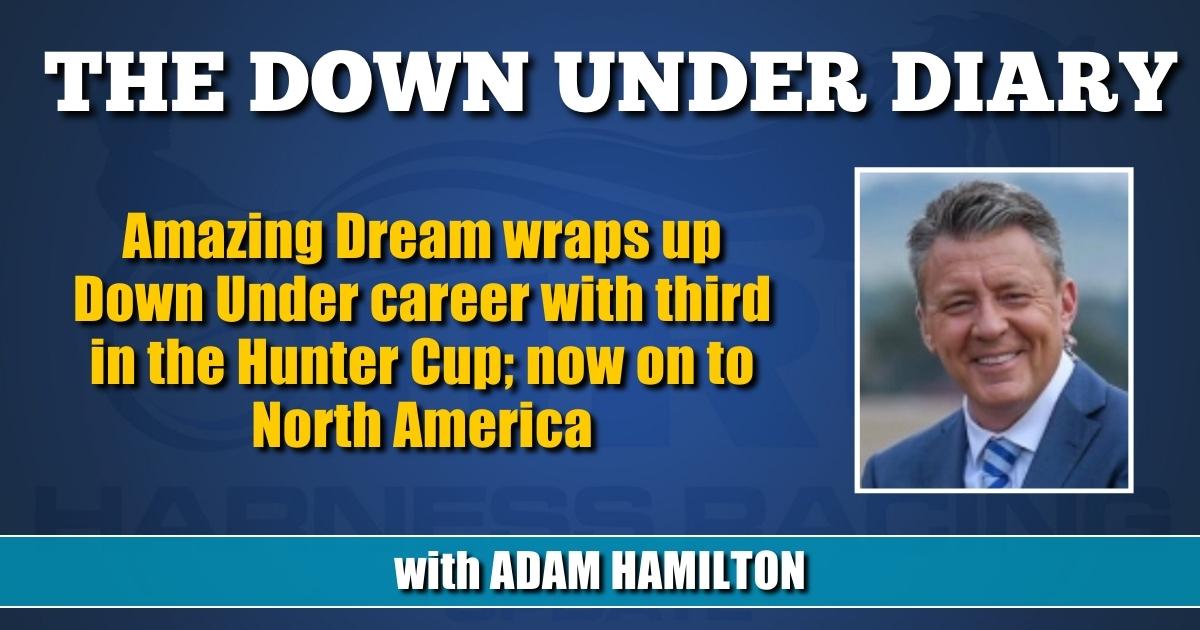 Amazing Dream wraps up Down Under career with third in the Hunter Cup; now on to North America
by Adam Hamilton
One of the greatest mares we have even seen Down Under is heading to North America.
Amazing Dream, a 10-time Group 1 winner, will be flown to the U.S. this week to continue her racing career with Hall of Fame trainer Linda Toscano.
She leaves after finishing third in one of Australia's greatest races, the Hunter Cup, Saturday night (Feb. 5).
Amazing Dream's $1,464,760 in earnings make her the second-richest mare in Down Under history on stakes money earned in Australia and New Zealand.
"We've decided the time is right," managing owner Gordon Banks said. "We were very happy with her Hunter Cup performance, as those slow fractions were never going to give anyone a chance at beating (leader) King Of Swing.
"We are happy to end her Down Under racing career on a high note and at the peak of her game.
"We have high hopes for her over here and she will be staked for all the major North American open are stakes races.
"We believe she deserves to leave Down Under at her peak and with the recognition she deserves as the second highest earning mare in Down Under history (excluding Shartin N, whose earnings were primarily in North America).
"We also felt she deserves the chance to come here and be given until our stake season begins in late May to acclimate to her new home.
"Hopefully she will show harness fans here the greatness and heart of a champion that she has so spectacularly demonstrated Down Under."
Amazing Dream raced much of her career for the powerhouse All Stars barn, headed by Mark Purdon in NZ, then joined Purdon's son, Nathan, for a successful Australian stint in the middle of last year.
Just a 5-year-old, Amazing Dream has raced 48 times for 24 wins, 10 seconds and eight thirds.
"You'd have to say she's up with the very best mares we've ever seen here," champion driver Anthony Butt said. "You rarely see the girls compete so well against the boys, but she did more than that. She beat them in four of our biggest races. That's pretty special."
*    *    *
Champion pacer King Of Swing's run to retirement could take his already stellar career to the next level.
As great as the 7-year-old son of Rocknroll Hanover has been so far, he will secure genuine legend status if he can add an unprecedented third $A1 million Miracle Mile.
King Of Swing is one of eight pacers to win two Miracle Miles, but none have been able to add a third.
"That's our next big target for sure," co-trainer and driver Luke McCarthy said. "We get to go back home and race at his favourite track again now, which is great."
King Of Swing's Menangle record is stunning, especially over a mile. He's had 19 starts at Menangle for 16 wins, two seconds and a fifth.
But over the Menangle Mile he is unbeaten in 10 starts, four of them at Group 1 level.
Saturday night, King Of Swing led throughout to win his second Hunter Cup, making him the only pacer to have won the Cup and the Miracle Mile twice.
While retirement to stud looms large, McCarthy is adamant King Of Swing is "at least as good as ever."
"I know he had a lovely run in front, but he did that really easily. He felt fantastic all the way," he said. "I know there have been a few doubters of late, but everything I've seen of him at home and the races says he's flying. He certainly hasn't lost anything."
If McCarthy and his wife, Belinda, have their way, King Of Swing will race on beyond the Miracle Mile.
"We'd love to give him a break after that and bring him back for a couple of runs at the big Queensland (Constellations) Carnival (June/July), especially now they've boosted the stakes money," McCarthy said.
*    *    *
Two of Australia's best stables continued their dominance in two of Australia's biggest races last weekend.
Over in Perth, champion trainer Gary Hall Sr won a mind-blowing 12th – yes 12th – $A450,000 Group 1 WA Pacing Cup. To win the biggest race in your own backyard 12 times is quite something else.
This time he did it with a rank outsider Wildwest, who paid $91 for a $1 bet, and snatched victory right on the line at Gloucester Park on Friday night (Feb. 4).
"It's been a great race to me, no doubt about that," Hall, Sr. said. "I didn't see this one coming. He's always had the ability Wildwest, but he's only any good on the marker pegs and when he drew wide I thought he was no hope."
Hall, Sr. admitted he only saw Wildwest in the last stride with his focus being on his aging champion Chicago Bull, who ran a mighty third, just a neck from the winner, after doing loads of grunt work.
"I really wanted 'Bully' to win it. I thought he was going to on the home bend, but he's just done too much work. He was so brave," he said. "Right on the line I saw this horse flash through near the inside and I thought 'hang on, I think that's Wildwest.' I couldn't believe it."
In a pre-arranged plan by Hall, Sr., Wildwest now leaves his stable to join the powerhouse Luke and Belinda McCarthy in NSW.
"It's so he can race on the bigger 1400m Menangle track, which will really suit him. It sounds strange given he's just won our biggest races, but he doesn't really like Gloucester Park much at all," Hall, Sr. said.
In Victoria, husband and wife, Andy and Kate Gath continued their dominance of Australia's biggest trotting race, the $A300,000 Group 1 Great Southern Star. Like the Elitlopp and Little Brown Jug, it's a heat and final series on the same meeting.
Brilliant Majestic Son gelding Majestuoso gave Team Gath their fourth Great Southern Star win in the past six years and their third in a row.
"It's such a great race and to win it four times is pretty special," trainer Andy Gath said. "To have Kate driving and for Norm (Jenkin) to own him, it all comes to together to make things really special. Norm's been such a great supporter of mine for a long, long time."
Majestuoso's win was drama-packed given he was stuck in traffic in his heat and only just scraped into the eight-horse final by finishing fourth and being one of the fastest unplaced heat runners.
He whizzed to the front in the final and clocked a race record 1:54.6 mile rate for 1720m to just stave-off former brilliant juvenile Wobelee and win by a head.