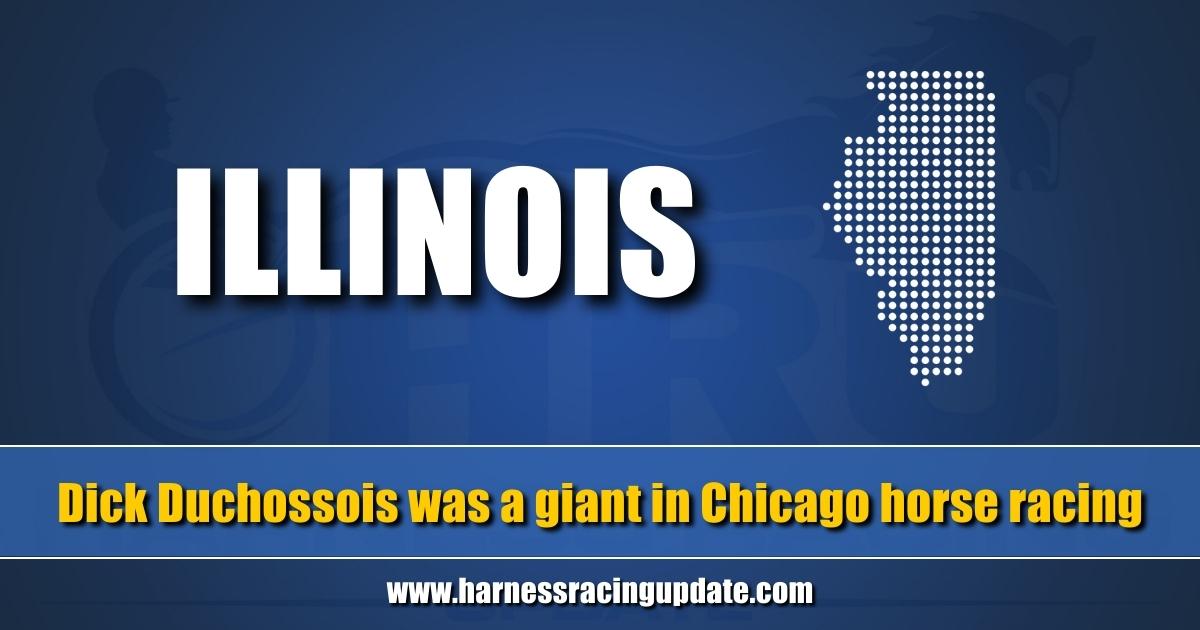 Dick Duchossois was a giant in Chicago horse racing
by Neil Milbert
While Dick Duchossois is remembered as having one of the highest profiles in the thoroughbred racing world, the man who rebuilt tradition-rich Arlington Park into what was acclaimed as "the world's most beautiful racetrack" and renamed it Arlington International Racecourse didn't accomplish anything of consequence when he dabbled in harness racing.
Arlington's chairman emeritus and a stockholder in its parent company, Churchill Downs, Inc., died on Jan. 28 at age 100.
Thirty eight years earlier, he joined with three partners to buy Arlington for $19 million from Gulf and Western.
At the time of the 1984 sale, Arlington had harness racing dates at Maywood Park under a 10-year lease agreement following the fire that destroyed its (never rebuilt) sister track Washington Park in 1976.
In 1977 and 1978, the Washington Park harness meetings were held at Arlington, a track with a configuration ill-suited to harness racing, and attendance and handle declined significantly, prompting the Maywood lease arrangement that began in 1979.
The lease extended into the first five years of Duchossois' ownership of Arlington before ending in 1988. It was renewed for an Oct. 23-Dec. 31, 1989 meeting but negotiations over a further extension broke down.
Maywood's management contended that the lease conditions offered were identical to those of 1989 but Duchossois refused because he sought special concessions on simulcasting.
Duchossois, claimed: "We weren't out by design. The conditions of the lease we were offered at Maywood were unacceptable and we were not offered leases by either Hawthorne or Sportsman's."
Always eager to innovate in an attempt to win new fans during his time at Maywood, Duchossois introduced Team Harness Racing in 1987, pitting drivers from Chicago (Maywood) against those from New York (Yonkers Raceway). The following year he expanded the concept into a tournament involving Chicago, New York, Detroit (Hazel Park) and Toronto (Greenwood Raceway).
In 1988, at a meeting with standardbred horsemen, Duchossois said he would consider building his own Chicago area track if he couldn't obtain a lease extension at Maywood.
However, the following year he seemed less inclined. "We're trying to digest what we've done and don't want new things on our plate at the same time," he said. "Sure I might be interested in getting back in it in the future. If I ever wanted to build a harness track I'd build it right here at Arlington. We have 325 acres and don't use it all."
Duchossois had thought he was on the verge of getting a Chicago area harness track a few years earlier when the owner of Balmoral Park, Edward J. DeBartolo, put the south suburban track up for sale.
Initially, he and the other track owners in the metropolitan area convened and reached a tentative agreement to buy it jointly but then at a later meeting Duchossois surprised his fellow owners by telling them that he had made an independent offer and was in the process of buying Balmoral.
However, when Duchossois began haggling over some details of the sale, Sportsman's Park president of harness racing Billy Johnston got word that DeBartolo might be willing to back out if he received another offer.
Johnston contacted the New York Yankees' principal owner, George Steinbrenner — who liked the idea of increasing his involvement with racing — and the Johnston and Steinbrenner families subsequently teamed with members of the Carey family that owns Hawthorne Race Course to buy Balmoral for $8 million in January, 1987.
In 1988, Duchossois acquired Quad City Downs, a downstate track that had been serving as a feeder for tracks on the Chicago circuit and was bolstering standardbred breeding in the state. Foremost among those who got started there is retired Hall of Fame driver Dave Magee.
Because the track was shut down in 1993, in retrospect it seems that the primary reason for the acquisition was to capitalize on the off-track betting parlor opportunities for Quad City Downs that a newly-enacted law had made possible. Quad City Downs itself served as a simulcasting outlet from 1993 until Jan. 31. 2015 when it was permanently closed.
A July 31, 1985 fire that destroyed Arlington's clubhouse and grandstand during its thoroughbred meeting was the catalyst that made Duchossois into one of the biggest names in racing.
Duchossois was determined to present its signature race, the Arlington Million, as scheduled on Aug. 25. Crews worked around the clock to remove debris, lay down blacktop and set up tents and temporary bleachers, enabling "The Miracle Million" to be run in a country fair setting.
He then bought out his partners — two of whom had contributed $100 for a 4 per cent ownership share for which they agreed to manage the track and a third who'd invested $1 million for an 8 per cent share — and took complete control.
The following year, again using tents and temporary bleachers, Duchossois put on the most lucrative meeting in Illinois thoroughbred and harness racing history, a 13-day stand that offered an average of $377,123 in daily purses and lured horses from 17 states and five foreign nations.
Using the same temporary facilities he held a 91-day meeting in 1987 before taking year off to rebuild and reopen. Amid speculation that Duchossois had shelled out $200 million he responded, "Only God and my accountants will ever know for sure."
The intent was to make already nationally renowned Arlington a world capital of racing and a premier entertainment destination and Duchossois poured his private resources into the undertaking.
The money came from Duchossois Industries (now known as The Duchossois Group). It began as Thrall Car Manufacturing, Co., a 35-employee firm that repaired freight cars and sold parts and it was owned by the father of his first wife, Beverly, whom he'd married while serving in the Army during World War II.
Duchossois had dropped out of Washington and Lee University after three semesters to join the Army and went on to become a tank commander under General George Patton, engaging in major combat operations after the Normandy Invasion. He was temporarily paralyzed when a bullet went through his left side and four months later after returning to combat he was struck in the face by a German grenade fragment.
When Duchossois was discharged in 1946 his rank was major and he was the recipient of a Purple Heart and two bronze stars.
The war hero immersed himself in his father-in-law's business, working from 12 to 16 hours daily. By the time he was 30, he was president of the company. Under his direction in the 1950s, the company expanded to manufacturing and evolved into an industrial conglomerate, making him a millionaire. By the time he bought Arlington his wealth had increased to multimillions and in 2018 his net worth was estimated at $63.8 million.
Over the years, without fanfare, Duchossois made enormous charitable contributions. The most substantial was a $20 million donation to the University of Chicago to build an outpatient center in memory of Beverly, who'd died of cancer in 1980 after being treated at the hospital for two years.
During the first four decades of his life, Duchossois resided on Chicago's South Side and in the southwest suburbs. He and Beverly then moved to northwest suburban Barrington Hills to be closer to the show horse activities that their (now deceased) son, Bruce, was involved in. They bought a 120-acre former dairy farm and christened it Hill 'N Dale.
Up to then, Duchossois had never been interested in horse racing. But a conversation about buying a thoroughbred with fellow parents at a horse show put a bug in his ear and in the late 1960s he went to Arlington and bought a bargain basement claiming horse named True Sue. In her first race for him True Sue broke down.
Many years later, he told the Chicago Tribune that the death of True Sue probably was the birth of his "mission to save racing."
"When you have a failure like that it gets your boiler going," he said. "You say: 'I'm going to lick this.'"
By the 1970s, Duchossois had bought farmland adjacent to Hill 'N Dale, expanding it to 600 acres, and had begun breeding thoroughbreds. He assumed a leadership role in the Illinois Thoroughbred Breeders and Owners Foundation (ITBOF) and following the death of Beverly he intensified his involvement. Under his direction what once had been an organization of hobby horsemen began making an effort to influence members of the Illinois General Assembly to enact pro-racing legislation.
And, in turn, his work with the ITBOF set the stage for him to head the four-man group that bought Arlington.
At first, he was the silent partner but after "The Miracle Million" he bought out his partners and brought the same intensity to his racing and breeding endeavors that characterized his transformation of Thrall Car Manufacturing Co. into a conglomerate with diversified ventures consisting of companies that are today valued at $2 billion.
The annual income from his business dwarfed the yearly profits — and sometimes losses — from owning a world famous racetrack and breeding top-of-the-line thoroughbreds but he remained steadfast in his pursuit of excellence. In this perfectionist's one-track mind that entailed bringing the best thoroughbreds in the world to Arlington for the Million and other major races and constantly striving to improve the quality of racing day in and day out.
The 1990 Kentucky Derby and Breeders' Cup Classic winner Unbridled began his career at Arlington and 1991 Horse of the Year and Breeders' Cup Classic winner Black Tie Affair made it his summer home for the final three years of his racing career.
In 1996, Duchossois put up a $1.05 million purse to lure Cigar to Arlington where he won his 16th consecutive race, equaling Citation's modern record that had stood for 46 years.
Riverboat casino gaming invaded Illinois in the mid-1990s and it had a negative impact on both thoroughbred and harness wagering.
In response, Duchossois began clamoring for legislative approval for a "racing industry casino" at his racetrack, claiming that it would make "Illinois racing the best in the country."
When the legislators took no action he responded by shutting down his track in track in 1998 and 1999.
Although Duchossois didn't get the casino license he coveted the 1999 legislation had enough perks to persuade him to reopen in 2000.
Later that year he made what unwittingly turned out to be an ill-fated move by merging Arlington with Churchill Downs, Inc. (CDI) in the belief that it would ensure the future of his beloved track and make it a monument to his legacy.
"This day is historical for racing," Duchossois asserted. "This merger will benefit both Churchill Downs and Arlington and more important it will strength our industry in Illinois and North America as well as benefit the horsemen and fans who participate in this sport. This merger will put together a facility and an organization that can compete with anything in the world."
The merger gave Duchossois Industries 24 per cent ownership in CDI and three seats on its board of directors.
Initially, the results were favorable. In 2002, Arlington was played host to the Breeders' Cup and a crowd of 46,118 came to watch by far the most lucrative and prestigious program in Illinois racing history.
Dan Leary, now the director of marketing and communications for the United States Trotting Association, was Arlington's director of media relations from 2000-2007 and he recalls "the most amazing thing Mr. D. did when I was there was after the Breeders' Cup (when) he asked me for the credentials list and hand-signed about 1,100 thank you letters to the media that attended.
"Mr. D was a great leader and he made my job much easier because of how well he treated the media. Every Arlington Million day, he would visit the Press Box near the end of the day to personally thank the media for coming and covering the races."
"As a person, Dick Duchossois was first class in every way," the late Billy Johnston once recalled. "Very affable and very charitable.
"As a businessman, he was hard-working and successful. He was competitive and would fight at any expense to destroy the competition.
"I was fortunate to know him well as a person and very, very unfortunate to have him as a business competitor."
The former head of the harness meetings at Sportsman's and the ownership group at Maywood and Balmoral was speaking from experience when he cited Duchossois' intent to "destroy the competition."
At the urging of Duchossois, the Illinois Racing Board voted to discontinue thoroughbred racing at dual-purpose Balmoral after its 1990 meeting and at the hearings for 2016 racing dates he teamed with Hawthorne's management to persuade the board to deny harness dates to sister tracks Maywood and Balmoral, which were in the midst of bankruptcy reorganization, thereby forcing them out of business.
Ironically, the long term result of his merger with Churchill was putting Arlington out of business.
Although Duchossois was a major contributor to the Republican Party, he often was at odds with Jim Edgar during the Republican governor's terms in office.
Edgar, who has been involved in both harness and thoroughbred racing as an owner and breeder, once said of him: "He's a very strong advocate for what's best for Arlington. There's nothing wrong with that but there's more than just Arlington."
Duchossois continued to run Arlington his way until June, 2017 when he sold one million shares to the parent company for $158.8 million, reducing his family's interest in the parent company to 6.8 per cent. He lost the three seats on the board of directors and two years later his title changed from chairman to chairman emeritus. That same year he was inducted into the Thoroughbred Racing Hall of Fame.
With CDI chief executive officer Bill Carstanjen calling the shots, Arlington's management began cutting corners, reducing staff, services and maintenance operations.
As fate would have it, in 2019 the Illinois General Assembly finally passed the legislation that Duchossois had been pleading for since the mid-1990s, namely permission for the state's racetracks to conduct casino gambling.
But Arlington president Tony Petrillo astonished the Racing Board by saying that Arlington no longer was interested in becoming a racino.
Shortly thereafter, Carstanjen announced that Churchill was taking bids for the sale and redevelopment of Arlington.
While no one at either Churchill or Arlington would admit it the obvious motive became crystal clear: the reason the racetrack was going out of business was because in 2019 CDI had bought a 62 per cent interest in Rivers Casino, the most profitable of the 10 casinos currently operating in Illinois.
Rivers Casino is only a 20-minute driving distance from Arlington. Closing the track not only would prevent it from opening a casino competitor it also would eradicate nearby thoroughbred racing competition for gambling dollars and do major damage to harness racing in Illinois.
With Arlington out of the picture Hawthorne is the only track in the metropolitan area, forcing harness and thoroughbred horsemen into a time-sharing situation that is unfavorable for both breeds.
There also is reason to suspect that the sale of Arlington to the Chicago Bears was a done deal long before the football team signed a $197.2 million purchase agreement in September. (Closing is expected late this year or early in 2023.)
While Churchill was still presumed to be taking bids, the Bears made a deal with BetRivers, the casino's sports betting arm to become their official partner in introducing that form of gambling that Chicago's professional franchises are entitled to under the umbrella of the 2019 gambling expansion legislation.
A bid to buy the track and perpetuate racing that was made by a group of horsemen and Roy Arnold, an Arlington president during the first part of the last decade, was rejected.
The Bears are expected to demolish Duchossois' beloved track and erect a state-of-the-art football stadium.
Although there's enough room on the premises for the racetrack and football stadium to co-exist comfortably, the Bears' senior vice-president of marketing and communications, Scott Hagel, told the Chicago Tribune's Robert McCoppin in an email: "We are not pursuing any horse racing opportunities on the site."
Duchossois wasn't at Arlington when the track held its final day of racing on Sept. 25 and he uncharacteristically didn't give any interviews during the 2021 meeting.
But, knowing the passion he felt for Arlington, it's safe to say that the 100-year-old man who underwent heart and cancer surgeries several times during the preceding 41 years died with a broken heart, knowing that the magnificent monument to his achievements would soon be destroyed.
He is survived by his second wife, Judi; son and business partner Craig; daughters Dayle (Fortino) and Kim; and step-sons Steve Marchi and Paul Marchi. In addition to his first wife, Beverly, he was preceded in death by Bruce, the son whose passion for show horses put him on the road to glory in the thoroughbred world.