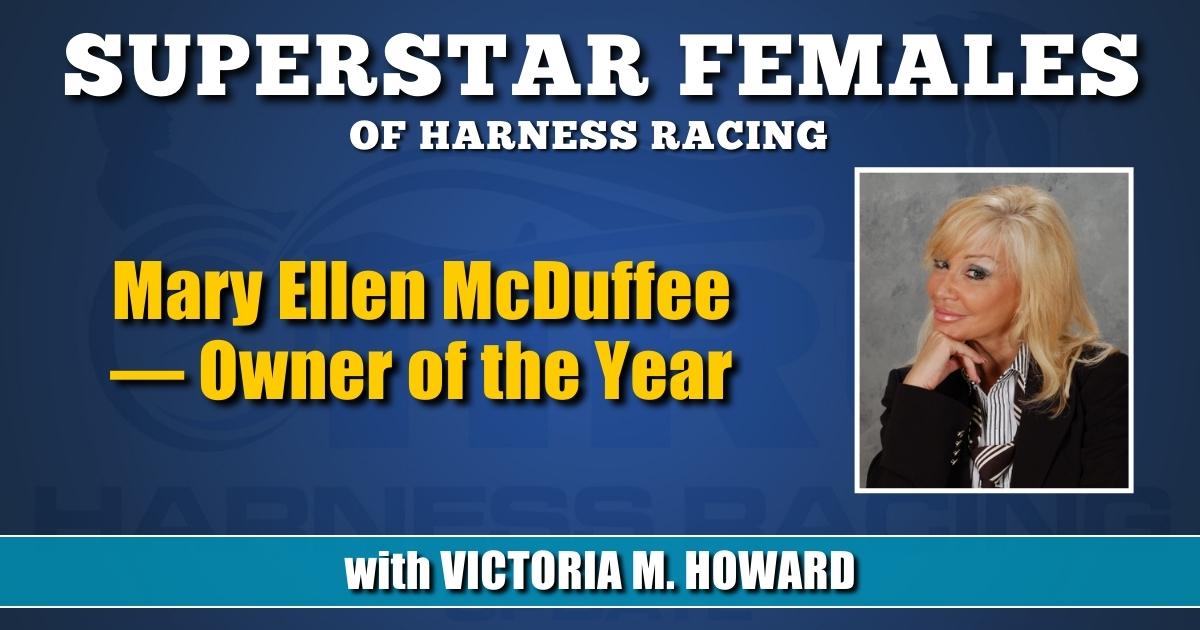 Mary Ellen McDuffee — Owner of the Year
by Victoria Howard
When it comes to Hollywood no annual event is more carefully scrutinized than the Academy Awards. In the music industry, it's the Grammy Awards and in journalism it's the Pulitzer Prize.
Harness racing has its own star-studded event in the Dan Patch Awards.
One of the top honors is the award for Owner of the Year. In February, David and Mary Ellen McDuffee will travel to Orlando, FL to accept the award.
It is well-deserved recognition for the couple who have put an enormous amount of money into the sport by breeding and buying yearlings every year.
As they say, behind every successful man (and David has been very successful in everything he does) is a strong woman. Mary Ellen is exactly that — and one of the nicest woman I know; always smiling and cordial to everyone.
Born in Boston, Mary Ellen lived her entire life in New Hampshire, except when she and her husband headed south to spend winters in south Florida.
Not coming from a horse family, horses — especially harness horses — were foreign to Mary Ellen when she was younger. That is, until one night when she grudgingly accepted a blind date.
"At that time I was attending the University in New Hampshire and was asked out on a blind date. Although I went, it did not go well. But the fellow whose name was David had a twinkle in his eye, so I caved in and accepted the second date.
"Yes, that man was and is my husband, David, who I have now been married to for 50 plus years. And, by the way, he still has that twinkle in his eye," Mary Ellen said, laughing.
"David always owned and loved horses. In fact, he owned his first horse before he owned his first car."
Now that is true love.
"During one of our dates, David took me to Rockingham Park and showed me one of his horses. I thought the horse was extremely small, but discovered that was because the horse was a 'digger' and had been standing in a hole in the middle of the stall.
"I had a lot to learn, but have enjoyed every single minute."
David McDuffee got his start in the sport as a young man when his father raced horses on the New England fair circuit. At that time, the family owned a half-mile training center where David would jog the horses. His dad never owned any champions, but that would change when David went all in.
And what champions the McDuffees have owned — starting with the great Bee A Magician, who made $4 million, was undefeated as a 3-year-old and was the Horse of the Year in both Canada and the U.S.
The was also Miles McCool and Magical Mike, among many, many others. And we can't forget Papi Rob Hanover ($927,979 p, 2, 1:50f, 3, 1:47.1 f), the son of the great Somebeachsomewhere. Papi Rob Hanover made his papas — both 2- and 4-legged — proud until that fateful day in the Adios elimination when he broke a coffin bone. But it's not over for Papi Rob, who is a stallion at Hanover Shoe Farms.
"Yes, that was definitely one of my biggest heartaches, as was when our filly Venerable made a break in the Breeders Crown elimination this year. I still see both of these races in my dreams," Mary Ellen said.
Another champion in the McDuffee barn. Venerable, a daughter of Walner, partly owned by David and trained by Nifty Norman, was a 2-year-old trotting filly who competed against the boys at Woodbine Mohawk Park on Sept. 25 and won the second edition of the $1 million Mohawk Million by a head in 1:54.2.
David buys yearlings and also breeds. One of his great broodmares is Bella Dolce, a Kadabra mare from Pizza Dolce.
Bella Dolce earned $730,384 during her racing career and got a mark of 1:54.2 as a 3-year-old, so it was no surprise when her daughter, Bella Bellini (Bar Hopping) won the Hambletonian Oaks in 2021. The homebred won 10 times from 24 starts and entered millionaire's row, ending the year with $1,021,463 for her owners. Although the McDuffees had won eight Oaks trophies as owners, this was their first time as a breeder.
I asked Mary Ellen what they look for when purchasing a horse or breeding.
"David treats his horses as a business and buys and sells accordingly. He tries to buy the best and has great luck in doing so. I do not have an opinion as to what he buys or sells. I just love looking at them. To me, they are all magnificent."
As far as being voted Owner of the Year, Mary Ellen said, "We are both very honored. We love the friends we have made over the years — not only the drivers, trainers, grooms, and veterinarians, but new and old partners, too. We have traveled with many of them and have welcomed them into our home.
"It is especially fun to go to the winner's circle with them for they are all hard-working, dedicated people we truly appreciate. They all deserve awards."
You can find Mary Ellen along with her husband watching the future potential champions train at Sunshine Meadows in Florida during the winter months.
"I do enjoy watching the horses in the winter — our own, and others. Leaving Florida in the spring takes us to Kentucky, Pennsylvania, and New Jersey, to see the babies that make it to the races."
As far as family continuing their horse legacy, Mary Ellen said, "Some of our grandchildren are involved. There are two girls, ages 30 and 14, who love the horses and business as much as we do.
"One owns a farm in Ocala and the other would like us to buy her every horse she sees. Both girls do dressage, compete, and are successful in local shows.
"Harness racing has been very, very good to us and in during the 50 years we've been involved we have many wonderful memories, and hope to have many more."