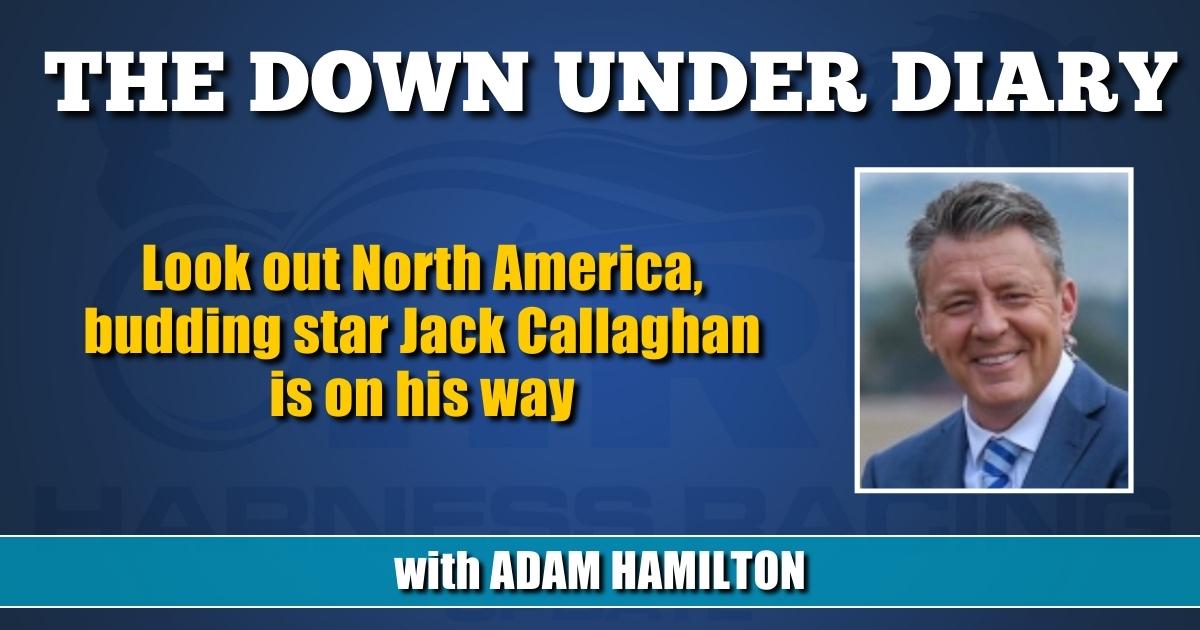 Look out North America, budding star Jack Callaghan is on his way
by Adam Hamilton
Remember the name Jack Callaghan.
Odds are you'll be seeing Australia's hottest young driver following the path paved by some of his idols and he will be driving in North America before too long.
Callaghan, 20, said as much as he prepared for one of the biggest drives of his career in next Saturday's (Feb. 5) $A500,000 Group 1 Hunter Cup on exciting former New Zealand pacer Spirit Of St Louis.
"Absolutely. For sure I'd like to give it a go in the U.S. when the time is right," he said. "I watch it closely. I really admire the hard work Andy (McCarthy) had to do going over when he was so young and putting so much into getting to where he is now, a star.
"Then you watch Dexter (Dunn) and now Toddy (McCarthy) doing what they're doing… Of course, you think how cool it would be to do what they're doing. But I need to keep building here first. I'm only young. I think you need to be at the top of the tree here and really prove yourself before you can think about trying things in the U.S.
"First things first, I've got to actually go to the States. I've never been. I'll wait until I turn 21 and head across for a holiday to see it all for myself. I can't wait for that."
When Todd McCarthy left Australia to chase his dream in the U.S. in late 2020, most felt it was a big blow to Australian driving ranks.
At first it was, but the flipside has been the opportunities it created for Callaghan and New South Wales' other young gun, Cameron Hart, to rapidly become stars in their own right. Last year, the two great mates ran first and second on the NSW state-wide premiership.
"When Toddy left, it certainly opened some doors. He'd pretty much been the dominant driver in NSW, especially Menangle for four or five years," Callaghan said. "It was great driving against him, we all thought he was a freak, but the opportunities were so much greater when he went to the States.
"Cam (Hart) and I are great mates, he's pretty much my best friend, we do everything together. We sort of drive each other to keep getting better, too."
Callaghan's connection with the McCarthy family runs deep.
Like so many in the game, Callaghan grew up in a harness racing family. His father, Mark, has enjoyed plenty of success in NSW's Hunter Valley region around Newcastle, while opting to keep his team to "about a dozen in work.
"I always wanted to follow in dad's footsteps. I remember tipping feed into the bins when I was only 2 or 3 years old," Callaghan said.
"I loved working with dad, mum and my brothers in the family stable, but I jumped at the chance to go to John McCarthy's (father of Andy, Todd and Luke) stables whenever I got the chance in school holidays.
"John asked if I'd come and work for him when Toddy went to the States, but it took Toddy longer than he expected to get a visa and in that time the chance came up to go and work for Luke and Belinda (McCarthy). John was cool with it, he knew I couldn't keep waiting.
"I started with Luke and Belinda in July 2020, just a couple of months after I'd won my first Group 1 race as an 18-year-old on Kayne Crusader at my home track (Newcastle). It was a huge thrill, but the time was right to try a new challenge, the next step-up if you like.
"It was pretty awesome walking into a stable which had so many stars and were winning about half the races at Menangle every Saturday night.
"I knew I was going there to be a fourth string driver, but they had such great numbers and quality, I figured I'd still get some opportunities."
After Todd McCarthy left for the U.S. and Leonard Cain moved to Queensland, Callaghan slotted seamlessly into the number two driving role behind Luke McCarthy.
"I do look back and think I've only been driving for about four years and think how far I've come and the opportunities I've had," Callaghan said. "I finished second on Alta Orlando in the (Group 1) Len Smith Mile late last year and then drove him to run third in the Inter Dominion final as well. He's been a great old horse to me.
"Aldebaran Revani (former North American trotting mare) has been another really important horse to me. She was a bit 'revvy' when she got here, but we got along well on the training track. Luke was away in Queensland when started racing, so I drove her and haven't gotten off since."
Luke McCarthy saw something special in Callaghan from day one.
"He was just a natural. Horses just run for him, he's cool and relaxed and he makes all the right decisions. He's so talented. He's got it all ahead of him," he said.
For Callaghan's success, it has been Spirit Of St Louis who has propelled Callaghan onto a national stage and underlined him as the most exciting young driver in Australia.
"I'd never driven Spirit Of St Louis in a race and I'd never driven in Victoria at all. It was only about 10 days before the Bendigo Cup we decided to send him down and I was so excited when Luke asked me to drive him," Callaghan said.
"To win the Bendigo, Shepparton and Ballarat Cups all within the space of three weeks was amazing. Ballarat was really special because it's my first really big Group 1 win and he had to beat a few of the best horses in the land (Amazing Dream, Lochinvar Art and Expensive Ego) to do it.
"He can definitely win the Hunter Cup this week. I know it'll be a bit harder again, but he's gone to another level. He's stronger and so versatile now. These are the races you dream of driving in, let alone winning."