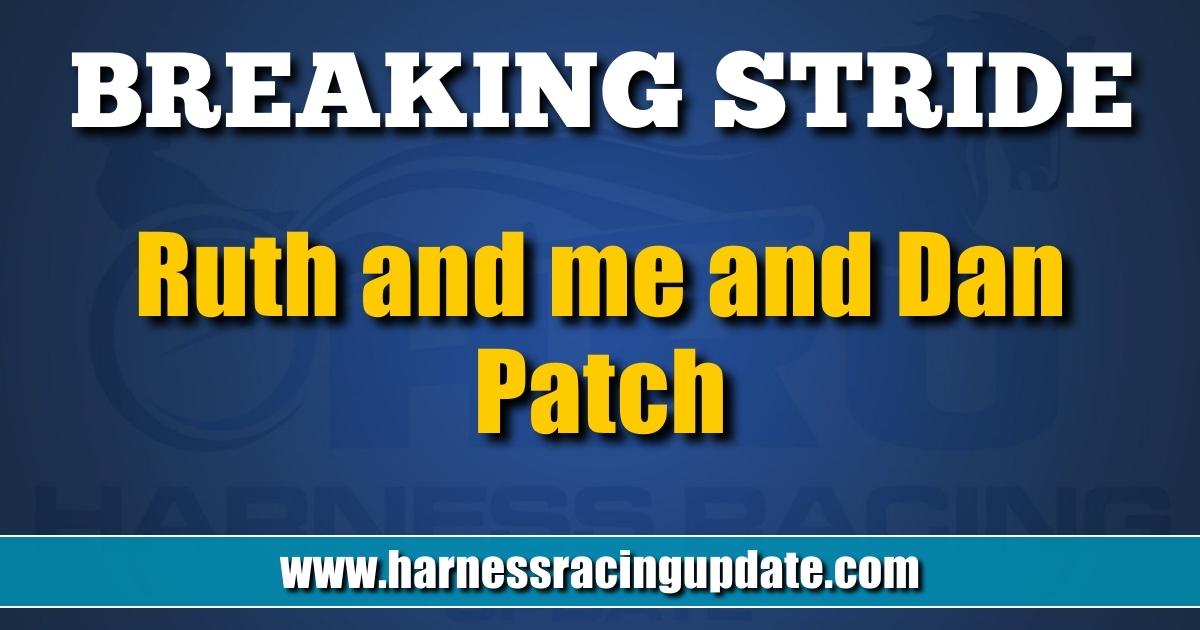 Ruth and me and Dan Patch
by guest writer Alex Chan
Call me Ishmael.
But if you do, you are ridiculous because my name is Alex. My online creative writing instructor suggested I always use an attention-getting first sentence. The instructor uses the name Ruth but is probably from India and may have a name like Gayathri, mother of Vedas. Or Ruth could be Svetlana, a member of a Russian cyber gang. Who knows these days?
This whole thing started when I searched the web for "humorous opening lines for tinder first dates." I clicked on one of those provocative, clickbait pop-ups that can send you down a wormhole for hours. Several confusing clicks later, I discovered that I paid $29.99 (plus a PayPal fee) for an online interactive course titled "Join a Personalized Creative Class in Writing of Fourteen Lessons."
Honestly, I did not want to take the course, but canceling payment on the Internet is a process only slightly less straightforward than reaching a living technical assistant at Amazon or capturing an extraterrestrial being. It was worth more than $29.99 to avoid cancellation chaos. Who knows? Perhaps I could become the next Ring Lardner, a famous writer listed on the clickbait homepage. I am unfamiliar with his writing, but Ring is an evocative name.
Technically, Ruth did not speak to me. We chatted by typing in a square box at the bottom right corner of the screen. As expected, my classes were boilerplate, not much more than a High School PowerPoint presentation. I didn't expect a personal phone conversation, but I hoped for a zoom meeting. Ruth did not even have a photo next to her chatbox, nor did she get my name correct. Her first message that popped up in my box:
Ruth Wrote…"Good afternoon Alexo."
Alex-o? Correcting my teacher on the first day didn't feel polite. I didn't want to disrupt the class, so I let it slide and responded with good humor.
Alexo wrote – "Let's rock, make me a famous author."
My wit did not draw a cyber chuckle. Instead, another message.
Ruth wrote – "We are waiting for additional classmates to join our session. Your lesson will begin in four minutes."
While watching the countdown clock, one of us lost our hookup. I think it was Ruth because I was eating a sandwich and didn't touch anything. I could not reconnect in the allotted sign-in time. I either skipped, was dismissed, or possibly expelled from my first online class.
The second lesson, technically my first lesson, was an improvement. In this session, we Steven King wannabees found a list of attention-grabbing first sentences and powerful adverbs posted on the screen.
Toward the end of our 20-minute session, students were assigned a topic for the "How to do Assignment Writing" section of the course. Where our work would be "edited by a professional."
I received the following message:
Ruth wrote — "Alexo, your assignment is a 500-word essay on harness horse racing."
I typed back:
Alexo wrote — "What the f..xx.k is that?"
Her chatbox showed the word "typing" and bouncing dots. When the dots stopped:
Ruth wrote — "Alexo, harness racing is a form of horse racing in which horses race at a specific gait. They usually pull a two-wheeled cart called a sulky, or spider, occupied by a driver. The sport was popular early in the last century in the Midwest or near the northeast coast of America. Harness racing is found in America, Europe, and Australia."
The formality of the reply clued me in that this class was a scam, and Ruth was very likely a computer. Siri gave me the exact answer later that evening –
Ruth wrote — "Alexo, to make your essay stand out, IMMERSE yourself in your topic. Use tactile senses."
Alexo wrote — "Ruth, I am an electrician in Ogden, Utah. I just googled 'Where can I watch live harness racing?' My nearest immersion is 857 miles away. And could you please refer to me as Alex instead of Alexo? Drop the o."
Ruth wrote — "That is an interesting question. Thank you for asking."
Alexo wrote — "It is not a question. It is a request. Drop the o or I will speak to your supervisor or track you down in whatever cyberspace bunker you are hiding in and…"
Again. Ruth and I lost our connection.
I never tried again. Lesson learned. Be wary of online classes.
Nevertheless, strange rivers flow. After my digital tirade and breaking things off with Ruth, I still had "harness horse racing" typed into my Google search bar. Now that my writing career was over, I had a few minutes and began to nose around for new pastimes.
For some reason, this previously unknown sport tweaked my interest. I spent a few hours digging around, watching YouTube videos of harness races, and reading articles. I ended up ordering a used book from Thriftbooks — Crazy Good: The True Story of Dan Patch, the Most Famous Horse in America.
For a history buff like me, the book turned out to be an excellent read. My curiosity whetted, I am looking into this sport. I am considering searching for an online introductory class for novice harness race participants.
We'll see. After being burned by Ruth, I'm a little spooked.
Thanks for reading.
Alexo Chan
P.S. Remember the Tinder reference. Feel free to backchannel if you are single, female, between 25-50, within 100 miles of Ogden and know anything about harness horse racing.