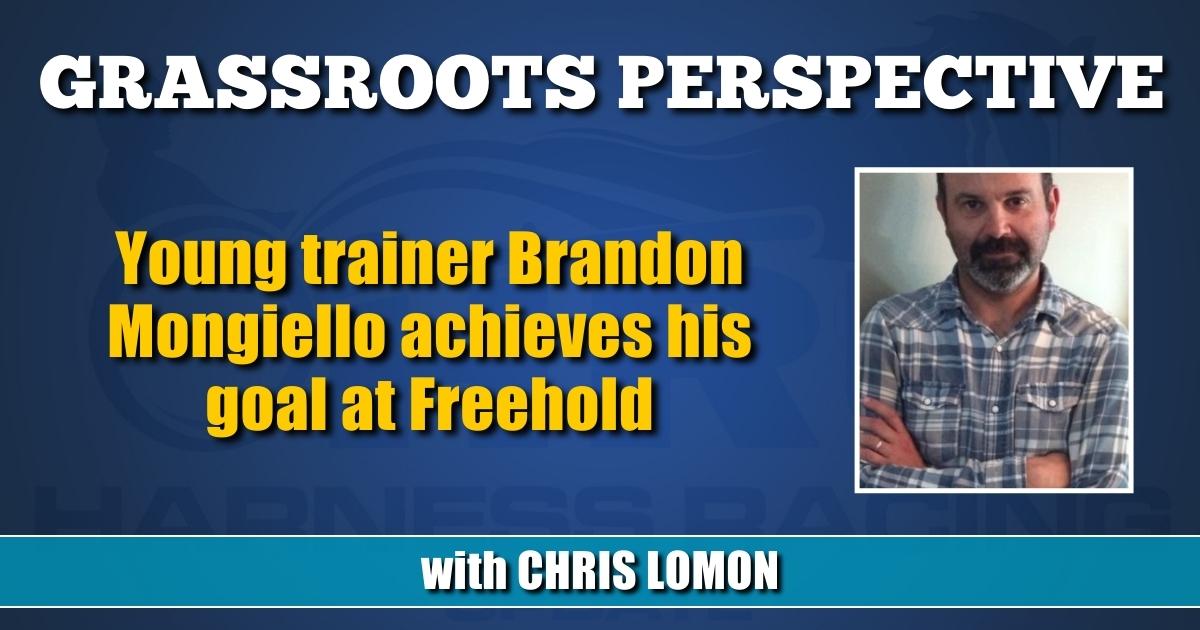 Young trainer Brandon Mongiello achieves his goal at Freehold
by Chris Lomon
Brandon Mongiello is a man of his word.
Before he sent out his first horse in 2021, the 29-year-old standardbred trainer set a specific goal for himself, one he was committed to seeing come to fruition.
On Dec. 31, Mongiello reached his objective, topping the table at Freehold over the summer/fall meet, his first such crown, courtesy of 18 wins.
"I set out to be leading trainer at Freehold. I really wanted to get that done. That was one of the major things I wanted to do."
Mission accomplished for the man who got his introduction to racing through friends in the sport.
His foray into the game came on the ownership side.
"Vinny and Robert Ginsburg are friends with my brother," said Mongiello. "They went to high school together. Robert took my number down and one day he gave me a call. Soon after that, I got into owning horses. I liked that part of it so much that I eventually got into the training side of things.
"What made me optimistic about pursuing racing as a career was that I was going to school and I earned my business degree, and that made me curious about owning racehorses and seeing how I could develop that. I had always wanted to own horses as a kid and it was a dream of mine."
Eventually, Mongiello, who calls Manalapan, NJ home, also turned his focus to training standardbreds.
In 2016, his first year as a licensed trainer, he didn't post a top-three finish from 12 starts.
The following campaign, however, proved to be a harbinger of things to come.
In 77 starts, he posted six wins and recorded 26 top-three results.
"My first training win came with Rockinwiththebest, at Freehold. Joe Bongiorno drove him. He cut out the mile and won it on the front end. It was obviously a big moment, something that you always thing about it. So, when it happened, it was great to finally get it out of the way."
After a 20-win season in 2018, Mongiello began to make heads turn. Three years ago, he posted a career-best 35 wins. In 2020, he sent out 30 winners in 72 less starts. This past year, he notched 27 triumphs along with 132 top-three efforts.
A big reason for those successes, he noted, were due to a plan to compete almost exclusively at Freehold.
Consider it a wise business decision.
"I felt with the horses that I had, it made the most sense to race there, rather than going to places such as The Meadowlands, Yonkers or Chester. I wanted to enter as many horses as I could at Freehold. I looked at everything and realized that made the most sense."
Rockinwiththebest, a now 9-year-old son of Rockin Image, has been one of Mongiello's most notable performers.
He owns the bay gelding, who was bred by DM Stables LLC and William Rufenacht.
"I claimed him in March 2018 for $5,000. He made me $60,000 the first year and $50,000 the next year. He was the one who enabled me to go out and buy other horses. He wound up getting claimed for $17,000 at Chester after I initially claimed him and I wound up claiming back for that price. He's like my pet. I will never let him go and I will never put him in a claimer again."
Mongiello's favorite moment of 2021 came when he won the Italian Heritage Race.
The race, which featured drivers of Italian descent, saw Frankie Boy, trained and owned by Mongiello, take home top prize.
Driven by Vinnie Ginsburg, the gelded son of Artistic Fella, led every step of the way, carving out a final quarter in :29.0 to secure a 4 ¼-length victory.
"Vinnie, being one of my best friends, it was a pretty cool moment. And with my colors being red and green, like the Italian flag, I thought that was really cool too. I would say that would be my favorite win of the year."
Mongiello's stable, currently home to 16 horses, is likely to expand this year and beyond.
Armed with a competitive group of pacers and trotters, he's looking to make 2022 his best season to date.
"I want to try to extend beyond Freehold and race horses at The Meadowlands and Yonkers."
His overall racing blueprint will stay the same.
"I like to find that balance between racing, training, and spending time with my family and friends. It's important to be able to do that. You do need that time away from the racetrack to unwind and reenergize. There's always something to do with racing, entries, finding drivers, things like that. So, any chance you have to maybe just let your mind focus on other things in your life, you grab that opportunity."
The biggest challenge Mongiello has contended with, career-wise, has been managing that 16-horse stable.
Having that business degree has helped him keep pace with the hectic demands he faces each day.
"Managing the stable, having a lot of horses, there are so many details, big and small, that go into it. Shoeing, shipping, equipment – there are a lot of layers to being a trainer. You can prepare for so many things, but there will always be some sort of curveball that comes your way."
In spite of the hurdles, Mongiello, who lists Joe Bongiorno, Brett Beckwith, Vinnie Ginsburg and Luke Hanners as his favorite drivers, has found a winning formula for his craft.
"I really don't turn over the horses a lot. I try and keep them sound and healthy and race them where they can best compete. I would like to add more horses, better horses, and go from there."
After achieving his top goal in 2021, Mongiello will look to do the same this year, albeit with a different objective in mind.
"I think it comes down to finding horses that can compete at The Meadowlands and Yonkers. I'd like to have horses that race in the upper claimers or upper conditions. But even if you have a goal, you have to really be able to adapt, and react. That's an approach you need to have in this sport. But, it's always good to set goals and then go chase them."
Mongiello certainly knows a thing a two or about that.