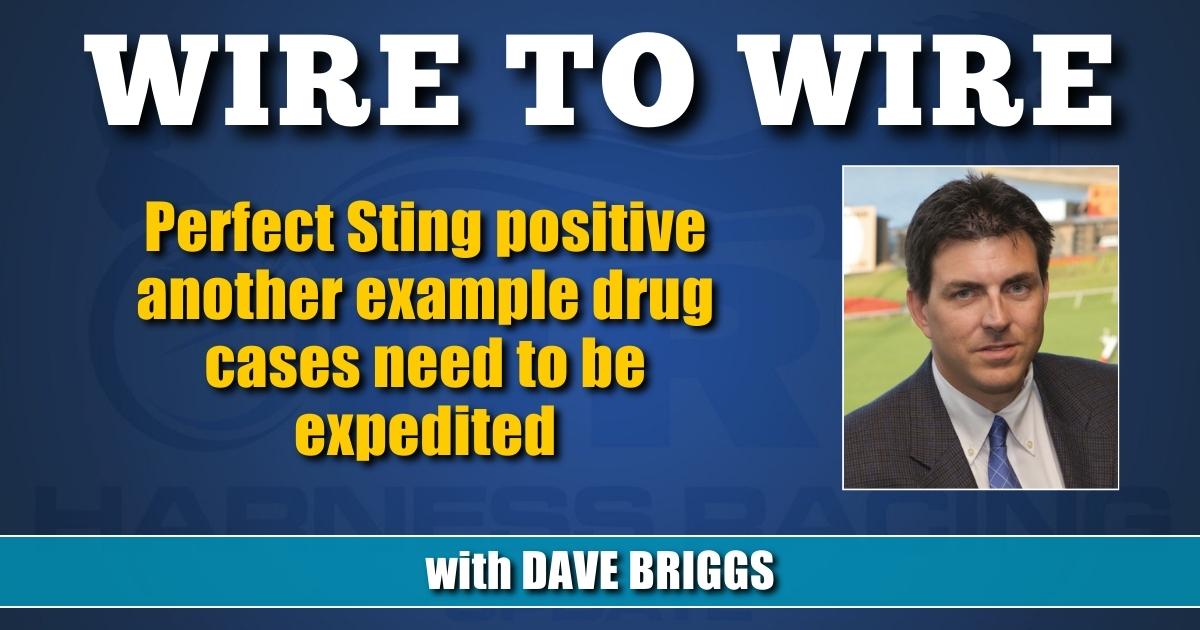 Perfect Sting positive another example that drug cases need to be expedited
Delay isn't nefarious, but is still unacceptable. Commissions simply must resolve cases faster.
by Dave Briggs
Joe Holloway told HRU there is a simple reason why a Class 3 positive test on his star pupil Perfect Sting wasn't made public until more than six months after the race in question.
When Perfect Sting tested positive for elevated levels of testosterone after the $148,332 Pennsylvania Sire Stakes race on June 26 at The Meadows, Holloway immediately requested a split sample be tested. In Pennsylvania, fines and suspensions aren't announced until the results of the split sample test come back. The independent lab that tested the split sample was backed up and didn't complete the test until late December. After that split sample also revealed high levels of testosterone, the Pennsylvania State Horse Racing Commission immediately issued Holloway a $500 fine and 15-day suspension that was announced on New Year's Eve.
That the announcement came 62 days after the pacer's final race, 30 days after his stallion book was announced full and closed for 2022 and 11 days after Perfect Sting was announced as the Dan Patch 3-Year-Old Pacing Colt of the Year is troublesome, but Holloway said the blame falls squarely on the lab testing the split sample.
"It's not Pennsylvania's fault. It's not Joe Holloway's fault. (The split sample test results were) just backed up," Holloway said.
"Everybody is acting like there's some nefarious situation going on, you know, and it's not."
For the record, Holloway insists he didn't give Perfect Sting testosterone and has appealed the decision.
"It's a Class 3, it's 15 days and $500 and if he was a gelding in my barn and I'd given something that could raise the testosterone, you'd just take (the penalty) and be done with it… and it would be over with," Holloway said. "Most of these aren't going to be appealed – who's going to appeal a $500 fine? Who's going to do it, unless it is the high-profile horse?"
As of Tuesday (Jan. 4), he had not been told when that appeal will be heard.
My issue isn't with the positive test as much as how long it took to get the split results so this could be announced. After all, a Class 3 positive is far less serious than Class 1 or 2 positives normally reserved for performance-enhancing, not therapeutic drugs. And, as Holloway said, we are talking about a $500 fine and 15 days here, which gives you an idea that it's not a particularly serious offense.
But, in the interest of transparency, it would have been much better for the lab to have acted with more urgency so this could have been resolved and, potentially, dealt with while Perfect Sting was still racing and long before awards were voted on. To be clear, I don't think having this information would have changed many votes, nor stopped Holloway from being voted the Good Guy Award, but it's always better for people to be as informed as possible before making their choices.
And yes, I realize this is far from the first time positive tests cases have taken forever to resolve — and since this one has been appealed, it's still not resolved.
Just one month prior to the Perfect Sting positive being announced, the same Pennsylvania commission reported trainer Scott Di Domenico had been handed a $10,000 fine and 120-day suspension for a Class 4 ambroxol positive that dated back 13 months to a race at Harrah's Philadelphia on Nov. 1 of 2020 (the same day the trainer also received another ambroxol positive, his fourth such positive in 2020 for the drug used to treat inflammation of the bronchi).
Yes, the $10,000, 120-day penalty — presumably for repeated offenses with a relatively minor therapeutic drug — was announced after Di Domenico dropped his appeal in the case. And yes, appeals often take forever to work themselves through the bureaucracy — but come on, 13 months later?
The same Commissions that have constructed strict drug rules; the same Commissions that often test to picograms — one trillionth of a gram — simply must do better to get results faster even when it comes to split samples tested by independent labs. Commissions also need to have cases fairly adjudicated much faster, while maintaining due process.
It's not a big ask.
Other sports seem to have little problem getting timely drug testing results and having quick decisions and appeals for one simple reason: finding and quickly punishing those that break the rules is imperative to the other participants and the integrity of the game.