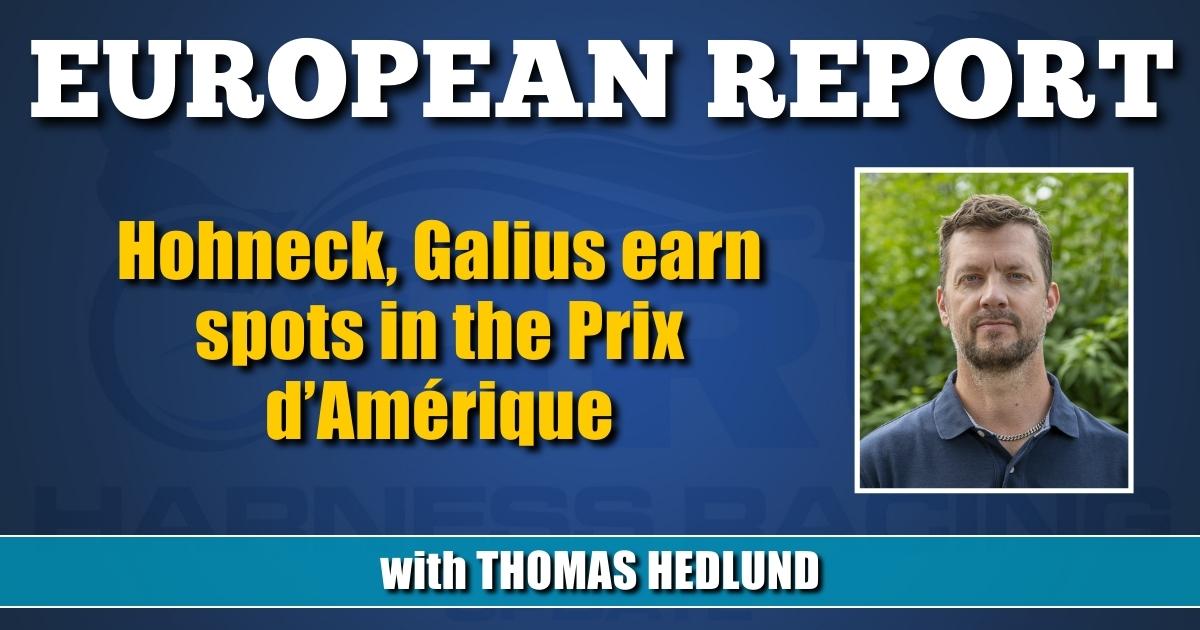 Hohneck, Galius earn spots in the Prix d'Amérique
by Thomas Hedlund
Two qualifying races for Prix d'Amérique 2022 were held at Vincennes in Paris on Dec. 26 and in the $230,000 Criterium Continental, Philippe Allaire trained Hohneck (Royal Dream) proved to be strongest after a first over trip.
Driver Francois Lagadeuc placed Hohneck outside of leader Bepi Bi and seemed to have the race in his hands all the way. Hohneck crossed the wire in a mile rate of 1:53.2 over 1.3 miles and the spot in Prix d'Amérique is well deserved.
In the $125,000 Prix Tenor de Baune for 5-year-olds, many fans were eager to see Fabrice Souloy-trained Ampia Mede Sm, who came to the race with nine consecutive wins, but the Italian bred mare made a break attacking three wide in the last turn, while leader Galius (Love You) controlled the field over the home stretch. Séverine Raimonds trains and Yoann Lebourgeois drives Galius, who started his career with 12 consecutive wins and has collected the trophy in the $230,000 Criterium des 5 ans this year. The mile rate in the Prix Tenor de Baune was 1:56.3 over 1.6 miles.
Two interesting youngsters will now enter the big race at Vincennes at the end of January and the next step ahead of Prix d'Amérique happens on Sunday (Jan. 2), in the $135,000 Prix de Bourgogne over 1.3 miles.
Well-merited mile runners such as Vivid Wise As, Zacon Gio, Cokstile and Don Fanucci Zet will try their luck in the hunt for a slot in the Prix d'Amérique and it seems like Sunday's battle will be a tough one.
Going back to Vincennes' Sunday (Dec. 26) races, the $230,000 Prix de Vincennes monté race was held. Paul-Philippe Plouin sat on Julien Löe Mer trained Ideale du Chene (Bird Parker) and the duo had everything under safe control from the lead. The 3-year-old Bird Parker son came home in a mile rate 1:57.4 over 1.6 miles.
Propulsion disqualified in France
The French harness racing association have made a decision to disqualify Propulsion from all his races made in France, which ends up with a debt of $671,920 for owner Stall Zet.
Propulsion took his biggest win in France in September 2019, when he won the $450,000 final of the European Masters at Vincennes.
The Propulsion case isn't closed in Sweden yet, but the French association referred its decision to STAD's result earlier in 2021. Swedish harness racing's Supreme Court should have taken on the case on December 15-16, but postponed the proceeding due to the COVID-19 situation in Sweden.