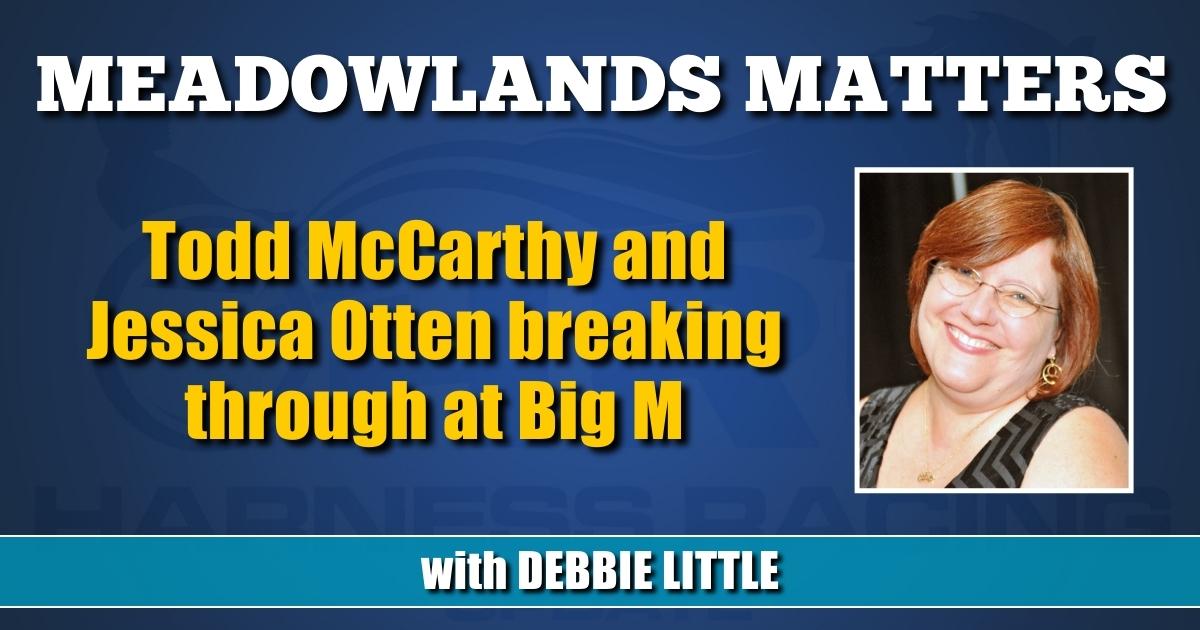 Todd McCarthy and Jessica Otten breaking through at Big M
by Debbie Little
Two youngsters excelled at The Meadowlands during 2021 and neither one wore a bridle.
Todd McCarthy, 28, and Jessica Otten, 24, sparkled at The Big M and are being honored by the U.S. Harness Writers Association with the Rising Star and Breakthrough Awards, respectively. The awards are specifically for those 30 years of age or younger.
Australian expat McCarthy just completed his first full year in the United States after arriving in late 2020.
The first horse that brought McCarthy's name to prominence was 2-year-old trotting filly Anoka Hanover.
The McCarthy-Anoka combo went 7-for-7 in 2020, including the Kindergarten Classic and Goldsmith Maid, which contributed to the filly winning Dan Patch divisional honors.
"I've known the family a long time, so I've seen him since the first time he drove in Australia, I happened to be home," said Anoka's trainer, Noel Daley. "And some people just look like they've got it and even back then he looked like he's got it. Horses just go for him. Some people are naturals at it and that was him.
"It's funny because there're very few trotters in Australia and zero young trotters. And there were a few tricks to her at 2, Anoka, she wasn't the slickest gaited thing in the world.
"It was lightning speed, yes, how quickly he got drives from everybody. We gave him the shot but if he didn't show he could handle it people wouldn't have kept giving him drives."
Trainer Brett Pelling also knew McCarthy before he arrived in North America, and in 2021 trusted him with just-named older pacing divisional champ Allywag Hanover.
"He was a very established guy when he came here and for me it was a good situation because when I told him how the horse races best, I felt he listened," said Pelling. "Not that the other guys didn't, but I thought it was in his best interest, basically, to really do what I told him."
Pelling's 25-horse stable racked up 105 wins in just 330 starts in 2021, 46 of which came with McCarthy driving.
"When you have a high-level stable, you don't want to be second fiddle to anyone," said Pelling. "He knows that he got a massive break getting to drive for me, but it was a massive thing for me as well because he's a good driver. And one of the most important things for us [trainers] is getting the same guy on them each week with a brain. When horses swap around, it never works out."
McCarthy is currently back home visiting family and friends and with the time difference (they're 16 hours ahead) was still asleep when the release came out.
"I woke up to some really nice messages from friends letting me know I had won the award," said McCarthy. "It was a pleasant surprise and feeling very honored and grateful to have had the year I did. I've made some great friendships and I can't thank everyone in this great industry enough for the early support and the opportunities to work with some amazing horses and people throughout this year. It has been a true pleasure and dream come true."
Michigan native Otten relocated to the east coast to work at The Meadowlands late in 2018.
Although most may know her as part of The Big M TV team, she contributes much more, since she's also a marketing coordinator and handles all social media.
"People think it's Friday and Saturday nights because that's when we race, but it's a lot of planning during the week," said director of marketing and event operations Rachel Ryan. "We all joke about being workhorses but that's what she is.
"She's very good at going through the minefields in dealing with people with egos or different personalities. That's a hard thing to learn when you're that young, how to, kind of, manage people who have a wide range of personalities and work ethics and I think she's done a very good job and is actually more mature than I think people realize."
Following a two-hour live Meadowlands Pace show on Fox Sports 2, Otten became the face of the sport to a thoroughbred-centric audience when she did multiple on-cameras on FS2 and SportsNet New York on Hambletonian Day and Breeders Crown weekend during thoroughbred "America's Day at the Races" broadcasts.
"I know we were all extremely impressed with how she took on that task," said Ryan. "Even on Hambo Day, I had to text her and ask her questions that she picked up right away. Handling all that stuff for someone so young was extremely impressive and I think a lot of people older than her could not have handled that as smoothly as she did."
As a result of how well she did on those broadcasts, Otten was offered the opportunity to cover thoroughbred races, but is currently not interested in doing so. Not that she has a lot of free time, considering in addition to all she does at The Meadowlands, she became a co-host this year on the PA Harness Week broadcast on NBC Sports Philadelphia.
Although she spends a great deal of her time on social media, Otten was unaware when she won the award.
"I was sitting at my desk and Rachel yelled out congratulations and someone called me and I said, 'Whoa, whoa, whoa, what's going on?'" said Otten. "It feels surreal. I come from a small town, a small family with a racing background and never in a million years would I imagine working at The Meadowlands, let alone winning a major award.
"There were people who doubted me, I hate to say it, when I came to the east coast. I'm just really grateful and thankful and I know that's so cliché, but it's just awesome."