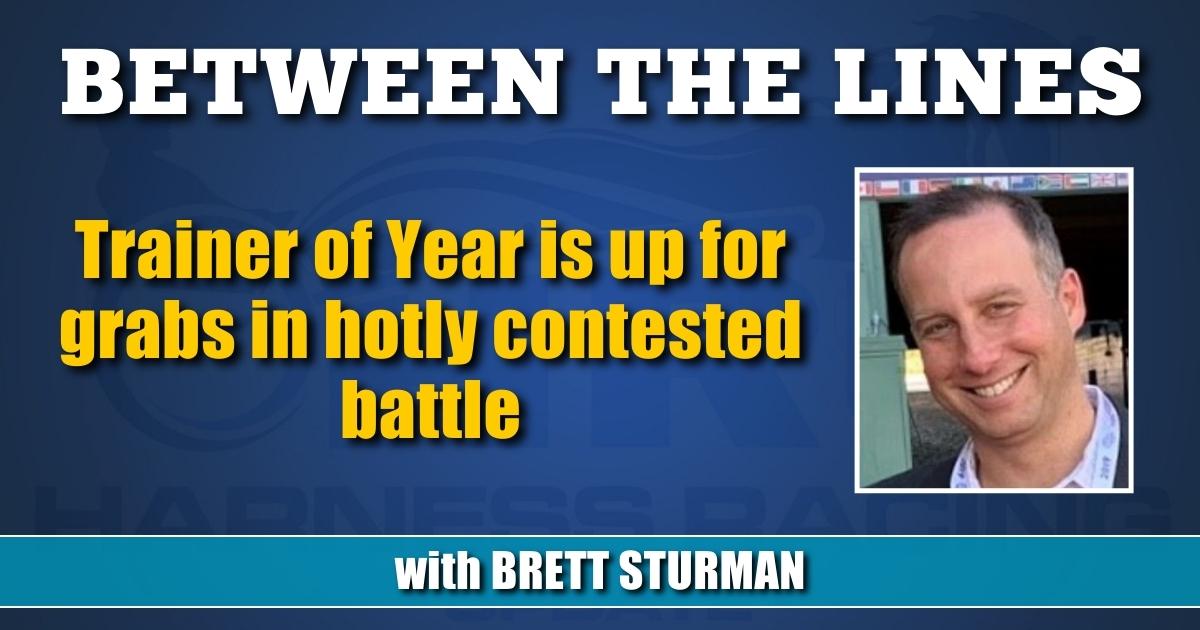 Trainer of Year is up for grabs in hotly contested battle
by Brett Sturman
Many trainers had outstanding seasons in 2021. The standings are filled with the usual large stable names who performed well relative to standard expectations, but also with up-and-coming conditioners who had breakout years.
There are a number of those trainers that deserve to be mentioned in support for the Trainer of the Year award.
Take for starters, Ron Burke. After a COVID-19-impacted 2020, Burke once again surpassed $20 million in seasonal earnings leading the way as usual by massive margins in earnings and wins. Top stakes performers for him included a win in the Little Brown Jug with Lou's Pearlman, and other multiple stakes winners Blue Diamond Eyes, Atlanta, Cattlewash and the veteran This Is The Plan, to name a few.
Tony Alagna is another who had a strong year. He's going to finish second in earnings behind only Burke, with a number that will likely be just shy of $8 million. He campaigned top 3-year-old pacers Abuckabett Hanover and Rockyroad Hanover, as well as the 2-year-old colt trotter Fast As The Wind who closed the season with a flourish.
Ake Svanstedt warrants a mention, too. He won two Breeders Crowns with Ecurie D Dk and Felicityshagwell S, and he may have been held in even higher regard if not for a mid-season injury to his Hambletonian hero, Captain Corey.
But for all intents and purposes, this year's Trainer of the Year is going to come down to two individuals who know each other well, Richard "Nifty" Norman and Brett Pelling. Nifty used to be Pelling's first trainer.
With Norman and Pelling sitting in fourth and seventh respectively in the trainers standing by earnings there's been other trainers that have won more, but these two have been in control of the stakes landscape through many of the divisions this year. Horses from these two barns appear five times in the Top 11 ranked horses in the final Hambletonian Society/Breeders Crown poll.
Beginning with Norman, his two biggest guns were Bella Bellini and Venerable. Having two millionaire trotters in a single year is an amazing and rare feat, and they paved the way towards the stable's total earnings of almost $5.9 million on the year. Much consideration should be given to Norman for that achievement alone. Those combined with 3-year-old pacing filly stars Grace Hill and Fire Start Hanover, and a host of additional 2-year-old talent such as Bluegrass winner and Breeders Crown elimination winner Lilbitalexis and Matron winner Joyride Hanover. All told, his stable won 135 times in 633 starts and currently stands with a UTRS of 0.345.
Onto Pelling, he only started 323 horses this year but has put up a ridiculous UTRS of 0.462. No other trainer except for Nick Gallucci with anything more than limited starts has come close to that UTRS sported by Pelling. Pelling only had 323 starts, he won over 100 of them and his horses finished in the money 204 times. Numbers are one thing, but Pelling also has the horses to go with it including the top-ranked horse in harness racing, the 3-year-old filly pacer Test Of Faith.
And while Norman had two millionaire trainees', Pelling wasn't far off. Test Of Faith was a $1 million earner this year, and his 4-year-old pacer Allywag Hanover finished just below that seven-figure threshold at $942,000.
It's one thing for trainers to win races with horses that are supposed to, but both Norman and Pelling did exceptional things with horses that would have never been expected to achieve so much success this time a year ago.
Did anyone ever hear of Bella Bellini months into this year? She went winless through seven starts only hitting the board a single time as a 2-year-old while earning just over $4,000 before being transformed into the best 3-year-old filly trotter this year. In addition to the Hambletonian Oaks, other signature wins include the Breeders Crown and Matron. Maybe not to the same turnaround extent in terms of numbers, Pelling was able to develop the always-fast Allywag Hanover from an erratic type into a free-for-all machine and carried that all the way through to the end of the year. His big wins include the McKee, Canadian Pacing Derby, Haughton, TVG Pace and a 1:46.4 record in the Allerage. Not to be overlooked, Pelling also trained When Dovescry to multiple stakes wins including getting the best of rival Atlanta to close out the year in the TVG Trot. A race by the way in which immense credit should be given to Norman for taking a shot with the 3-year-old Bella Bellini who raced huge from an outside post.
If the number of division winners plays into the equation, Norman would seem assured with two. Venerable in the 2-year-old filly trot division who should last over Joviality S, and Bella Bellini in the 3-year-old trot division. Pelling is also nearly guaranteed with two division winners as well: Test Of Faith in the 3-year-old filly pace division and Allywag Hanover in the older pacing division. There's also a chance he gets a third, depending on how much support When Dovescry gets in the older trotting mare division against Atlanta and Manchego.
Horse of the Year seems to be coming down to Test Of Faith, and the Chris-Ryder trained Niki Hill, but I think it's going to ultimately go to Test Of Faith. With a record of 14-2-0 in 16 starts against ultra-competitive competition, she's deserving. Provided it goes that way, that would leave Norman and Pelling with razor-thin differences in their resumes, but Pelling would have Horse of the Year in Test Of Faith.
I don't have a vote in the matter, but if I had to pick one or the other, I'd go ever so slightly to Pelling. Though a dead heat, as improbable as that is, would be more fitting.