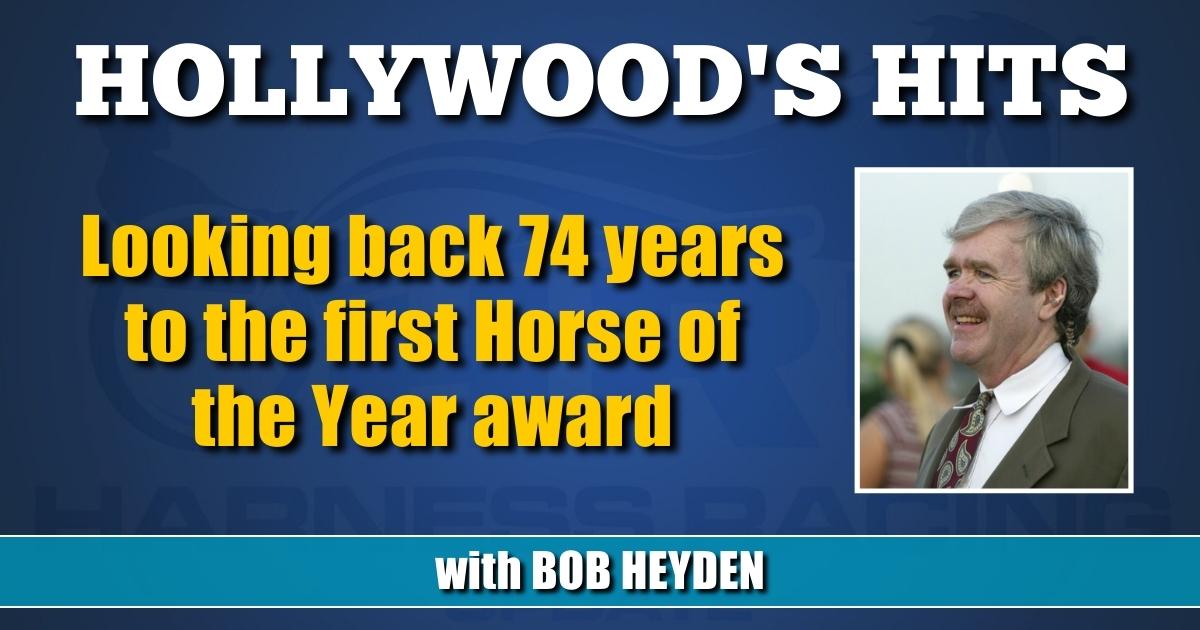 Looking back 74 years to the first Horse of the Year award
by Bob Heyden
Back in the day, Horse of the Year banquets were routinely held in December. The racing calendar essentially came to a halt in early winter and would resume in late February or March. Not today.
Let's look back at the Horse of the Year awards during the past 74 years as we gear up for #75 this February in Florida:
First year of voting in 1947
Fifty ballots were cast by sports editors and radio commentators.
There were 22 horses recommended for the award and 165 votes for the winner Victory Song, who set a record of 1:57.3.
Stablemate Hoot Mon was the runner-up with 160 votes. Hoot Mon set the new Hambletonian mark of 2:00.
Sep Palin trained and drove the top two, yet his total driving earnings for the year was just $121,102, good for second in the nation behind Harry Fitzpatrick ($133,675).
April Star was third in the voting with 108.
Algiers, who won the $50,000 Golden West Trot, received 69 votes.
Rodney, who was named Horse of the Year in 1948 finished 10th in the voting in the inaugural year.
Second year of voting in 1948
The winner, Rodney, won three times in 1:58 in 1948.
Demon Hanover was second and Knight Dream was third in the voting.
Proximity was fourth. She would be named HOY in 1950, becoming the oldest ever to do so at age 8.
Victory Song was 10th in the voting.
The ballot 50 years ago
In 1971, a $7,000 yearling named Albatross was voted Horse of the Year and then would repeat in 1972 becoming the first ever standardbred to win over $1 million over two consecutive seasons (his $558,009 in 1971 was a new single-season record).
Steady Star was second with 34 votes to Albatross' 141. Steady Star uncorked his record 1:52 all-time fastest time trial that year.
Fresh Yankee, the defending HOY, was third with 8 votes.
Hambletonian winner Speedy Crown was fourth.
Super Bowl, a stablemate of Albatross, was 10th. The following year they would go 1-2 (1972: 136-48 over Triple Crown winner Super Bowl). Speedy Crown and Super Bowl entered the stallion ranks in 1973 and for many years they were 1-2 in stallion earnings.
HOY – it has happened only once before
A Breeders Crown and Triple Crown winner also being named Horse of the Year — No Pan Intended in 2003.
A 2-year-old pacing filly voted HOY —J K She'salady
Father/Daughter each with multiple HOYs? — Jimmy Takter (4) and Nancy Takter (2)
Down Under horse — Shartin N
Back-to-back HOY runner-ups — Deweycheatumnhowe (2007-2008)
Winner by fewest votes — 1975 Savoir 52-49 over Silk Stockings
First Triple Crown winner
Scott Frost was not only the first Triple Crown winner, he was also voted Horse of the Year in 1955.
Scott Frost was close to being the first three-peater in the annals of HOY balloting. In 1954, as a 2-year-old, he actually got more first place votes than winner Stenographer, but lost on points. Scott Frost had the exact same 1-2-3 record as Stenographer from 1954 with 23 wins two seconds and a single third.
Amazing parallel of Bret Hanover and Nevele Pride
Bret Hanover was HOY in 1964, 1965 and 1966.
Nevele Pride was HOY in 1967, 1968 and 1969.
No other horse has won HOY three times.
Both raced as much or more at 2 than at 3 or 4.
Bret Hanover was 24-for-24 at 2 and Nevele Pride was 26-for-29.
Both won 21 times at 3, in the same 24 starts.
Both had their fewest starts/wins at age 4: Bret Hanover was 17-for-20 and Nevele Pride was 10-for-14.
Both won the HOY every year they raced. Previously, the HOY duplicators had not done so.
Both set the earnings records for freshmen for single seasons and for Bret Hanover also set the record for lifetime earnings. Bret retired at $922,616 and was passed two years later by Cardigan Bay who became the first million-dollar winner, though some of those earnings were from New Zealand. Nevele Pride finished at $873,238, just $12,000 behind Su Mac Lad at $885G.
Both raced and won the Triple Crown.
Both retired to stud and had marquee horses — Bret Hanover upon his passing in 1993 was #5 all time with $62 million and had son Even Odds win a $1,422,000 race, the Woodrow Wilson. Nevele Pride's Bonefish won the 1975 Hambletonian.
Both went into the Hall Of Fame in 1994.
Both are buried alongside thoroughbred royalty. Nevele Pride at Stoner Creek next to both Meadow Skipper and the Triple Crown winner Count Fleet. Bret Hanover was buried at the Kentucky Horse Park. They died 84 days apart — Bret at 30 on 11/21/92 and Nevele Pride at 28 on 2/13/93.