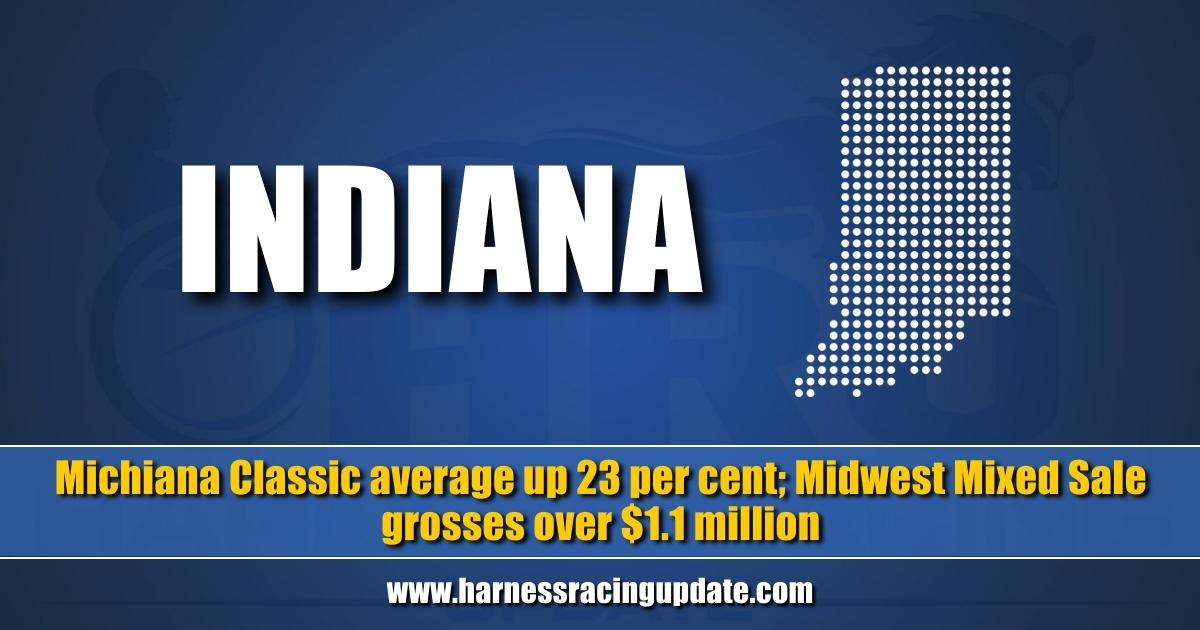 Michiana Classic average up 23 per cent; Midwest Mixed Sale grosses over $1.1 million
The yearling sale and mixed sale were held back-to-back on Tuesday at the Michiana Event Center in Indiana. The two sales grossed some $2 million combined.
by James Platz
The Michiana Event Center in Shipshewana, IN served as the venue for the Michiana Classic Yearling Sale and Midwest Mixed Sale. Traditionally, the events are held on back-to-back days, but this year a condensed calendar saw the two auctions take place on Tuesday (Nov. 23). A group of 98 yearlings were sold at the Michiana Classic, generating gross sales of $891,200 and producing an average of $9,094, a 23 per cent increase over 2020.
"The Michiana Classic is the last opportunity this year for horsemen to purchase Indiana-sired yearlings. For those that still have stalls to fill and were unsuccessful in buying at the Hoosier Classic or Harrisburg, they still have one more chance," said sale manager Steve Cross. "Each year we see that the yearlings selling at the Michiana Classic bring good prices because of that need. Our catalog this year was smaller, but our average and median set new records."
The 2021 catalog included 113 yearlings, considerably fewer than the 180 cataloged a year earlier. Gross sales were down due to the smaller catalog, but the average climbed $1,711 per yearling, and the $7,500 median rose $1,300 compared against 2020 figures.
Tabasco Cat, a Tellitlikeitis colt consigned by Fred and Carolyn Shiery, topped the Michiana Classic sale with a $30,000 bid. Cataloged as Hip 82, the Indiana and Michigan eligible bay is out of Southwind Mocha. The Artsplace mare is a 100 per cent producer, dam of six winners led by 34-time winner Southern Winds p, 2, 1:58.1h; 3, 1:56h; 1:52h-'19 ($265,760) and multiple Indiana Sired Fair Circuit winner Smooth Mocha ($99,544). Kim Roth signed the ticket as agent for Rock and Roll Stable.
Progeny from the first crop of trotter You Know You Do followed on the sales sheets. Filly Five Star Photo, part of the In Law Stable consignment, sold for $27,000. A half-sister to Indiana Sires Stakes leg winner King Felix 2, Q1:56.4s; 3, 1:55s-'21 ($116,425), the yearling was purchased by Freeman Mast, acting as agent. Trotting Marky, a gelded son of You Know You Do, brought $26,000. Selling near the end of the sale as Hip 104, the bay is a brother to four winners including Indiana Sired Fair Circuit winner and Governor's Cup runner-up Whom Shall I Love 2, 2:01s; 4, 1:56.4f -'21 ($71,868). Cassie George signed the sales slip.
More than 75 different buyers signed tickets at the Michiana Classic. Owner/trainer Alvin Miller spent the most of any buyer, picking up a pair of Rockin Image colts for $47,000. Acting as agent, he bid $24,000 for Lupa, Hip 50, out of the Integrity Stables consignment. Miller spent $23,000 on Rockin Corona, Hip 73, from the Premier Acres consignment.
Shortly after the conclusion of the Michiana Classic, the Midwest Mixed Sale kicked off Tuesday afternoon. As the name implies, yearlings, weanlings, stallion shares, broodmares and racehorses were auctioned, with gross sales totaling a little over $1.1 million. Southwind Ritz, a 3-year-old Muscle Hill filly with a mark of 1:56.2f, topped the session with an $87,000 bid. Cataloged as Hip 288 as part of the Winterwood Farm consignment, the filly sold as a racing or broodmare prospect, purchased by Jonas Slabach of Applecreek, OH.
"The broodmare market, especially in this region, is especially strong for a live sale, and I think it proved that today," said sale manager Jeff Fought. "I felt like trotting mares were especially strong. The trotting market was very strong and I think that carried through the broodmares. We are seeing individuals buy broodmares and broodmare prospects specifically to sell here due to the strength of the market."
Six horses brought bids of $40,000 or more, with three consigned by Winterwood Farm. Shes Light Out, a Somebeachsomewhere broodmare, brought the second highest bid of the session, hammered down for $52,000. In foal to JK Endofanera, her first foal, the mare was purchased by Swiss Boarding Farms. A Ray Of Sunshine, a Cantab Hall mare consigned by the Bellville, Ohio farm, brought $40,000. Another purchase by fellow Buckeye Slabach, the mare is in foal to Marseille. Flow And Go, a Yankee Glide mare carrying a Swan For All foal, also her first, sold for $50,000. Consigned as agent by In-Law Stables, John Lengacher signed the ticket.
"Winterwood has developed a reputation of being a consignor of the very high end at this sale," said Fought. "Same thing with In-Law Stables. They are a very popular agent consignment."
Fought said that while the breeding stock portion of the sale proved strong, racehorse entries were down. The 2021 Midwest Mixed catalog included 21 racehorses whereas last year's event offered more than double the number.
"I think that market has changed, where people want to instantly sell if they have a racehorse that they want to move or need to move. They don't wait for physical sales as much as they have in the past," said Fought. "Racehorses are just tougher to buy right now because there's a lot of opportunities to race. People are more apt to hang onto a racehorse where maybe in the past they might have sold."
After sale topper Southwind Ritz, Heavens Dancer fetched the next highest price for a racehorse. The Somebeachsomewhere—Fancy Creek Funny mare, a six-figure earner with a mark of 1:52.4, was purchased by Joseph Nissley for $24,000.