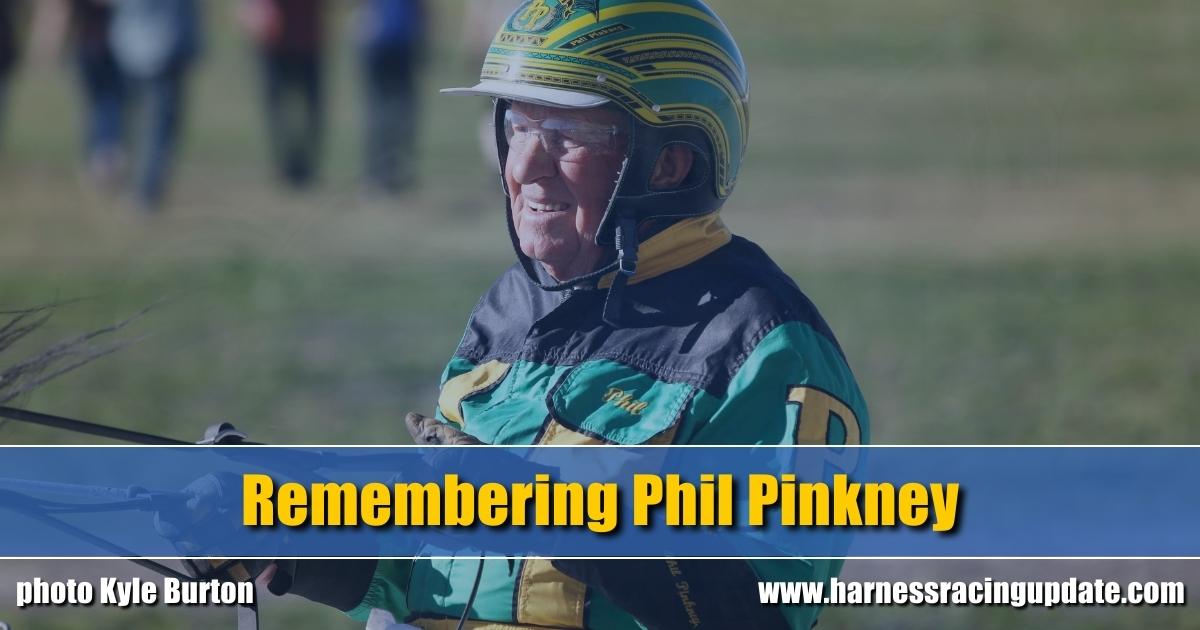 A celebration of the life of the legendary horseman was held Saturday.
by Melissa Keith
The black-trimmed green and gold driving colours. The impeccably-turned out horses — often colts and fillies on their way to big-time success. The friendly smile. The unparalleled skill, described last weekend by another top developer of young horses, Clare MacDonald: "You would never know Phil was in the race, until he went past you and was going to the winner's circle."
There was only one Philip Richard Pinkney.
A celebration of his life was held in Truro, NS, one week after the 84-year-old horseman's Nov. 13 passing. Phil Pinkney was born on May 24, 1937 in South Ohio, NS, into a family with an affinity for horses: father Kirk was a trainer/driver who initially worked with draft horses; his older brother Dave was inducted to the Canadian Horse Racing Hall of Fame as a trainer/driver in 2001.
Phil began his racing career as a young teen at Truro Raceway, helping in the Belbo Gould and Harley Harrison stables, then setting out on his own at age 17.
In Paul Murphy's 2014 book Horse Power: Behind the Gate Returns, Pinkney remembered his first drive, winning with mare Jenny Belfast: "It was around 2:18 at the Truro Raceway."
He said he studied future Canadian Hall of Famer Johnny Conroy: "As a horseman, he had it all."
Pinkney would end his driving days at the Bible Hill, NS track on Sept. 10, 2015, in the sulky behind Arizona Bucks. Woodmere Nora was the last horse officially trained by Phil, but his influence continued beyond 2019 and continues today, with protégés such as Paul Langille, Darren Crowe, and Ben Hollingsworth, as well as Brent MacGrath, who spoke at Pinkney's memorial gathering Saturday (Nov. 20).
Local sports columnist Lyle Carter addressed the gathering first, sharing family stories and memories from the local racing colony. He read a letter from horseman Barry Whidden, describing what Phil Pinkney was like to work with: "At 80 years of age, Phil would still shoe the odd horse. When he finished, he would beat on his chest and say, 'I'm some tough, as hard as a rock!' Anyone who knew Phil couldn't argue with that. When Phil was getting a young horse ready to go out to train or jog, I saw times when he was 30 or 40 minutes getting the horse out of the barn. I would say, 'Come on Phil, you're tying up the floor.' Phil would reply, 'Stay cool, Barry!'"
MacGrath spoke next, sharing details about his 50-year history with Phil Pinkney. At age 14, he was mucking stalls at Truro when he noticed an impressive-looking horse trailer outside, ventured over and met Pinkney, who became a lifelong friend, in addition to occasional employer, employee, and partner on horses. "It didn't take long after that day for me to realize Phil's set-up was a little bit different than most," said MacGrath. "He did things differently."
Phil was known for his quiet, gentle way with young horses.
"Fall was a very exciting time of year in the Pinkney Stable, for buying yearlings and getting them going, trying to win races next summer, and dreaming about next year's champions," recalled MacGrath. "For the next 40 years [after Pinkney began working with yearlings], there would be very few horses trained and driven by Phil that were not competing at the highest level in the Atlantic Sires Stakes program… How lucky was I to learn from a guy like Phil?
"Over the years, I've watched Phil take a high-strung, nervous horse and turn him into a confident, happy, good-feeling colt. As Dale [Phil's son] will attest, he did some of his best work in the stalls, alone with the colts, picking their stalls out and straightening them up, getting to know them, building the trust with the young horses that had just come out of the field."
Phil and son Dale developed and campaigned Rumpus Hanover (p,2, T1:52.3m; $721,993), a former world champion who in 1986 set a new standard for 2-year-old pacing colts at The Red Mile. But there were many standouts in his lengthy career, such as 1986 Gold Cup and Saucer winner Rev Your Engine (p, 3, 1:56.2f; $123,468), three-time Atlantic Canadian Horse of the Year Dunachton Gale (p, 6, 1:53.1h; $177,016), and Deep Finesse (p, 6, 1:49.3f; $236,016), North America's winningest 2-year-old of 2008, all leading up to Phil Pinkney's 2008 O'Brien Award of Horsemanship.
"Whether you leaned on him or not, you probably watched him very closely on the track," said MacGrath. "He would change equipment on horses between trips, but if he didn't see a noticeable improvement, he would change it back and start again. There were very few horses that he did not get figured out. It did make for some long training days, especially if there was shoeing involved in the changes."
Remembering Pinkney's kind and generous spirit, it was easy to let his statistical accomplishments remain in the background. MacGrath ensured they did not: "Phil had about 5,500 races in his lifetime [as a driver]. He won 1,700 of them. That's 30 per cent, 30.2 to be exact, in his lifetime. As an average, it's unbelievable. More unbelievable than that is his UDRS… Phil's average for his lifetime is .440. In 2004-2010, that seven-year stretch, Phil's UDRS or batting average, whatever you want to call it, was an unbelievable .533."
Near the end of Saturday's gathering, MacGrath passed along some of Pinkney's familiar advice: "Stay cool. Don't get too up on a good day, and don't get too down on a bad one. Always let your horse do the talking. Pay attention to your horse: When they're having an off day, recognize it. Make it always about the horse."
Words to live by, from a horseman who did.