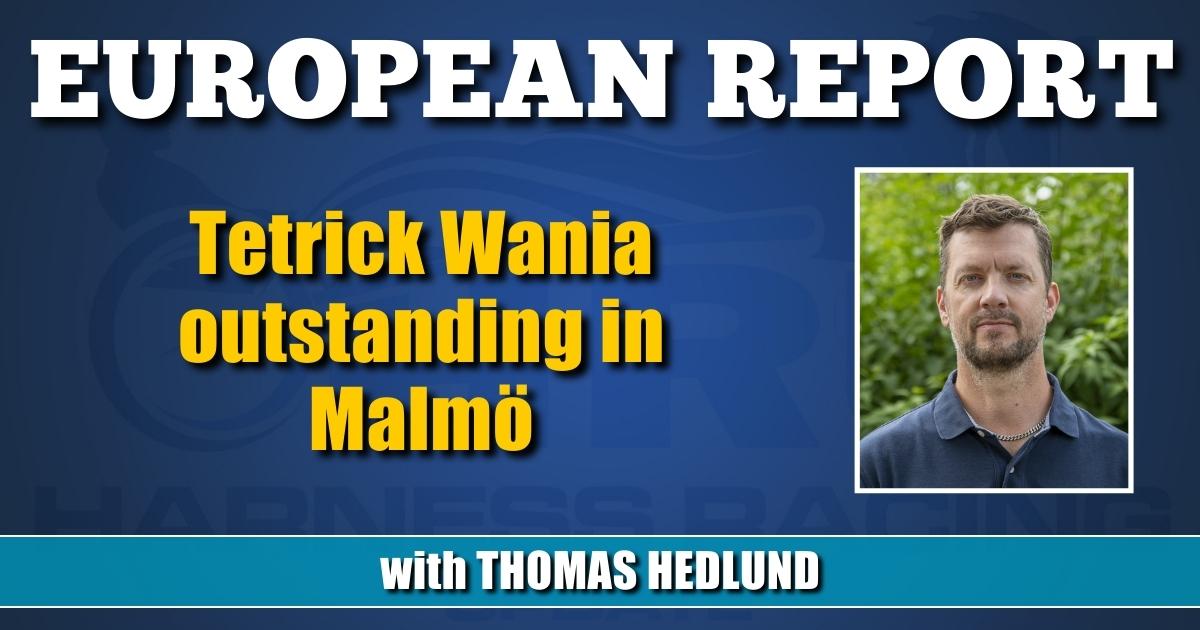 Tetrick Wania outstanding in Malmö
by Thomas Heldund
The $313,000 Uppfödningslöpningen for 2-year-olds was held at Jägersro racetrack on Saturday (Nov. 20) afternoon and the classic race turned out to become both historical and very memorable.
No female driver had won one of the three classic stakes races (Kriteriet for 3-year-olds, The Derby for 4-year-olds and Uppfödningslöpningen for 2-year-olds) ahead of the Saturday's race at Jägersro, but Riina Rekilä became the first woman to reach this milestone.
As reported in Friday's issue of HRU (full story here), Rekilä had a great shot with Walner's brother Tetrick Wania (Muscle Hill—Random Destiny) and the duo was the bettors' first choice in the race. The director of the event must have thought of everything before the end of the show was near. Tetrick Wania was not in right balance as the car accelerated from the field and Rekilä might have seen her chances blow away as Tetrick Wania went off stride just before the start. The 2-year-old son of Muscle Hill eventually found the right gait, but the 50-60 meters disadvantage seemed to be an uphill too steep to climb for the duo.
Rekilä and her trotter got contact with the field after 500 meters and Rekilä didn't play it safe at that point. Immediately, Tetrick Wania got the order to attack three wide up the backstretch, the horse more or less flew and passed his opponents, which meant that the lead was taken in the last turn. Over the home stretch Tetrick Wania enlarged the advantage and Rekilä made history as she crossed the wire with Tetrick Wania winning in 1:58.4.
"Tetrick Wania is a very fast and strong horse and I'm very happy that I've produced this horse. He has to play a little bit sometimes and before the break he started to glance at the sides of him which made him loose his gait for a while," Rekilä said.
Rekilä sold the horse to German owners after the elimination of the Uppfödningslöpningen and the horse will now be trained by Michael Nimczyk in Germany.
Nuncio son best in Rome
Denzel Treb (Nuncio) was the favorite in Italy's $175,000 Gran Premio Anact for 2-year-olds in Rome on Saturday (Nov. 20) afternoon and despite a first over trip, the Massimo Compagno-trained trotter proved to be the best, again. Denzel Treb, who is a brother of Elitloppet winner Ringostarr Treb, is undefeated after six starts so far and in Saturday's race he won in 1:58.4.
The fillies' division was won by Danish Melody (Brillantissime) and Andrea Guzzinati in 1:58.2. Danish Melody's older brother Callmethebreeze (Trixton) recently won Orsii Mangelli for 3-year-olds and the common denominator between the siblings is French top trainer (and breeder) Philippe Allaire.