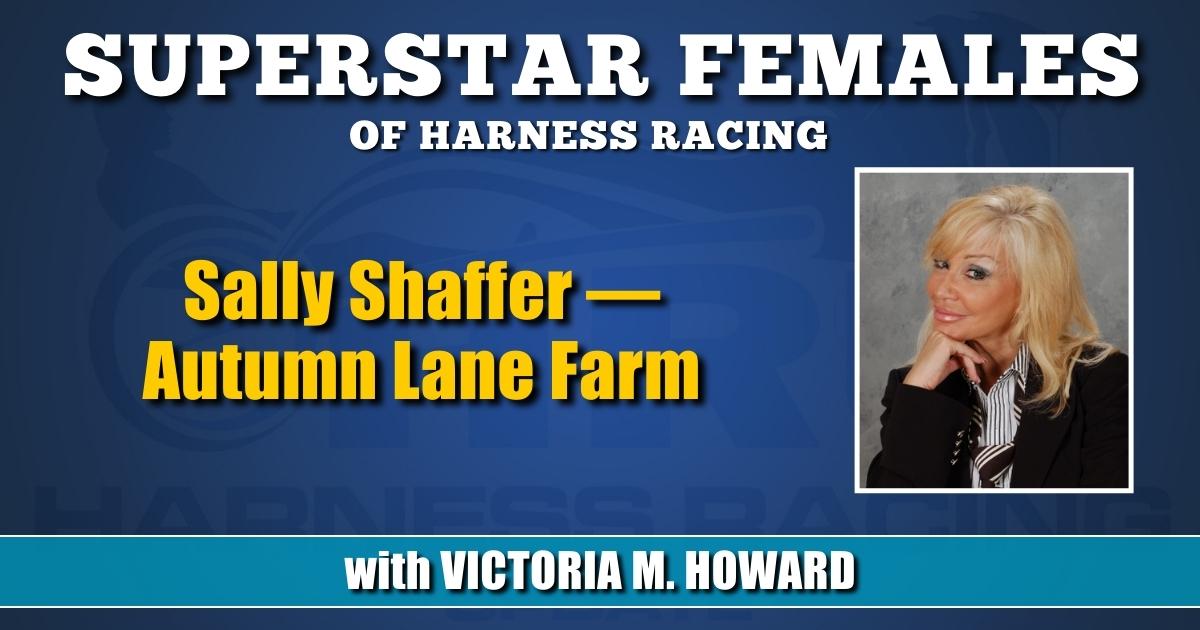 Sally Shaffer — Autumn Lane Farm
by Victoria Howard
There's a new farm in town and owner/breeder Sally Shaffer could not be happier about her Autumn Lane Farm (www.autumnlanefarm.com).
Growing up in Columbus, OH, in a family that had no connections with horses, Sally Shaffer's mom said her daughter had a "birth defect" because all she ever talked about were the four-legged animals.
Unlike most girls who opted to spend their time playing with Barbie dolls, Shaffer would go to Scioto Downs to watch the beautiful racehorses.
When the family moved to the country, Shaffer joined the 4-H FFA, and started hanging out with the runners. When she attended college, Schaffer relocated to Lexington, KY for the spring and summer semesters and got a job working at Spendthrift Farm and then at Darby Dan.
"Breeding, foaling and raising foals has always been my main interest. Once I graduated from college I moved back home and began working with standardbreds," Shaffer said.
"In 1987, I met my husband, Jim Parkinson, who was an Ohio-based driver and trainer. I began working at the USTA in Race Track Support and then with Albert Adams at Winterwood Farm, foaling mares.
"I was a charter/clerk of course for over 20 years at the Ohio Fairs, while also helping my husband in the barn. In 1997, Jim was severely injured in a race, so it was then that we decided to start the farm of my dreams."
Autumn Lane is located 35 miles east of Columbus.
"My husband and I built everything on the farm as it was a bare soybean field when we purchased it.
"Sadly, Jim passed away 12 years ago, but I continue to live and run the farm by myself. He would want me to continue 'our dream' and that is what I'm going to do."
Autumn Lane Farm consists of a total of 85 acres owned and leased pasture, There are 18 stalls, a four-stall stallion barn and an indoor collection area.
"There is a strict no stress rule for the horses that are here. There is no training — only paradise for the four-legged guests and occupants.
"Each field has an automatic waterer/run in sheds/ free choice alfalfa and four-board oak fencing. The horses are grouped when permissible, by their sex and age. Diets are individual and tailored to what each horse requires.
"While the farm is a business, it is not a factory. It's a labor of love. I personally am in every field each day checking each one, and I refuse to have more horses than what I can personally inspect and care for daily."
Generally, in the off-season, there are 20-25 total horses at the farm and during foaling season approximately 25-30 mares are foaled out.
As far as owning any horses of her own, Shaffer said, "I am into my third generation from a foundation mare named AUTUMN YANKEE, who I purchased years ago.
"My best broodmare is one I bred named WINNING COLORS K. She is the dam of the world champion AUTUMN ESCAPADE ($890,000, 1:53.2), Cash Lane (1:54.4), Cassius Lane (1:53.2),
Autumn Estelle, and others.
"I have high hopes for WINNING COLORS' 2 year-old Muscles Yankee filly, AUBREY LANE. I also own the now retired stallion VICTORY SAM – a sire of over $14 million.
"My husband and I always stood stallions through the years. After passing away 12 years ago, most people were unaware that I was doing all the work myself: collecting, breeding and inseminating. Some owners moved their horses thinking the farm would cease to exist without Jim.
"And the next year I was diagnosed with stage two Breast Cancer. After a few surgeries I put my big girl pants on and decided it was time to pour myself back 100 per cent into the breeding business. And her I am.
"Several years ago I began seeking a new stallion in an effort to 'reload' and got the horse LIONHUNTER for ACL Stable. A few weeks ago I got a phone call from trainer Annette Lorentzon as to standing GUARDIAN ANGEL AS here.
"I could not be more thrilled to have this incredible stallion. Needless to say, he comes from an extremely successful trainer, who just happens to be a female (Lorentzon).
"I believe it was meant to be for GUARDIAN ANGEL AS to end up here: a single woman owned and operated farm.
"Today I'm a single mother who has a wonderful 34-year-old son and an amazing 7-year-old granddaughter named Aubrey. She is obviously the apple of my eye and is taking after me in her love for horses.
"Aubrey is becoming a pretty skilled rider with hunting/jumping. Recently, I have started to do competitive CDE driving, and Aubrey is my navigator."
Sally also is a total supporter of racehorse adoption and the Full Circle Program, and enjoys taking photos for people of their horses.