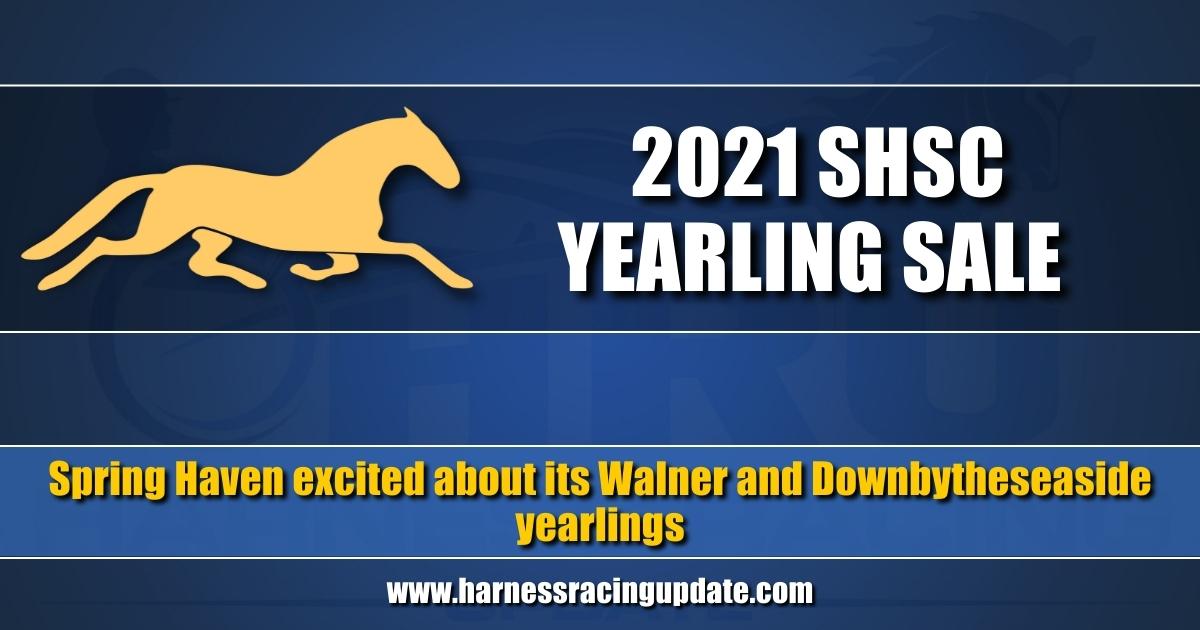 Spring Haven excited about its Walner and Downbytheseaside yearlings
by James Platz
Senena Esty is excited about her Spring Haven Farm consignment heading into the Standardbred Horse Sales Company yearling sale which begins Monday (Nov. 8) in Harrisburg, PA. This year the Utica, OH-based operation is selling a group of 40 yearlings, 11 of their own and 29 agent horses. The consignment consists of babies from hot Grand Circuit-caliber sires, and a good variety representing multiple state programs.
"We're really excited about our consignment as far as a whole group. We're really excited about two Walners that we have (Hip 91, Milliondollarride, and Hip 330, Lava Fields), both colts, both very nice individuals," she said. "Of course, (Walner) seems to be very hot right now. I thought they videoed very well. These are two for Jonas Schlabach that we have. Really solid individuals. Good size and length and just great looking colts, so we're pretty excited about them as individuals."
Milliondollarride is the first foal from Muscle Hill mare Marion Millionaire, a winner of $170,000 in her career. Lava Fields is out of the Muscle Hill mare Lavendar Fields, a half-sister to $500,000 winner Flowers N Songs. Second dam Pleasure's Song is a half-sister to millionaire and world champion American Winner.
Esty is also pleased to have a pair of Downbytheseaside colts in her consignment. The second crop from the son of Somebeachsomewhere has been well received in Ohio and at Lexington, and that trend should continue at Harrisburg, particularly with only a few available.
"If you want to see a Downbytheseaside, you pretty much have to come see us. We have two of the four offered," Esty said. "These are pretty outstanding individuals. We would stack them up against anybody. They're good-sized colts, really proud of how they turned out. Again, really correct individuals."
Hip 303 Higher Waves is a colt out of Camluck mare Higher Standards, already a producer of six-figure earners Rockin Away and Smackitwithahammer. Second dam Pacific Rockette is a three-quarter sister to the great Pacific Rocket. Ripple On The Sea, Hip 530, is also a colt out of Camluck mare Anothercam Kiss, half-sister to millionaire and world champion Pacific Fella. She has produced three winners from four foals. Both yearlings are agent horses for Schlabach.
Of the 11 yearlings bred and raised by Spring Haven, Esty singled out trotter Hip 379 Pretty Heart as one of the top of the group. The filly is the second foal from a Credit Winner mare whose family includes Dan Patch Award winner Broadway Schooner.
"This is an outstanding Muscle Hill filly out of Padua Hanover. A really nice filly. Black, long-bodied, good video. She's probably my personal star as far as a trotter," she said.
Spring Haven's consignment will offer 19 Ontario-eligible yearlings, with four from Sportswriter, a trio sired by All Bets Off and Lookslikeachpndale, and a pair from both He's Watching and Muscle Mass.
"We've always had a lot of folks come in from Canada for this particular sale that maybe don't visit Lexington and definitely not the Ohio sale. So we definitely look forward to seeing our Canadian friends," Esty said. "I've got a lot to offer in the Ontario department."
Last year, Spring Haven averaged just over $30,000 while selling 53 yearlings at Harrisburg. Esty is optimistic for another good sale.
"We've got some buzz going on a few of them, so that's always exciting going into a sale knowing you have some popular ones," she explained. "We're happy to be going to Harrisburg and we're excited for a good sale. I think we've got the right kind of horses, I'm just hopeful everyone comes to visit us."
Value pick
"We've got a couple of really nice Chapter Sevens (Hip 441 Chariot and Hip 323 Livonia). Just don't forget them. I think he's still tops. I personally have an outstanding Betting Line colt (Hip 677 Bet On The Cook) and he's a first foal from the Kikikatie family. He's a gorgeous individual. Betting Line had a good year this year, so I hope they won't let that sleeper fall through the cracks."