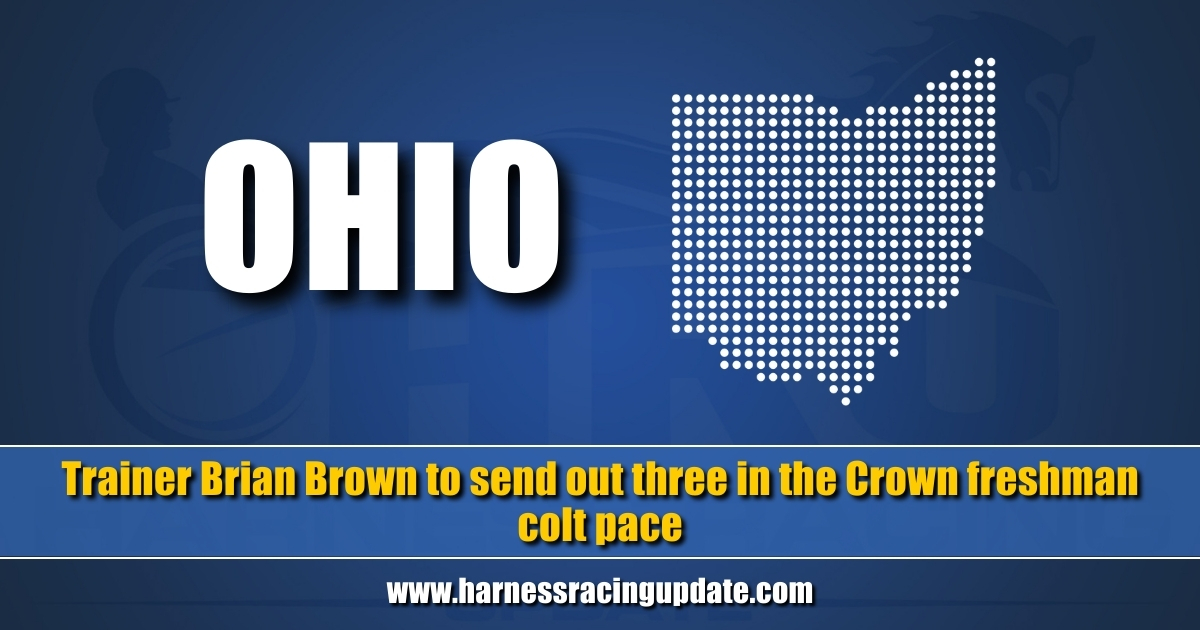 Trainer Brian Brown to send out three in the Crown freshman colt pace
Ohio conditioner looks for third Breeders Crown title from trio with Buckeye State connections.
by Jay Wolf
We are not sure if trainer Brian Brown is an avid poker player, but he hopes to be holding three aces tonight (Oct. 29) at the Meadowlands in the $600,000 Breeders Crown Final for 2-year-old colt pacers.
Brown will send out Gentle Giant (Post 1; 15-1 morning line), elimination winner Six Feet Apart (Post 4; 9-2) and Gulf Shores (Post 6; 8-1) – all three colts have a majority of Ohio-based owners.
Six Feet Apart used a gutsy stretch drive with David Miller in the bike to catch the heavily-favored Beach Glass in the second of three eliminations last Friday (Oct. 22). The Sweet Lou—Ideal Love colt tripped the timer in a lifetime best 1:50.2 in the half-length upset score.
"He came into the elimination in really good shape," said Brown. "He raced good both weeks in Lexington. He had to come from behind the first week, off slow fractions, flew home and still couldn't catch them. He had a better trip the second week. The fractions were better. The horse raced great. He was really good last week."
Six Feet Apart, who was purchased during day #2 of the 2020 Lexington Select Sale for just $21,000, has made just eight starts this season for his owners: Michael Dean Robinson (Lewis Center, OH), Robert Mondillo (Delaware, OH), David Meola (Powell, OH) and Rich Lombardo Racing (Solon, OH).
The colt started his career with five straight starts in the second level Kentucky Commonwealth Series.
"He got a late start, but the plan was to just to stay in the Kentucky (Commonwealth) Series. David (Miller) was actually the one who talked us into staying in that series," said Brown. "He suggested that we bring him along slower and to teach him how to race without over doing it every week. It's worked out perfect."
The Crown elimination win was his fifth of the season and increased his 2021 earnings to $93,225.
In last Friday's first elimination, Miller guided Gentle Giant to a solid third place finish using a final quarter in :26.4.
"I was very happy with his race last week. He can finish well, but he's not a great sprinter," said Brown. "I think that if the race sets up different for him, better fractions, he'll race even better this weekend."
Country Club Acres (Findlay, OH), Acadia Farms (Canfield, OH), Joe Sbrocco (Brecksville, OH) and In The Gym & Lombardo Racing (Solon, OH) own the JK Endofanera–Miss Liz colt, who was a $50,000 purchase from the Hoosier Select Sale.
Gentle Giant raced exclusively in the Hoosier State – the Indiana Sire Stakes and Fox Stakes — until his elimination effort.
"We made a shoeing change a little over a month ago. He just kept getting better and better every week from there. It made him a much better horse," said the trainer. "He went to four aluminum shoes and I take it that he got a hold of the track better. He's really come around."
In the final elimination, Gulf Shores used a patient drive from David Miller, needing to split rivals in the stretch to advance to the $600,000 final with a scant nose loss to Pebble Beach in 1:51.3.
The Downbytheseaside–Western Drag colt started the season a perfect six-for-six and won the $300,000 Ohio Sire Stake Championship before taking on Grand Circuit company at Lexington and the Meadowlands.
"He was really good last week, but David told me to open his bridle up – an eye hood with holes on. He said that when he started through he thought for sure he was going right through (that hole)."
Gulf Shores was hammered down for $100,000 on the fifth and final day of the 2020 Lexington Select Sale.
He has earned $358,967 for Country Club Acres (Findlay, OH), Diamond Creek Racing (Wellsville, PA) and Wingfield Brothers (Kenton, OH).
Long-time Brown patrons, Country Club Acres will have a total of four entries in the freshman colt pace final – Gulf Shores, Gentle Giant, Pebble Beach (Post 3; 3-1) and I Did It Myway (Post 5; 15-1).
With Miller piloting all three of the advancing Brown trainees, the Hall of Fame reinsman needed to make a decision on which to drive in the final. Miller elected to stay with Six Feet Apart, opening opportunities for Yannick Gingras with Gulf Shores and Chris Page with Gentle Giant.
Brown, a Delaware County Fairgrounds based trainer, has won a pair of Breeders Crowns: the 2015 Open Mare Pace with Color's A Virgin and the 2017 3-year-old filly pace with Blazin Britches.
"We are looking forward to this weekend as all three are coming in pretty good shape. They all drew really well. To get all three to draw from the sixth (post) in, we are very happy."
TrackMaster PPs for Friday's Crown finals here.
TrackMaster PPs for Saturday's Crown finals here.