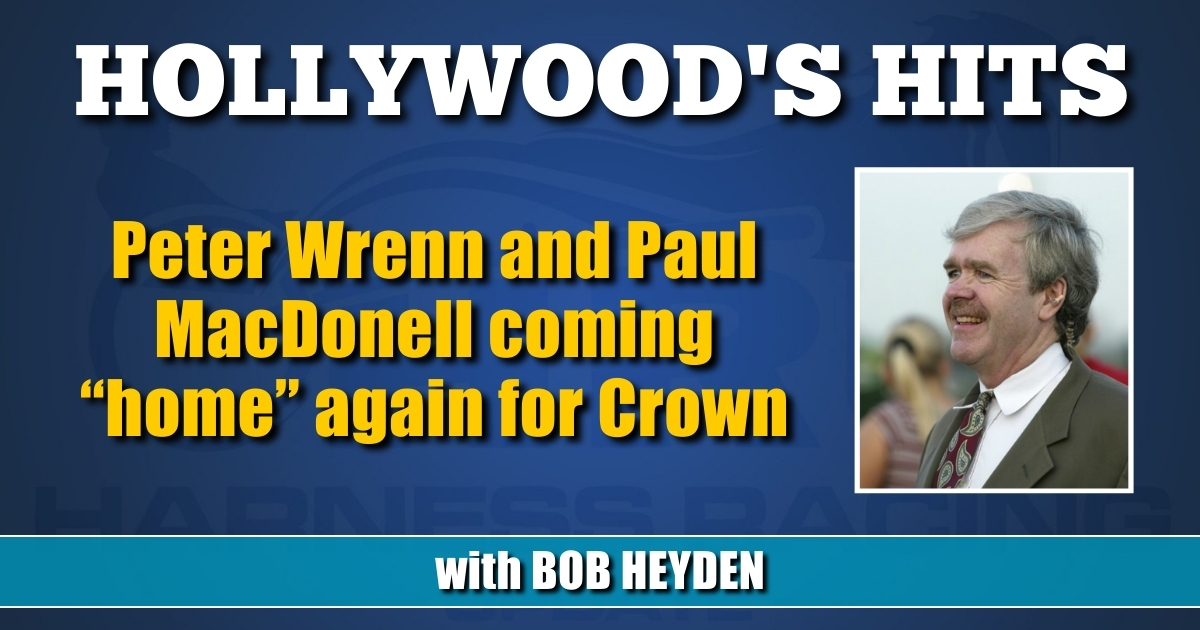 Peter Wrenn and Paul MacDonell coming "home" again
Both drivers once gave the Meadowlands circuit a try and return this weekend to compete in the Breeders Crown.
by Bob Heyden
In this weekend's Breeders Crown finals, driver Paul MacDonell has two shots with Duly Resolved and Beach Glass, while fellow driver Peter Wrenn has sophomore filly trotter Shirley Goodness.
Both once tried the Meadowlands full-time.
"I came here in 1986," MacDonell said. "I was just 24 or so. We were on strike in Canada. I had a couple of pacing mares and Robins Wonder, a nice trotter. I think I wound up staying three months or so before I headed back home. Great experience. The mecca-drivers like Campbell, Manzi, Case, O'Donnell were racing then. I was just an impressionable kid."
Wrenn came to the Meadowlands for the first time ever in July, 1994 and won the $200,000 Driscoll/Haughton with Under Orders and paid $66 on his first night at the East Rutherford, NJ oval.
He stayed a couple of seasons in New Jersey and it was in 1996 that he last won a Breeders Crown at Vernon Downs ending Moni Maker's win streak at 19 victories as a sophomore.
"That was great," Wrenn said. "My filly was second choice ($8.60) and was owned by George Steinbrenner. He treated me great. I had raced for him for a while. That was the same time the Yankees were in the World Series against the Braves. I watched from the owner's box one game and sat real close for the others. I remember drinking a beer right on the dugout."
MacDonell last won at the Meadowlands with Melmerby Beach in 2015. He also won with Melmerby Beach and Beach Glass' sire Somebeachsomewhere, who wrapped up his career with his 20th victory in 21 tries in the 2008 Breeders Crown. Of course, the great SBSW had his lone loss in the Meadowlands Pace of 2008 after an epic duel with Art Official in a world record time of 1:47.
Wrenn drove four times in the 1996 Breeders Crown series and was 1-2-3-4 — twice having the longest shot in the field. He was second in a dead heat with 19-1 Jacs Choice at Yonkers.
"I had him as a yearling. Top horse. He would up racing for a long time," Wrenn said. "The occasional open, too."
Wrenn was third at the Meadowlands with Hi Ho Silverheels at 52-1 in the Open Pace.
"I trained him on and off. I remember he was a sub-1:50 winner at Hoosier back when that really meant something."
Wrenn also finished fourth with Paige Nicole Q for Chuck Sylvester.
"I think she won an elimination (True). I won the Jugette with her."
But what about Shirley Goodness this weekend?
"I was happy with her making it. She started pretty far off the gate. When David (Miller) turned her behind the gate she couldn't hit a trot. Seeing how it worked out, I thought she did fine and finished up strong. She's a healthy strong filly with a good heart."
If Wrenn does win with Shirley Goodness, it'll be 25 years between Breeders Crown wins. The current record for time between Crown wins is 13 years, set by Richard Silverman from 1986 with Masquerade to 1999 with Tyberwood.
As for Mr. MacDonell, Duly Resolved was second in the Mohawk Million and he was third in his Crown elim.
"He's quite a handy horse — smart, too — and John Bax always does a good job. He's got a shot."
As for Beach Glass (second at 1-5 in his elim) from the final crop of SBSW, MacDonell is taking the quieter approach.
"He's a contender. I'm optimistic. He has the tools to some nice things. High speed. He got started the same time that Beach shut it down at 2 in 2007. (SBSW) was not eligible to the Breeders Crown and he wound up with a good long rest into 3."
MacDonell remembers a few others of note in his personal Crown history:
Bays Fella 1990 $140.60 at Pompano: "I wasn't really thinking about winning it that year. I was just looking forward to the trip to Florida!"
Camotion: "One of the best horses ever NOT to win a Breeders Crown."
Billyjojimbob: "He won going a big trip. It was an 11-horse field."
Village Jiffy: " I wound up with him at 4. He had already won the Crown at 2. He was sharp and kind of flew under the radar. He won easily at Freehold against a field that included Riyadh. He had a great fall that year running the table."
Jeremes Jet: "He was just beaten in his elim, but in the final that year he came back with a great trip and got loose to win going away."
Brett Pelling bullet Breeders Crown facts
Trainer Brett Pelling won the Breeders Crown at Colonial Downs in 1998 with Juliets Fate as the favorite ($5.40).
That same year, his Armbro Romance was fourth when Galleria won it. Remember, they finished 1-2 in reverse order on June 27 that year in 1:49.4 the first ever sub-1:50 female mile.
Artsplace sired both Galleria and Armbro Romance. Now his son, 22-year-old Art Major sired Test Of Faith.
Pelling's trainee Rocknroll Hanover had his final career start came at the Meadowlands in the Breeders Crown of 2005 in November to solidify Horse of the Year honors.
Rocknroll Hanover was the first ever sub-1:50 2-year-old thanks to a 1:49.4 victory at Woodbine in the 2004 Metro. He later scratched out of the Breeders Crown at 2.
Test Of Faith was not eligible to the Crown in 2020.
Pelling's student Papi Rob Hanover was disqualified in the 2019 Breeders Crown and Tall Dark Stranger was put up.
Mystical Maddy won a Breeders Crown for Pelling from post eight at Yonkers.
Pelling won a Breeders Crown for Papi Rob Hanover's owner David McDuffee in 1996 with Armbro Operative.
Cool Papa Bell
Cool Papa Bell the horse is named for the Negro League star from 1922-1946. The ballplayer's career ended the year before Jackie Robinson became the first African American to play in the major leagues for the 1947 Brooklyn Dodgers. Cool Papa Bell's stats were: 285 career stolen bases in 1,199 games, 4,756 at bats, 1,548 hits, 325 average. He was born on May 17, 1903.
The horse competes for the Runthetable Stable. Sandy Farber's son is now the head man, but it was Run The Table who got the ball rolling for this group back in 1986-1987. Del Insko raced the colt at 2, who was fourth and then sixth in the Breeders Crown at 82-1 and then 12-1. Sold at New Faces time in 1987, Jim Campbell took over for his new owners headed by Sandy Farber. That year's quite memorable Breeders Crown saw him win his elim in 1:53 by a head and then get edged out by Call For Rain in the same time by the same margin in the 3YOCP Crown final.
Val D'Or goes wayyyyy back
At Garden State Park in 1985, the race before Nihilator would wrap up his career in the 3YOCP Breeders Crown, Val D'Or Farms had Cannon Fire in a NW3.
In 1986, Val D'Or won the 3YOCP with free-legged Masquerade ($21.40).
Val D'Or trainer Joe Holloway was in the first Crown Open Pace in 1985, finishing fifth with Tuff Choice. Thirty-five years later, Perfect Sting brings them together in the 2021 Breeders Crown for sophomore pacing colts.