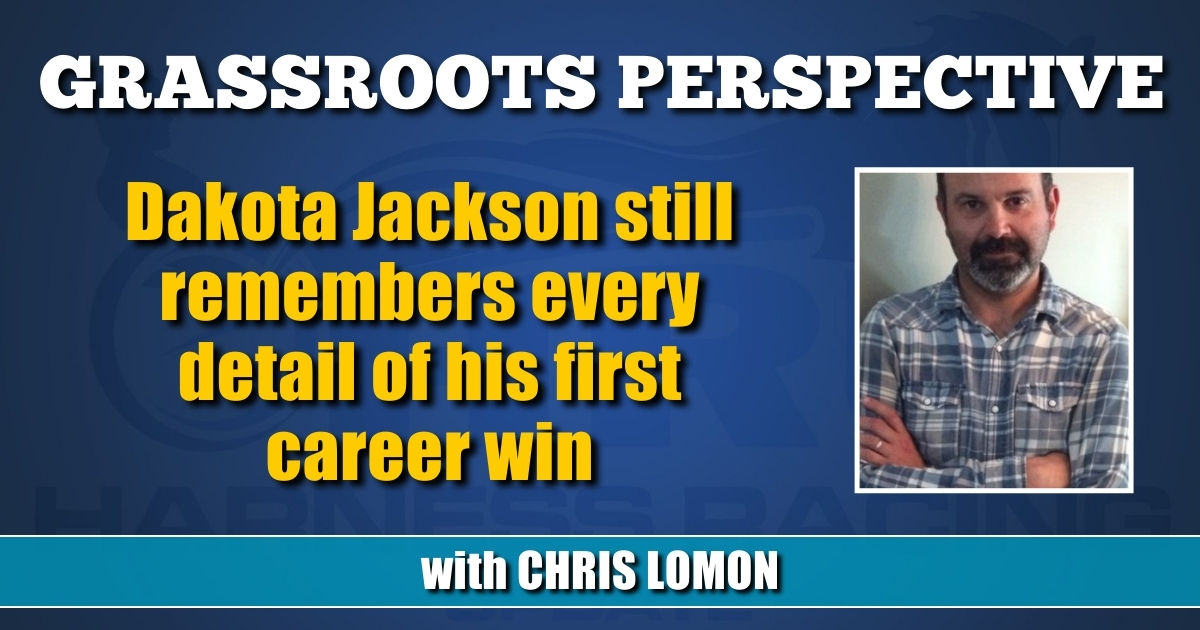 Dakota Jackson still remembers every detail of his first career win
by Chris Lomon
There was nothing in front of him but the finish line, but even in the last strides, Dakota Jackson still couldn't process what he was about to achieve.
The margin of victory reads 3 ½-lengths, but it certainly didn't feel that way for the young man in the race bike on the night of Nov. 21, 2018, at Northfield Park in Ohio.
Teaming with the 6-5 choice, a pacer by the name of Dontcallme Dude, the odds of Jackson netting his milestone score were certainly in his favor.
The only one that needed convincing was the one holding the reins.
"I remember going into that night and I had three drives," Jackson said. "My brother [twin, Zachary], had just got that horse from Canada, and I qualified him in [1]:58, under wraps. He was pretty sharp coming off the qualifier. My brother had asked me to drive him the first start couple starts after we had got him qualified. He wasn't actually the easiest horse to drive. He'd go to his knees pretty good for a smaller horse and he'd get a little bumpy gaited here and there."
Which is exactly what the gelded son of Ameripan Gigolo did at the start of the race.
"We had the rail. I didn't know I was the favorite, but I knew we'd be lower odds. I remember before the race that my brother and me had talked about a few things and he had told me, 'Get him away the best you can and try not to get locked in. Just give him a shot and he should be good in here tonight.' I tried to get him off the car but he went to his knees really hard and got rolly so I had to baby him through the turn. At the quarter-pole, I looked over and saw a wall of horses sitting out there parked.
"I kind of realized if I didn't get out at that moment, I probably wouldn't have got out at all. I moved him out at the quarter and I tried to get to the front. But I had to sit out there on him in the turn and hand drive him. I didn't have to go to the whip once the whole mile. When we started up the backside, coming out of the turn and heading towards the three-quarter pole, I kind of thought that he was done. But every time I kept asking him, he just kept going forward and getting closer."
When the pair began to open up on their rivals, it was game over, at least to those watching the race.
Jackson was still unsure about his chances, at least for a moment.
"I figured we had a shot. But when I cleared at three-quarter pole, I could still hear horses behind me. I had taken a couple of peeks over my shoulder to see where and how close the rest were. When we came off the turn, I didn't know whether we would win, but I felt pretty good."
He felt even better after it was mission accomplished.
Mere seconds after hitting the wire, Jackson's emotions came out.
"When I won – I had obviously never won before – I didn't how to feel. I was kind of speechless. But I went a little crazy after the wire. I shook my whip a few times and everything. When I got back to the winner's circle, my brother was the first one to greet me. He gave me a big hug and said, 'Great drive, bro. Thank you, man.' I had my mom and dad there too. It was a really awesome moment. My mom told me, 'Good drive D, you made it!' and my dad told me, 'Good job buddy… that's it, bud.'"
Three years removed from the win, the amiable 23-year-old from Monroe, MI, who now calls Windsor, ME, home, is still enjoying success, in an entirely different capacity.
While he still drives on occasion, Jackson is making a name for himself in the training ranks, both on his own and as an assistant to fellow driver/trainer Benson Merrill.
Regardless of what role he's in, for Jackson, it's all about where he is.
"Growing up as a kid, my brother and I, we always had a feeling that we were eventually going to be working with the horses full time, and always knew what we wanted to do. Both of our parents, Charles and Kelly, knew it would be hard, but they were supportive of us both."
By the time he was six, Jackson had jogged his first horse by the name of Cowboy Java. He trained his first, a 3-year-old chestnut pacing filly, when he was 12, at The Red Mile for trainer Glen Bratcher. At age 18, he got his driving license. He also bought his first standardbred, a now 13-year-old pacing son of Million Dollar Cam named Milliondollardad.
Currently, Jackson has four horses of his own and helps Merrill with his band of 22.
"I don't drive much right now, but I'm very happy with how things have worked out. I stay pretty busy. Benson and his wife Lauren are great people. They do an amazing job with their stable and have a very smooth going operation. They are easy-going people and good to get along with and they'd do anything to help you if you needed it. They are very kind people and have really helped me a lot, supported me quite a bit too."
Up early and home late nearly every day – 16-hour days are not uncommon – Jackson is grateful to be living out his long-held dream.
Even in the toughest moments, he reminds himself of what keeps him coming back with a smile every day.
"I don't take any of it for granted. There have been times where you get frustrated. Just like in everyday life, you have your ups and downs, you've got your good days and bad days. I'll question myself why I do what I do from time to time, but when I have one of my horses win, it makes all of it worthwhile.
"I'm up at 5:00, sometimes 4:30. I'm a big napper, so I appreciate my naps. But ever since the fairs started in Maine, I don't get many of those. We leave around 9:00 or 10:00 in the morning, sometimes 7:00 or 8:00 to get to the races, and we don't get home sometimes until 7:00 or 8:00 even 9:00 sometimes at night. You're on the grind, but being around these great horses keeps you going."
When he does carve out time for himself outside of racing, Jackson, a passionate sports fan, will catch a baseball or football game on television or go to a live game of either, or venture out to the theater to catch the latest Hollywood release.
Whatever he happens to be doing, horses and horse racing are never far removed from his thoughts.
"My long-term goal is what I've always said since I was a kid. I would love to have a stable of 10 or 12 good horses. Over the next five-to-seven years, I would like to have those 10 or 12 horses and be able to compete somewhere on the east coast. It might be a longshot, but I'd love to do that. My short-term goal is to drive at the Meadowlands in the amateur races before the end of the year. But whenever you can prepare a horse to the best of your ability and see that horse win, it will always be the greatest feeling you can have."
And although it isn't quite the feeling he had in the sulky nearly three years ago, any victory is a treasured moment for Jackson.
There is plenty for him to be proud of.
"That I can compete with a small stable and also have success makes me proud. Also, that I had so many people, not my family, but random people telling me I wouldn't be able to do this and that it wouldn't work for me that it wouldn't happen… that's what makes me proud, that I was able to prove them wrong. That was one reason to drive me to do this. But my parents are probably the biggest reason I do what I do. I'm just very happy to say that I work hard and that I get to do what I always hoped I would."