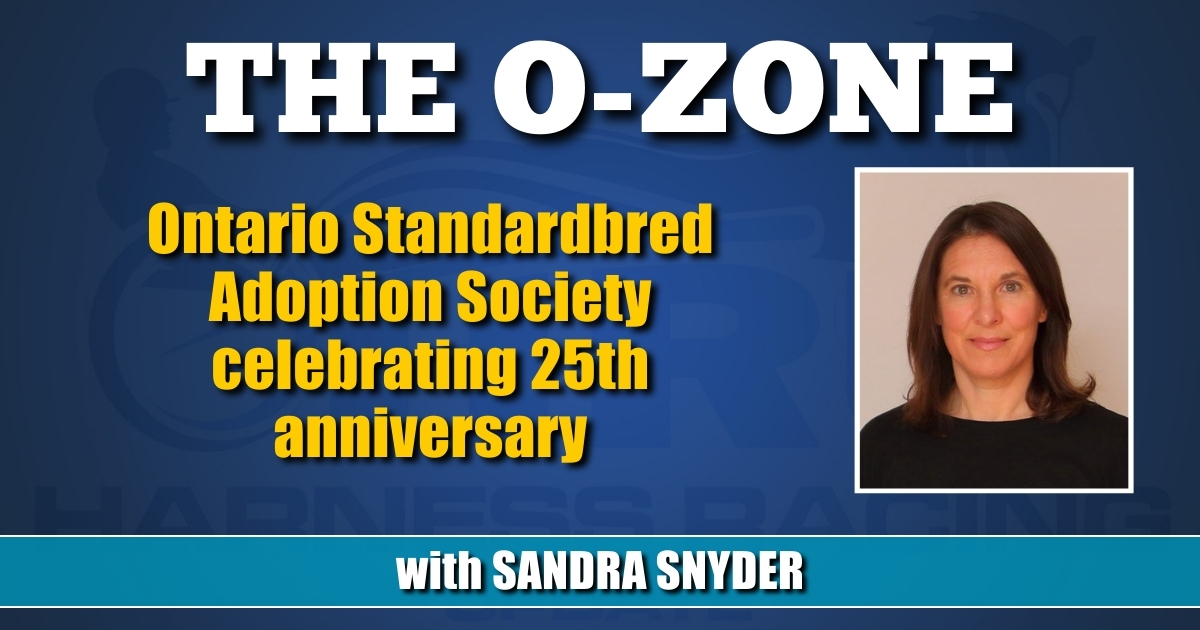 Ontario Standardbred Adoption Society celebrating 25th anniversary
by Sandra Snyder
The Ontario Standardbred Adoption Society's 25th anniversary racetrack tour wraps up this month with the final three stops at The Raceway at the Western Fair District on Friday (Oct. 8), Woodbine Mohawk Park on Saturday, Oct. 23 and Rideau Carleton Raceway on Thursday, Oct. 28.
"Every single racetrack that we've dealt with thus far, and we only have three more to go, has been excellent to deal with, and it's just so nice to see the level of support," said board member Heather MacKay Roberts. "The horses are the backbone of the industry, so it's so nice to see people wanting the horses to go on to have a secondary life that's as full of the love that they had when they were racing."
While pandemic restrictions prevented Ontario Standardbred Adoption Society (OSAS) volunteers from taking their full fundraising and promotion show on the road, each racetrack coordinated a 25th Anniversary race and awarded the winner a commemorative cooler and OSAS swag. (See all the winners here https://www.osas.ca/our-news#OSASEVENTS). The coolers and anniversary gear the winners will be sporting in paddocks across the province will be a continual reminder of the essential role OSAS has played within the industry for the last quarter century.
Spearheaded by former caretaker Anita TenBruggencate, with the assistance of then Ontario Harness Horse Association general manager Reed Lawson, OSAS was nurtured into existence by a collective of volunteers and has continued to receive support from a broad cross-section of the industry.
"The racetracks and the breeding farms are phenomenal. I can't say enough about people that continuously sponsor us," said long-time program administrator Joanne Colville. "We're always heavily backed by all sectors of our industry. They understand the importance of a program like ours."
The organisation receives a base level of funding that amounts to 15 per cent of one per cent of the gross purse pool, and Agribrands Purina Canada is an ongoing sponsor, providing nine metric tonnes of feed each year. An annual golf tournament and online stallion auction round out the regular fundraising initiatives. In celebration of the 25th anniversary, Ontario Racing sponsored the creation of note cards by equine artist Michelle Hogan which feature OSAS equine ambassadors Hiltons Hot Stuff, Reverend Hanover, Ruff Me Up and The Painted Pony (https://www.osas.ca/ambassador-cards). There are also sweatshirts and t-shirts available with the 25th anniversary logo.
That funding, along with one-time donations like the 2019 Breeders Crown challenge or in-memoriam gifts, allow OSAS to care for about 15 horses at a time. As horses are accepted into the program they are assessed at Colville's Moffat, ON farm before moving on to a foster home. Those that are able to undertake a second career then enter training programs at facilities operated by Shelley Higgins and Susan and Bert Mollica before being offered for adoption.
Potential adopters are carefully screened and Colville said she has increased her level of scrutiny over the last 18 months as applications surged during periods of pandemic-induced inactivity.
"I don't push them out the door as quick as some, because I am a little bit afraid of everybody returning to normal and then the horses being forgotten," said Colville. "So we try to check out and vet out as much as we can to save any repercussions at a later date if things turn around, or should we go into another complete lock down where people aren't working or what have you."
New horses enter the program in a fairly steady stream, and in spite of the extra care taken in processing adoption applications, several have recently found their post-racing homes, including millionaire retiree Easy Lover Hanover.
"We were real busy in the spring and then it settled down a little bit, and now we've got two on the waiting list right now so we're going to go and round them up within the next, I would say 10 days. We've had a couple more adoptions. Easy Lover Hanover was just adopted on the weekend. He got a really, really nice home," said Colville, who is also the outrider at Woodbine Mohawk Park. "So it's been busy. It's been very good, considering all the challenges."
In recent years Colville and her team of volunteers, including daughter Emma Christoforou, have shown off the versatility of their standardbreds at a wide variety of events, from trail rides to Extreme Cowboy contests. The organisation's new website (https://www.osas.ca), updated three years ago by Kathryn Patchett of patchwork design, and their social media channels feature horses succeeding in every area of equine pursuit.
"We started going out to events where people were members of a hunt club or they were members of a riding club and we joined them on trail rides, wine rides, hunter paces. We went to the fairs and we showed some of the horses that were capable of it in open classes and I think that was what I would term our 'TSN Turning Point' in getting people to realise the real versatility of the breed," said Colville, who suggested the organisation shift from hosting Standardbred horseshows to showcasing the horses in the community. "It's been phenomenal. All of those events just help us grow and blossom with the new eyes and the new friendships we forge with people, and that gets them then looking at our horses."
Colville plans to continue that outreach work as pandemic restrictions ease and hopes that by the 50th anniversary all the reservations people have about standardbreds have disappeared and many more pacers and trotters are enjoying varied and successful second careers.
For their part, MacKay Roberts said the board, which also includes Jim Evans, Bill O'Donnell, Kelly Spencer and Ian Fleming, plans to complete a governance update that was derailed by the pandemic.
"We have a really varied board that understands all elements of the industry, which is really helpful," said MacKay Roberts, who serves as secretary. "And everybody is really dedicated because we've all made a living from this industry, so it is an opportunity for us to give back to it."
Everyone involved in OSAS, from board members to the many volunteers who have played a role in its success, can be proud of the organisation's longevity and in the number of Standardbreds that have graduated from its program.
"It's nice to be a part of it, 25 years is quite a feat," said Colville. "They haven't all been gravy, there's been a few tight ones in there, so we're glad to be around, we're glad to have the industry support and we look forward to the next 25 years."
OSAS would like to thank long-time volunteers Jean Posthuma, Ruth Reid, Joice Schofield, Emma Christoforou, Gerry De Bresser Colville, Sheila Jopling, and David Warburton and foster farms, the Clarke Family, Susan and Bert Mollica, Shelley Higgins, Mary Christopher and Denise Kunz.