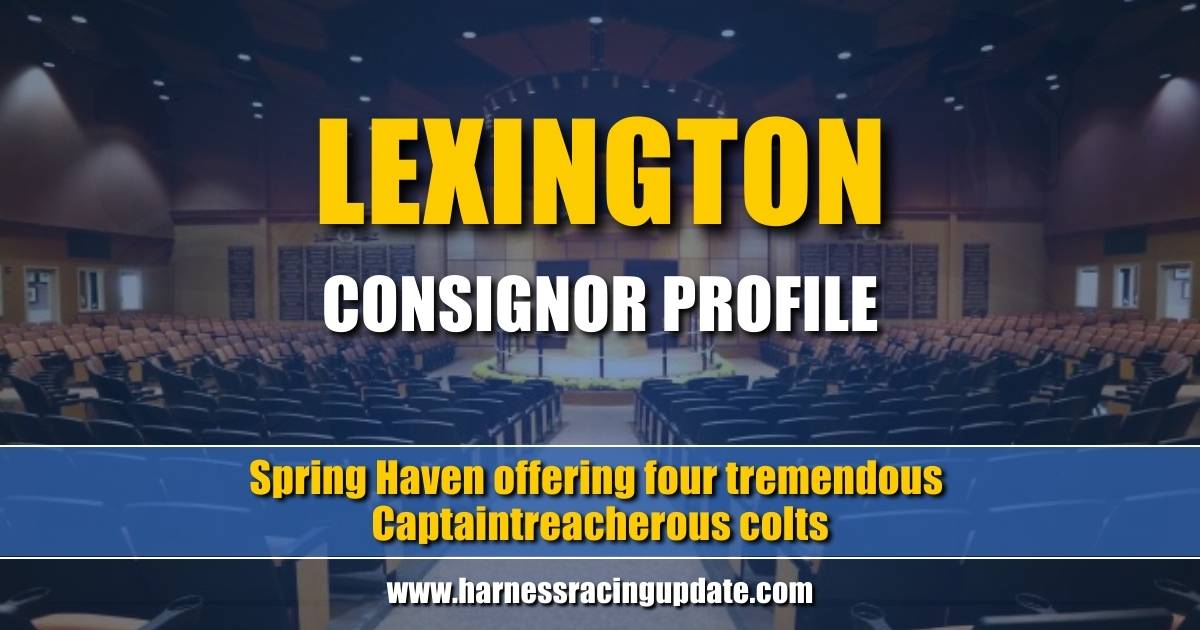 Spring Haven offering four tremendous Captaintreacherous colts
by Dave Briggs
Senena Esty said she challenges anyone to find four nicer Captaintreacherous colts than the ones her Spring Haven Farm of Ohio is selling at the Lexington Selected Yearling Sale.
"We've got four really good Captain colts. Gosh, they are just really solid, good conformation… knock on wood, I dare anybody to find anything better," Esty said.
Spring Haven is selling 40 yearlings — 12 of its own and 28 for a range of clients. Two of the Captaintreacherous colts were bred by Spring Haven: hip 90 Captain Up and hip 271 Captain In The Air.
"We've got a big update on the one colt, hip 90 (Captain Up). His full brother (Captainryanmichael) in the catalogue says, 'Now two and racing.' Now he's got a 1:51.3 mark… That's a huge update on him." Esty said.
The Captaintreacherous colts Spring Haven is selling for clients are hip 312 Stonebridge Captain and hip 323 Secret Captain.
As for trotters, Esty said she has a pair of really nice Chapter Seven colts.
"One is a black beauty, I mean, he's very fancy with quite a pedigree. This would be hip 238 (Saint James's). Then, we've got one of mine and it's a first foal out of the mare and I'm super excited about him (hip 470 Party At Seven).
"We've got a couple of nice Muscle Hill colts, if someone is looking for a Muscle Hill. We've got hip 83 (Railroad Jack) and we raised him for Nick McClelland. That's the first foal out of that mare. The other one would be hip 370 (Muscleonamission). So those are two that we're really proud of."